News
Choi Tames Hogan's Alley For A Day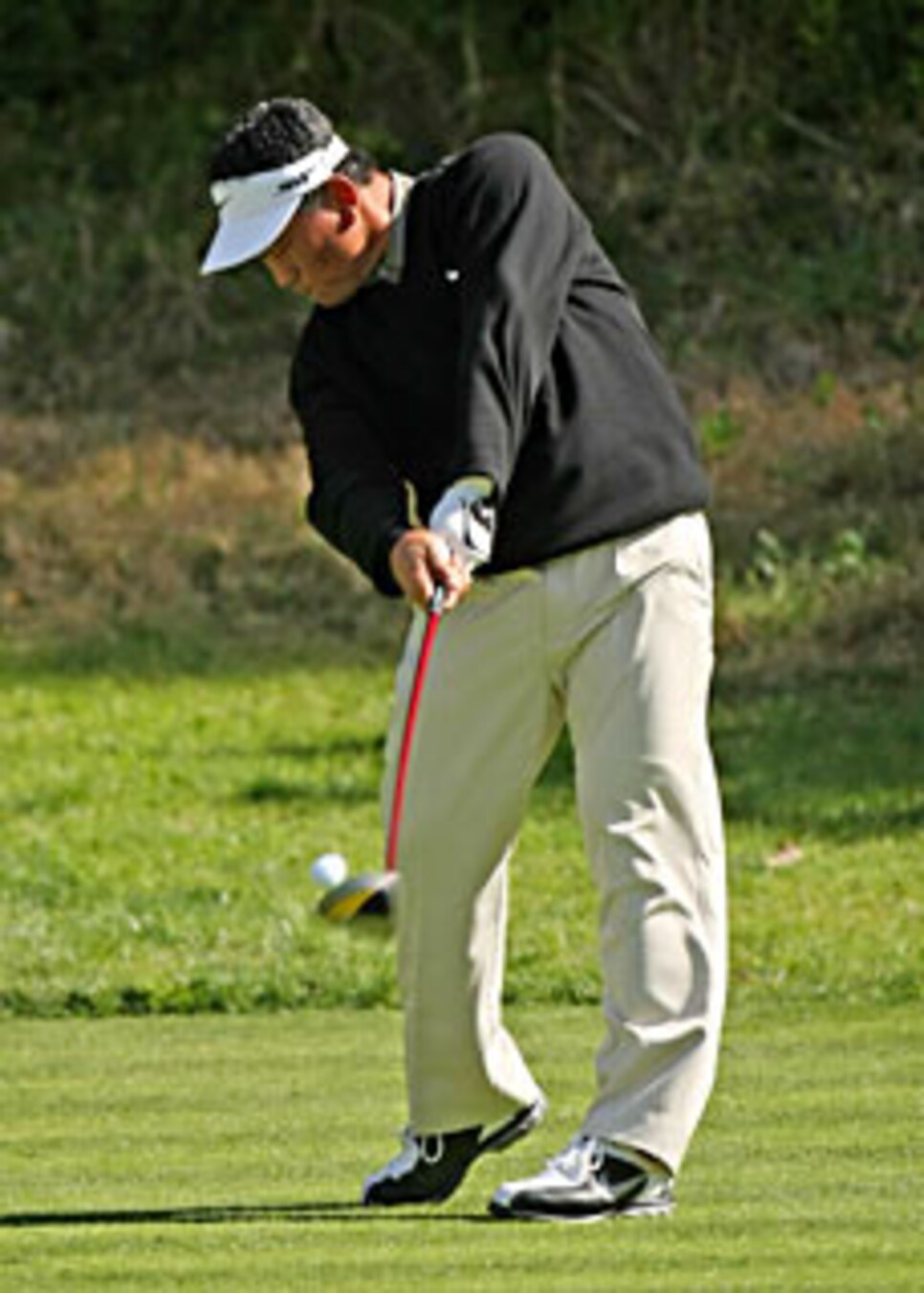 Six birdies and no bogeys put K.J. in the lead.
LOS ANGELES (AP) -- K.J. Choi has won tournaments hosted by Jack Nicklaus and Tiger Woods over the last nine months during a steady climb into the top 10 in the world. Further proof of his staying power came Thursday on a cool, windy morning at Riviera.
He managed to take the early lead at Hogan's Alley.
On a course that has given him fits, Choi played bogey-free in breezy conditions for a 6-under 65 and a one-shot lead over Kevin Na among the early starters in the Northern Trust Open.
"This course, I've always had trouble putting and my iron shots have always been a problem," Choi said. "But I felt like they were working today, and I think even the weather was pretty pleasant when I played. So it all worked out good."
A cool breeze finally pushed away the clouds, leaving Sergio Garcia, Adam Scott and the late starters to face strong wind that could be heard as much as it was felt, and rattled the pins on every green.
Chad Campbell and Vaughn Taylor were at 67. Phil Mickelson took a 30-minute commute by helicopter from his home north of San Diego and opened with a 68, dropping a shot on his final hole when his drive found the bunker and left him unable to reach the green.
A host of international players making their '08 debut on the PGA Tour were among the late starters and faring poorly. Two-time U.S. Open champion Retief Goosen played the back nine in 42, while Adam Scott opened with an eagle, only to make four bogeys in a five-hole stretch around the turn.
That wasn't surprising, mainly because of the conditions and the course.
Riviera, where Ben Hogan won the Los Angeles Open and the U.S. Open in 1948, is firm and fast this year with recent dry weather, and it showed on some of the greens, where the ball sprung forward upon landing and made it tough to get close to the pin.
Choi usually struggles at Riviera in any conditions. He has played the last seven years and finished in the top 20 only once, in 2003 when he tied for fifth. But he worked on his game last week instead of playing Pebble Beach, and while he was still confused over the breaks on various putts, his final assessment would have made Yogi Berra proud.
"Shooting 6 under, you can't be sad about that, so I'm very happy," he said.
John Daly was atop the leaderboard at times during the morning and finished with a 69, which might have been better had he not taken a tour of the barranca that divides the eighth fairway. But for a guy whose season is defined by initials -- one MDF, one WD, two MCs -- he had few complaints.
"It's nice to finally get off to a decent start," he said.
Daly's only paycheck this year came at the Sony Open, where he was among 18 players who technically made the cut but was not allowed to finish (also known as MDF). He withdrew from the Bob Hope Classic and missed the cut at Torrey Pines and Pebble Beach. This was only the second time in 11 rounds this year that he broke 70.
Mickelson didn't mind his start either, even if it ended badly.
Los Angeles is the only city on the West Coast Swing were Lefty has never won, although he came close last year. Needing a par on the last hole to win, he hit a poor chip and made bogey, then lost to Charles Howell III in a playoff.
Putting hurt him at Pebble Beach, along with that 11 on the 14th hole that sent him home early, although Mickelson said he wasn't overly concerned, and that showed in the first round at Riviera.
"If I can putt like that, I should have a good chance on the weekend," he said. "If
"Today, it was close," he said of his game. "The putter felt good. If I can putt like that, I should have a good chance on the weekend. And if I start to eliminate a couple of misses like that drive on No. 9, hitting in the bunker and stuff like that, I should be able to put together some good rounds. I'm looking forward to the next three days."
Ditto for Na, who grew up in Southern California and already has two top 5s this year, playing in the final group at the Sony Open and with Mickelson in the FBR Open two weeks ago. His only problem seems to be with his eyesight. Na said his laser surgery didn't go well, and last week his doctor told him to wear contacts.
"Last week was the first week I was able to see somewhat decent," he said. "I can see really well, and I'm excited about it."
DIVOTS:@ J.B. Holmes was among several players who tried to drive the 312-yard 10th green. He went long into a back bunker, took three shots to get out and was lucky to escape with bogey. He opened with a 74. ... David Duval withdrew with a neck injury. He was 7 over through 11 holes. ... Nick O'Hern withdrew with an illness. He was 2 over at the turn.