News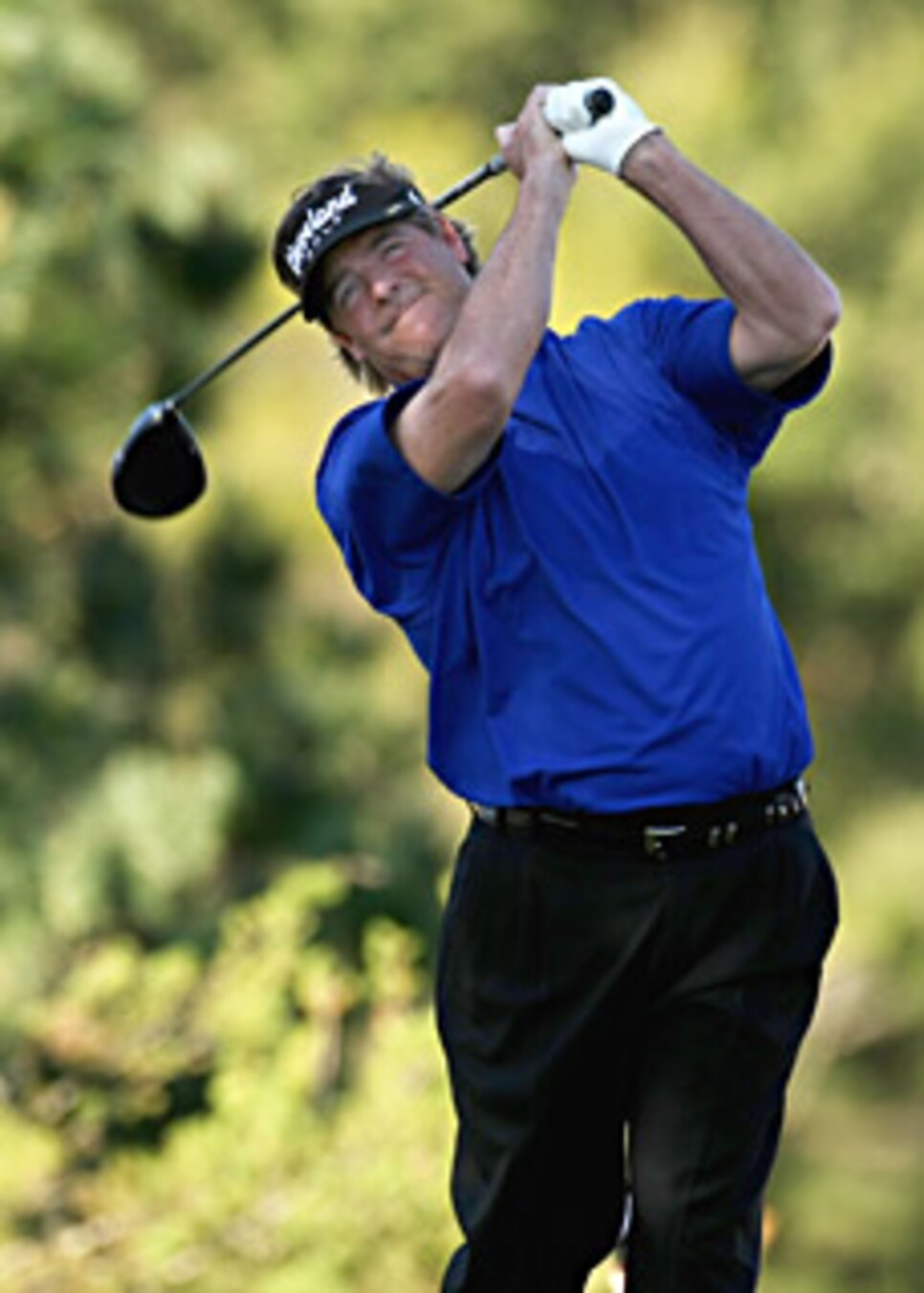 Three shots behind on the 15th tee, Lowery won in a playoff.
PEBBLE BEACH, Calif. (AP) -- Steve Lowery had gone more than seven years and 199 tournaments without winning, a drought that would have continued Sunday at Pebble Beach if not for a stunning collapse by Vijay Singh.
Three shots behind when he stood on the 15th tee, Lowery made up quick ground when Singh made three straight bogeys, then won on the first hole of a sudden-death playoff with a 7-foot birdie. At 47, he became the oldest winner in the 71-year history of the AT&T Pebble Beach National Pro-Am.
Lowery closed with a 4-under 68 and won for the third time in his career, all of them in playoffs.
Singh recovered from his three bogeys with a wedge that stopped 2 feet away for birdie on the final hole for a 71 to force the playoff. Both players finished at 10-under 278.
But the Fijian's troubles only got worse playing the famous 18th hole at Pebble Beach a second time. His drive found a bunker to the right, and his second shot clipped the top of the bunker, leaving him 192 yards short of the green. A 4-iron for his third shot plugged into the side of another bunker, and he did well to blast out to 8 feet and make par.
Lowery's birdie putt was good all the way, an amazing victory for a variety of reasons, least of all Singh's collapse.
Lowery was No. 305 in the world when he arrived on the Monterey Peninsula. He finished 148th on the money list last year because of a wrist injury, and was given eight tournaments to make $282,558 to keep his card for the rest of the year.
That's no longer a problem. Lowery earned $1.08 million and a two-year exemption, sending Singh home to question whether his retooled swing can hold up under pressure.
The first playoff at Pebble Beach since 1992 didn't even seem remotely possibly when Lowery walked off the 14th green with a bogey. He was three shots behind Singh, who had just hit a brilliant flop shot to 6 feet to save par on the 13th.
Turns out that was a sign of sloppy play that followed.
Singh went at the flag on the 14th with a sand wedge from 92 yards, but it was a tad strong and spun down the slope, and the best he could do was chip to 20 feet and make bogey. He missed the 15th green to the left, chipped weakly and missed an 8-footer for par.
His fairway metal found a bunker off the 16th tee, and Singh powered that shot over the green, down the slope and into the back bunker. He blasted through the green and two-putted for bogey from the fringe to fall into a tie. Singh arrived on the 17th tee in time to watch Lowery hole a 20-foot birdie putt to take the lead, and if not for a couple of fortuitous bounces, Singh might not have been in a position for a playoff.
Singh's 3-foot par putt on the 17th swirled around the inside of the cup before falling, and his tee shot on the 18th was headed for a tree until it bounced off the trunk and deflected to the right. That gave him a clear shot at the green, setting up his wedge to 2 feet.
Dudley Hart, who started the final round tied with Singh, didn't make a birdie until making three in a row at the end for a 72 to finish one shot out of the playoff. He tied for third with John Mallinger (65) and Corey Pavin (66).
Jason Day, the 20-year-old from Australia, finished alone in sixth after a 70.
Pebble Beach was the final tournament to qualify for the Accenture Match Play Championship. Pat Perez shot 72 and tied for 24th, but it was enough for him to get into his first World Golf Championship. Perez moved up two spots to No. 64, and with Ernie Els not playing, he will face Phil Mickelson in the first round.
J.B. Holmes, who missed the cut at Pebble, dropped to No. 65 and gets Tiger Woods, provided no one else withdraws.
Singh won Pebble Beach four years ago, his first of nine victories that season, and he was poised to capture his 32nd career victory to become the leader among international players.
He made three birdies on the opening six holes, and winning looked as easy as sliding into a recliner. He stopped on the edge of the cliffs along Stillwater Cove, soaking in the warm sunshine and gentle surf, a man without a care in the world.
No one else made a lasting charge until Lowery ran off three straight birdies along the Pacific, including a terrific shot out of the bunker on the tough ninth hole that settled 15 feet away to put him at 11 under to pull within one shot.
Singh answered, however, with a long iron from the rough that barely cleared a hump of grass and trickled to 14 inches of the cup for his easiest birdie of the round. And when Lowery dropped shots on the 11th and 14th, victory for Singh looked as certain as a tap-in.
That changed when his sand wedge from spun off the green, and it ended with two shots into the bunker on the playoff hole.
DIVOTS:@ Fredrik Jacobson and Bill Walters won the pro-am by a record 10 shots, finishing at 38-under 250. ... Nicholas Thompson birdied five of his first six holes and was tied for the lead when Singh and Hart teed off, but he didn't make another birdie and finished with a 70 to tie for seventh. ... The other two players Lowery beat in playoffs were Rick Fehr at the 1994 International and Skip Kendall in the 2000 Southern Farm Bureau Classic.