News
Harmon Giving Daly One More Chance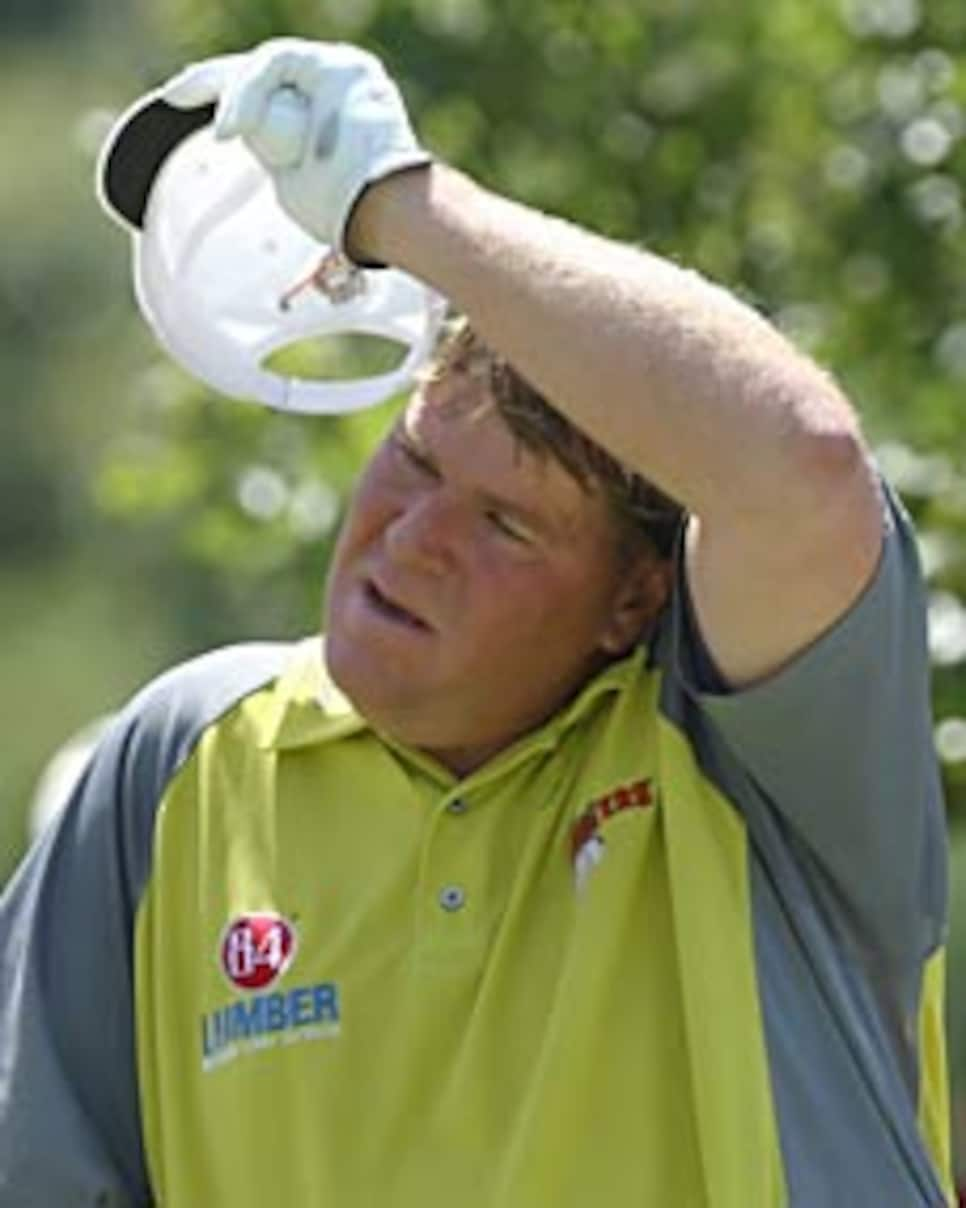 The logos and Tour card are gone, but Butch is taking a gamble on JD.
When J.B. Holmes knocks out Phil Mickelson with a 359-yard drive in a playoff at the FBR Open or Boo Weekley breaks out his country charm at a news conference they are called the next John Daly--as if the existing John Daly lives in the past tense. Based on accounts of Daly's partying in Palm Desert, Calif., during the Bob Hope Chrysler Classic and a logo-free golf shirt covering his expanding girth, this does look like time to pass a torch--or in this case, a cigarette lighter--to the heir apparent.
But Butch Harmon isn't giving up on Long John, so maybe we shouldn't either. After missing the cut in Hawaii, Daly flew overnight to California and drove to Las Vegas for a session with Butch. They didn't have time then to have a heart-to-heart--that came last week. Instead, they worked on Daly's wedge game and Butch sent him off to the Hope in search of some hope. Daly wasted it. A muscle in his rib popped, prompting an emergency call to large-armed Jim Weathers, the shiatzu master and chronic-pain specialist who tried to knead Phil Mickelson's left wrist back to health during last year's Memorial. Weathers' arms are as big as an offensive lineman's, but they weren't long enough to wrap around Daly's abundant frame for the adjustment.
Soon after, John was spotted at some parties, singing "Knockin' on Heaven's Door" with Meat Loaf and doing excessive amounts of the things Harmon said he wouldn't tolerate. There were rumors of a suspension and of rehab, and the following week Daly met with PGA Tour commissioner Tim Finchem at Torrey Pines. Privately, Harmon said he was done with Daly, but with Daly there always seems to be one more chance, and Butch gave him one.
They met last week in Las Vegas and the conversation didn't revolve around shortening Daly's backswing or how to cozy a 90-yard wedge shot to a back-right pin. "We had a man-to-man about changing his personal life," Harmon said Tuesday from the Titleist Test Center in Carlsbad, Calif., where he was working with Adam Scott. "I told [John] to look in the mirror to see the guy who's causing all the problems. On tour, he needs to stay on his bus, stay out of the Hooters and the bars. I told him, 'If you can't do that, we don't have a deal."
Harmon added, "I gave him one hall pass. One is all I'm going to give him."
As for Daly's being replaced as the tour's man of the people, well, there is no replacing him. J.D. is one of a kind. He's part Elvis Presley and part Babe Ruth. Part Britney Spears and part Walter Hagen. He's a character from a Jerry Springer episode, a supernatural talent who has seen better days. Harmon is the old cornerman playing Burgess Meredith's role from Rocky, involved not because he needs the headaches, but because he still sees the potential. In relative terms, Holmes and Weekley just entered our consciousness.
Holmes is probably longer off the tee than Daly, but he doesn't have the finesse around the greens--or the baggage in his personal life. Weekley doesn't have the Bunyon-esque length, or the putting touch that Daly once had. On behavior alone, they have a better chance of playing on a Presidents Cup or Ryder Cup team than Daly ever had. No captain would take a chance on Long John, But Holmes and Weekley very well could be on Paul Azinger's roster in September. When we get to that point in the year, J.D. will be lucky if he gets in Fall Series events.
Harmon believes he can get Daly to win on tour this year. He sees the talent, under all those layers of subcutaneous, behind those lyin' eyes when J.D. looks at him and says, "Butch, I haven't had a drink in a week."
As for Holmes and Weekley, they come to us without lifestyle issues. Holmes is recently married and is settled into an Orlando home and an Isleworth membership. He's working with Matt Killen, the 22-year-old instructor from Kenny Perry's hometown in Kentucky, and they spent the winter working on a short game. Last week in Scottsdale, Killen said he and Holmes worked for 30 hours before the tournament began, changing putters, putting stance, ball position, even how Holmes looked at the ball. In the end, Holmes got up and down with wedges, making pressure putts on the 72nd hole and in the playoff with Mickelson for his second tour win.
Holmes grew up in Campbellsville, Ky., calls Valhalla, the Ryder Cup venue, his favorite course, and does not plan to disappear the way he did after winning the FBR Open with an overpowering performance in 2006. Because Azinger works with Killen, Holmes was already on Zinger's hot list before taking out Mickelson. And he gained the blessing of Mickelson in a post-round interview with Peter Kostis on CBS. If there were an All-Madden team in golf, Holmes would be the fullback.
Boo's putter might be a little shaky against one of Europe's big guns in a Ryder Cup match. At times he seems so naïve that it appears to be an act. For example, at last year's PGA Championship, he referred to the Ryder Cup as some event where Justin Leonard made a putt. He makes Daly appear Phi Beta Kappa, but despite some marital discord a few years ago, Weekley lives for the days when he can return home to Milton, Fla., where he can hang with his son.
Together they'll never be John Daly. And maybe that's good.