News
Ridiculously, Absurdly Good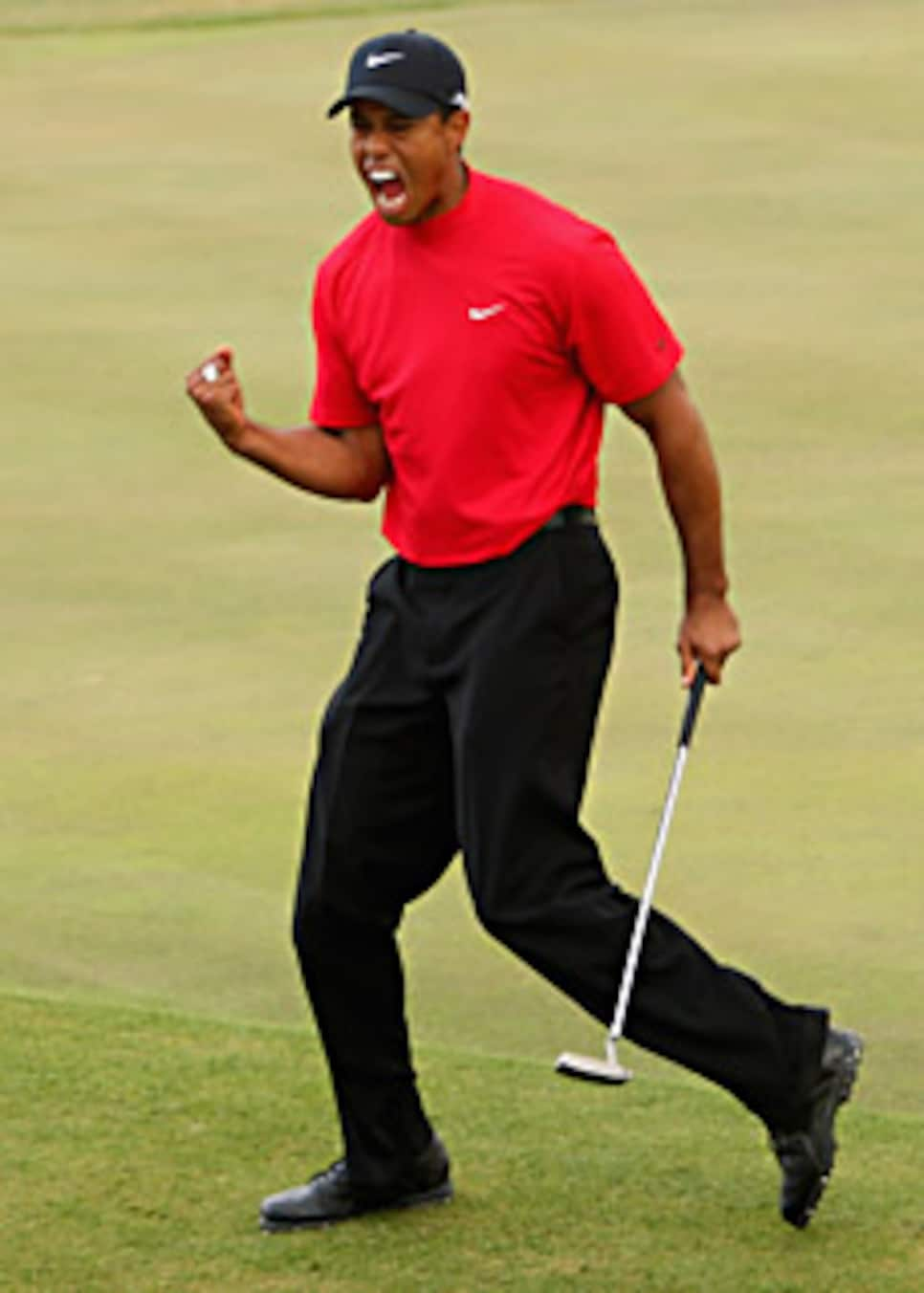 It's likely the intimidation factor will beat you if his clubs don't.
Here's the good news for those weary of reading about the wondrous feats of Tiger Woods: You get a week off. He's not playing in the AT&T Pebble Beach National Pro-Am. The bad news is he won again on Sunday, this time at the Dubai Desert Classic. Actually, there is more bad news. The best front-runner in the history of the game closed with a 65 -- 31 on the back nine -- to capture an event that seemed all but lost when he made the turn.
Just about the only thing curiously missing from Woods' remarkable resume is a come-from-behind victory in a major championship. In fact, he's had few Sunday charges in general. Usually, when Tiger is going to win he has sent a clear message by Friday night. That's why there was very little reason to think he was going to win in Dubai when he moved to the back nine, especially because he had to pass so many players. Surely not all of them would cooperate and spit the bit.
Ah, but we are talking Tiger here. With seven holes to play Woods was four strokes behind leader Louis Oosthuizen and was in fifth place with Ernie Els, Henrik Stenson and Graeme McDowell to hurdle. Now, two things happened at the Emirates Golf Club. Woods made birdies on five of the last seven holes, starting his run with a deft chip-in on No. 12 that all but shouted, "Here I come." But Tiger also got some help. Oosterhuizen and Els both made bogeys on No. 18, McDowell bogeyed No. 17 and Stenson finished bogey, double bogey.
So this is what we have: Not only is Woods dangerously close to having his full A game -- and when he gets to that level there is really no reason for anyone else to show up -- but the guy also seems to have reclaimed his full intimidation factor. Remember that stretch from mid-2002 through 2004 when Woods went 10 consecutive major championships without a victory while he was retooling his swing? Well, there were guys on tour who were starting to whisper that Super Man's cape was showing a bit of a tear.
That sort of thinking has even carried over into Woods' recent return to that scary level of play few ever achieve. Despite his wins, he was not winning big. So talk was going in some circles that he was beatable. Most famously Stephen Ames and Rory Sabbatini dared to say that Woods could be had. You know what? Forget that. And you know what? Don't be stupid enough to say it. This guy needs no added motivation.
Last week Woods won the Buick Invitational at Torrey Pines by eight strokes. OK, so much for that "He's winning but not dominating" discussion. And on Sunday at Dubai, Woods proved once again that he not only owns players of the caliber of Ames and Sabbatini, but he possesses top-tier players like Els and Stenson as well. As Woods birdied Nos. 12, 13 and 14 on the final round you could almost hear the internal monologue going on in the heads of Els and Stenson, not to mention Oosthuizen. The little voice in his head was no doubt screaming. They knew it was over.
When Tiger stepped to the drivable par-4 17th hole with the reachable par-5 18th to follow was there really any doubt he'd finish birdie-birdie? The only real question was whether he would get the help he needed from Els, Stenson and company. And truthfully, was there really any doubt about that? When Tiger is in full Tiger mode he scares the crap out of everyone else. Everyone. Let me clarify that: EVERYONE.
Here is the run Woods is on. He has won the last five tournaments he has played. And go back to the WGC Bridgestone Invitational which Tiger won last Aug. 5, and he has won seven of his last eight tournaments, and that lone event in which he was not victorious he finished second. For those who want to dismiss that as a hot streak I'll say this: His 12-year career has been a hot streak. This run is more microwavable.
As Woods flirts with the "unbreakable" record of 11 PGA Tour wins in a row set by Byron Nelson in 1945, the victory at Dubai does not count, nor does his win in December at the Target World Challenge. But the win at the Buick gave him three in a row. Next up will be the WGC-Accenture Match Play Championship. There are two reasons why Tiger will win that one: First, it's next. Secondly, Accenture is one of his sponsors, just like Buick. Winning their events is part of the added value Woods gives to those companies that pay him millions to represent them. Did I mention he has a business deal in Dubai?
Is talk of Tiger winning 11 in a row absurd? Of course. Is it ridiculous to think Woods could win all four majors and become the only person to pull off the professional grand Slam? Absolutely. Except for one thing. Woods is ridiculously, absurdly good. It is a measure of his greatness that the discussion can even take place. Moreover, he is once again scary good. Just ask Els and Stenson.
When I was a kid my cat Arnie (named for Palmer) liked to catch chipmunks, let them get away and then re-catch them. He'd do this for hours -- until it was time to end the game. That's sort of what the final round at Dubai felt like. Cat and mouse. Or cat and chipmunk. Or Tiger and Ernie. Or Tiger and Henrik. And you know what? Woods wasn't even playing his best. That's why he had to chip-in on No. 12.
How cool would it be to have Woods go to the back nine on Sunday at Augusta National trailing by about five strokes and have him close with a couple of eagles and shoot a 30 to win the Masters? It's the only thing he hasn't done yet -- come from behind to win a major. If there was a message sent Sunday at Dubai it was this: There are still some things in Tiger's career he has yet to achieve and this season he plans to cross a few off his list. Man, I'd hate to be someone who hates reading about Tiger this year.