News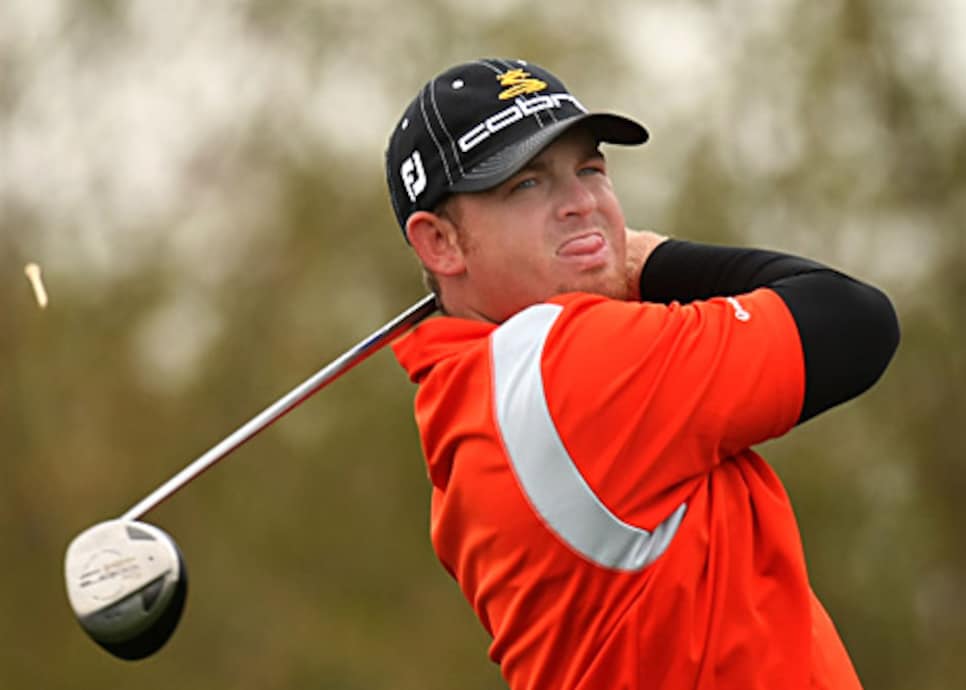 Monster drives and a sharp flatstick got Holmes his second PGA Tour win.
SCOTTSDALE, Ariz. (AP) -- J.B. Holmes failed to birdie the 18th hole in the first three rounds of the FBR Open. Then he did it twice Sunday, coming back from the brink of defeat to steal a victory from one of the biggest names in golf.
Holmes' 13-foot birdie putt forced a playoff with Phil Mickelson, then moments later he sank an 8-footer after a monster, 359-yard drive to win the tournament for the second time in three years.
"I can play under pressure, I guess," he said.
Holmes, whose victory as a rookie at the FBR in 2006 is his only other PGA Tour win, had blown a four-stroke lead and was one shot behind going in to the 18th. The far more seasoned Mickelson seemed destined for his third victory in the tournament and 33rd of his career.
But the 25-year-old Kentuckian smashed a 350-yard drive that landed near a fence far left of the fairway. He was given a drop, then hit his second shot out of the rough 13 feet from the pin to set up the putt that put him at 14-under 270 and forced the playoff with Mickelson.
Holmes' playoff tee shot went straight and deep down the fairway. He walked away from the drive like Barry Bonds after a home run.
"I smoked it," Holmes said. "I thought it went farther than it did."
Holmes second shot came to rest just 8 feet from victory.
"Starting the day, I would have gladly taken getting into a playoff," Mickelson said, "but I've got to give J.B. a lot of credit for birdieing the last hole and birdieing again to get in the playoff. That's pretty impressive golf."
Holmes was not intimidated going into a playoff against the second-ranked player in the world.
"I felt like I had the advantage," he said. "I could hit it over the bunker. He'd been sitting in the clubhouse. I was loose. I was ready. The hole favors me, no reason I didn't win."
Mickelson, who birdied three of the final six holes of regulation, just missed a 28-foot birdie putt before Holmes made the winner. The victory was worth $1.08 million.
Holmes shot a final round of even-par 71.
"I didn't have my best stuff today," he said, "and I came through and won. I didn't give up. I played hard, and when I needed to make it, I did."
It was the tournament's 13th playoff in its 73-year history and first since Mickelson beat Justin Leonard in a three-hole playoff in 1996. That, coincidentally, was the other weekend that the Super Bowl was held in Arizona.
On the third tee, Mickelson gave away Super Bowl tickets to John Fockler and his young son, Drew.
"I cherish the time I have with each one of my kids," Mickelson said, "and I just thought it would be a cool experience for them."
It was Mickelson's 21st runner-up finish to go with his 32 tour victories.
With the Super Bowl being staged some 30 miles down the highway Sunday, attendance dropped to 71,805 on a chilly, overcast day. That's nearly 100,000 fewer than the record 170,802 who came Saturday for the biggest party day of the boisterous event.
Still, overall attendance for the event was a record 538,356.
Charles Warren finished third, one shot back at 13 under. Five tied at 12 under.
Holmes had gone 23 holes without a bogey when things began to unravel. He bogeyed the seventh, eighth and 10th to fall to 13 under, one shot ahead of four competitors, including Mickelson, who missed a 12-footer for eagle on the par-5 13th but tapped in for birdie to go to 12 under.
On the 15th, Holmes hit his second shot into the water en route to a bogey that put Mickelson into the lead.
"I thought I had a one-shot lead at the time there," Holmes said. "Hindsight is 20-20, but maybe laying up would have been a better option there."
Holmes ran away from the competition in the final round two years ago to win by seven strokes, and he appeared to be doing the same early on Sunday. He fell back, though, and knew somewhere up ahead Mickelson was gaining on him because of roars from the big gallery following the former Scottsdale resident and Arizona State alum.
When Holmes lost the lead, he said, the word "choke" occurred to him.
"It always pops into your mind, but I fought through it," Holmes said. "I hit some bad shots, but it's golf."
Divots:@ Kevin Stadler withdrew from the tournament, citing a wrist injury, after shooting a 5-over 76 on Saturday. ... Jeff Quinney, who bogeyed the final two holes to fall out of the lead at last year's FBR, chipped in from the sand on the 18th for a 5-under 66 to finish at 9-under 275. ... Briny Baird, playing the back nine first, shot a 7-under 64 to finish in a group at 11 under.