News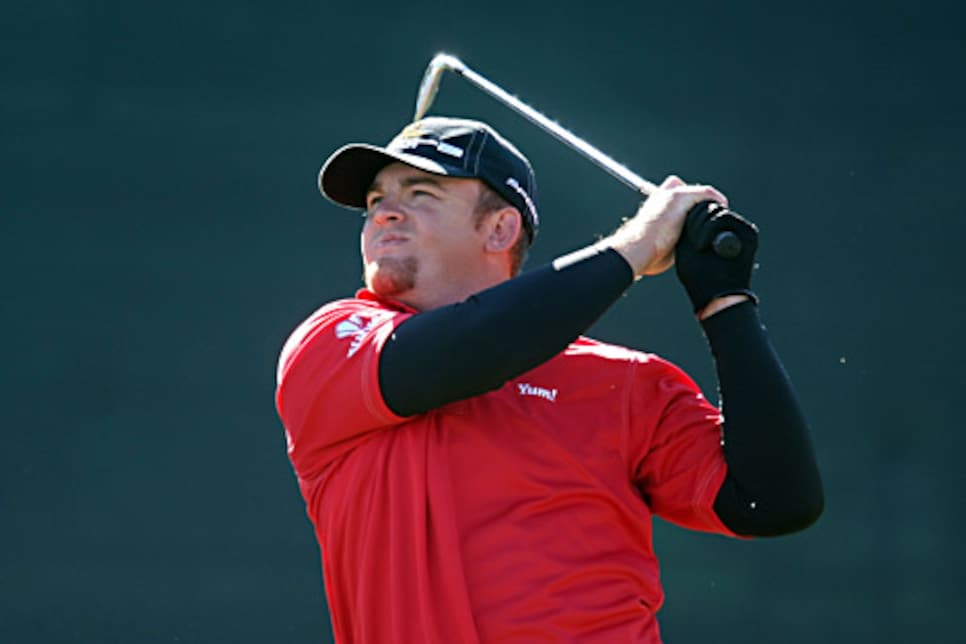 Holmes won here two years ago in his rookie season. Friday's round moved him closer to a repeat.
SCOTTSDALE, Ariz. (AP) -- J.B. Holmes never feels more comfortable on the PGA Tour than when he tees it up at the crowded, rowdy FBR Open.
Holmes, the tournament winner as a rookie two years ago, shot a 6-under 65 to share the lead with Doug LaBelle II at 9-under 133 among players who finished the second round Friday. LaBelle shot a 64.
A 90-minute frost delay to start the day left 45 golfers on the course when play was halted because of darkness.
One of them, Camilo Villegas, was tied for the lead at 9 under through 12 holes. Two were at 8 under on the course — Bill Haas through 13 holes and Ben Crane through 14.
They will complete the round Saturday before the cut is made, then the third round will begin.
Pat Perez and Nick O'Hern shot 65s and were one behind the leaders at 8 under. Charles Howell III, Stuart Appleby, Briny Baird and Robert Allenby were 7 under.
Two-time champion Phil Mickelson had four birdies, but three-putted from 7 feet for a double bogey on the par-4, 464-yard ninth hole. He came back to sink a short birdie putt on the par-5 13th and chip in for birdie on the par-4 14th. Mickelson was 5 under, four shots off the lead, through 14 holes.
With the Super Bowl in nearby Glendale drawing even more interest to the big party that is the FBR Open, a record second-round crowd of 120,891 attended on another clear, crisp day.
Temperatures rose from below freezing at sunrise to about 60 degrees at mid-afternoon. The Thursday crowd was an opening-round record 83,657. The Saturday turnout could break the event's overall record of 168,337, set in third round of the 2006 event in the wide open spaces of TPC Scottsdale.
With a 31-degree temperature at sunrise, the frost delay postponed completion of the first round by the 24 golfers still on the course when play was suspended by darkness on Thursday.
That made it impossible for the second round to be completed before dark.
"It was freezing, but we got to miss most of that with the delay," said Kevin Stadler, who shot a 64 and was in a group at 6-under 136. "It was cold probably the first hour, hour and a half. Other than that it's been a beautiful afternoon. I mean, it's there for the taking today."
Kevin Sutherland, who shared the first-round lead with Charles Warren, shot a 72 and was 5 under. Warren was 6 under through 12 holes.
Holmes' 2006 victory came in his fourth tournament on the tour. It remains his lone PGA Tour triumph.
"It happened so quickly, and not saying I did it with ease, but I won by several shots," he said, "and I was saying 'Well, maybe just keep it going' and I just kind of fell into a little bit of a slump."
His 6-under 65 marked the seventh time he has shot in the 60s in eight rounds at the FBR.
"You always have more confidence when you get on a course that you really, really like," Holmes said.
He went to 9 under with a 6-foot birdie on the raucous, par-3 16th hole, in front of thousands of loud, sometimes irreverent fans. Holmes sneaked through without much fuss.
"I was playing with Freddie (Couples)," Holmes said, "so they didn't even know I was there."
LaBelle is off to a good start to the season, finishing tied for 10th at the Sony Open in Hawaii and tied for 19th at the Buick Invitational. He lives in Scottsdale and had a large group of friends and family members cheering for him while he shot a 7-under 64 on Friday.
"It means a lot to be playing in front of a lot of family and friends," LaBelle said. "More importantly, aside from all that, just to play some good golf. That's the best part about it."
Will MacKenzie had a hole-in-one on the par-3, 195-yard 12th hole but was 5 over through 14 holes.