News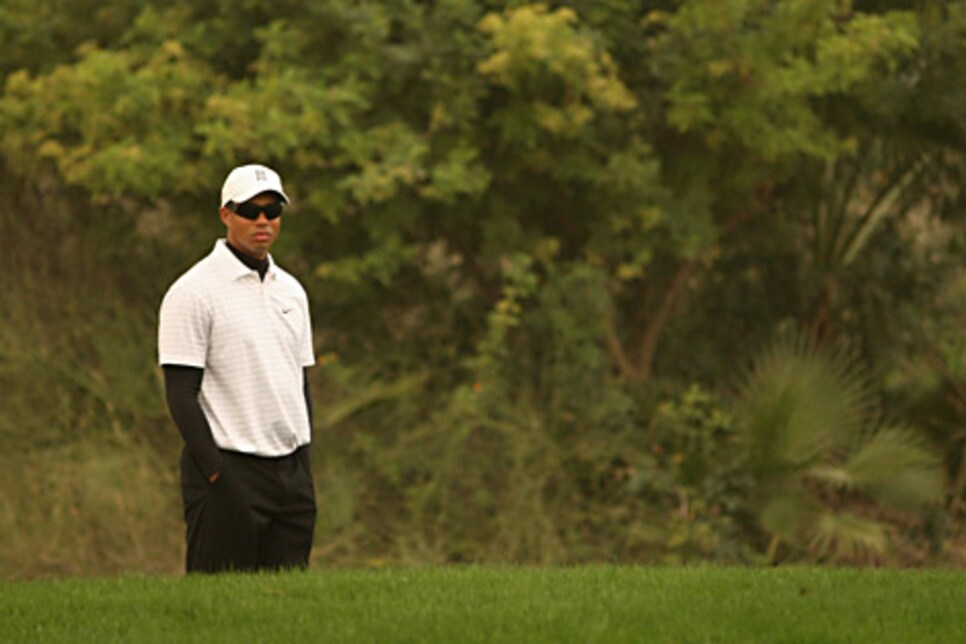 Wind and swirling sand made any scores in the red an accomplishment on Friday.
DUBAI, United Arab Emirates (AP) -- Tiger Woods birdied the 18th hole to keep a 1-shot lead after a windy second round of the Dubai Desert Classic on Friday.
The blustery day caused problems for Woods from the start. The world's No. 1 player, who had taken a 2-shot lead with a 7-under 65 after the first round, bogeyed the first hole after driving the ball into the rough. Two more bogeys followed on the 12th and 15th.
Irishman Damien McGrane shot a 3-under 69 to pull within one shot.
Defending champion Henrik Stenson of Sweden shot a 2-under 70 with four birdies and was two strokes behind Woods. He was tied for third with Thomas Levet of France, who had a 71.
Woods, who won Sunday's Buick Invitational by eight strokes, made four birdies -- including two in the last three holes -- for a 1-under 71 and a halfway total of 8-under 136.
Despite losing ground on the leaderboard, Woods said he was "pleased with anything in the red today."
"It was not a pretty day out there," he said.
Woods' win at Torrey Pines last weekend was his fourth straight and 62nd career title, tying Arnold Palmer for fourth place on the PGA Tour list. If he triumphs in Dubai, it will be his seventh win in eight starts -- and his second Dubai Desert Classic title. He won here in 2006.
Wind gusts up to about 30 mph shook up the bunkers and surrounding desert terrain -- sending sand flying in faces and creating a haze that masked many of the glitzy skyscrapers that tower over Emirates Golf Club.
Woods said even though he wore his sunglasses, he was still "chewing sand all day."
"Good thing is, don't need any fiber tonight," he joked.
McGrane, who had four birdies and two bogeys, said the chilly winds felt more like home than he would have expected in the desert.
"Finishing on the last few holes, it was very cold, and you don't expect that in the desert," he said. "But you know, it was nearly my type of weather today, so I made the most of it."
Stenson, who lives in Dubai, said he was happy with how he played despite the difficult conditions.
"Even though they only single-cut the greens this morning, they are still very, very quick, and with those strong winds, it was tricky to putt," he said.
Graeme McDowell, who shot a 72 Friday for a 4-under total, joked that he got a free spa treatment.
"It's like you play golf, you get a free exfoliation with it. ... That's pretty impressive, playing golf in a sandblaster," he said.