News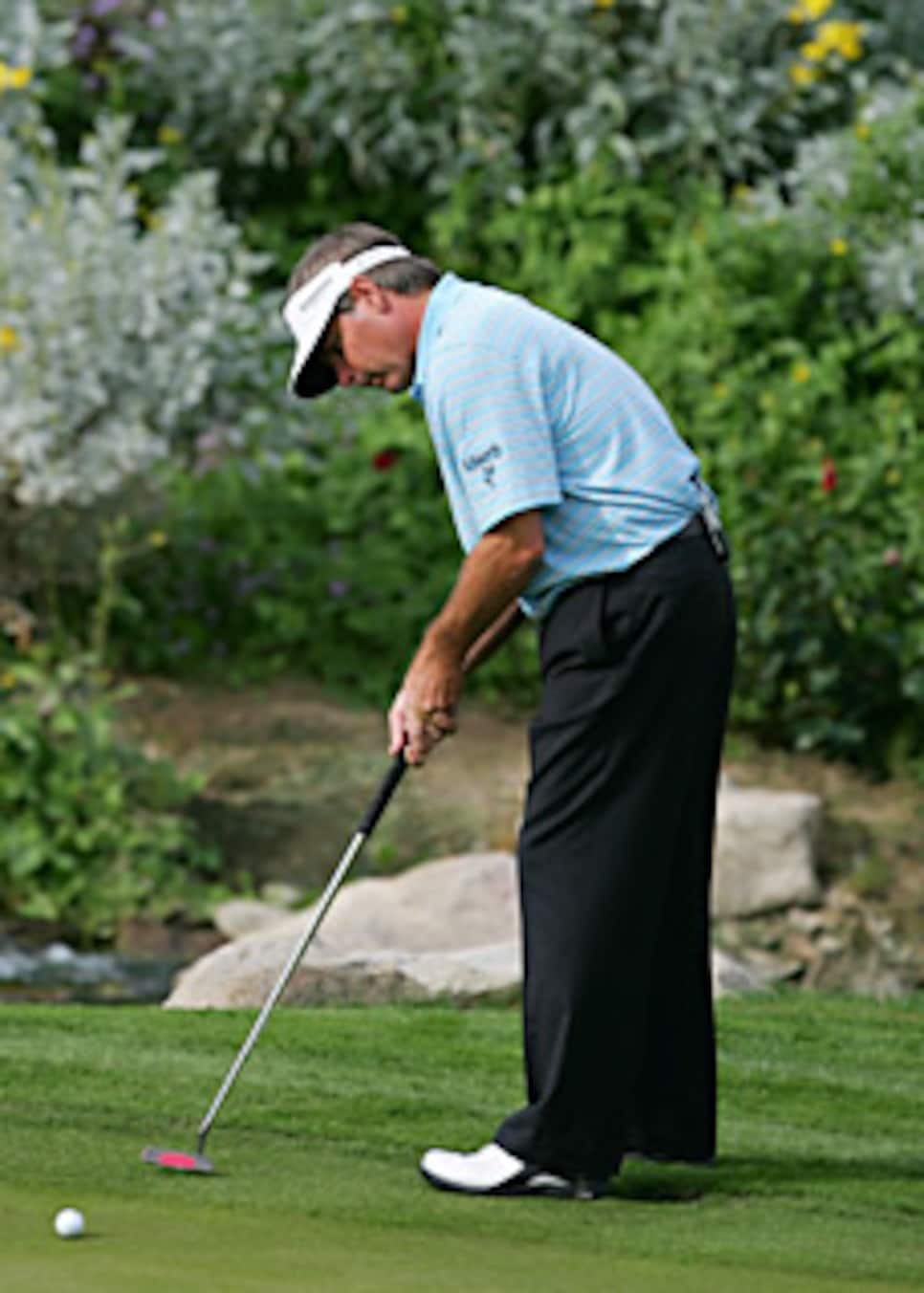 Couples looks great, feels great and is swinging the club like he hasn't in a long time.
PACIFIC PALISADES, Calif. -- A cold, three-club wind was blowing in off the Pacific Ocean on Monday, but Fred Couples didn't seem to care. He was at one of his favorite places, Riviera Country Club, to do a corporate outing on his way to the FBR Open, and life was good again. On Sunday he completed his best tournament in two years, finishing T-8 on a long and wet Torrey Pines South Course in the Tiger Woods (nee Buick) Invitational. After this day trip to Hogan's Alley, Freddie was headed to Scottsdale for his third straight week of tournament golf. His back was telling him to keep playing.
The drive up the 5 and 405 freeways on Sunday night to Los Angeles was a smooth one. Caddie Joe LaCava drove Freddie's Escalade, with Couples in the passenger seat answering text messages. After two weeks on the road, the car was stuffed with clubs, clothes and good vibes. The Giants were in the Super Bowl and Freddie Couples was back on track. It was like old times, the early '90s again. "I would say Fred got between 15-20 texts, mostly friends and family, people excited about how well he played," LaCava said. "He was having a good time getting back to them, I was listening to him, listening to as much Giants stuff as I could on XM. Fred texting most of time."
LaCava grew up and lives in Connecticut. One of his caddie nicknames is "Joe Giant." His e-mail handle is a derivation of a former New York Giants tight end, Mark Bavarro. So with Couples being an ESPN junkie, they've been talking about the Super Bowl and whether Freddie wants to battle the crowds or watch it on HiDef this coming Sunday in Scottsdale. When they pulled up to Riviera on Monday, LaCava was wearing his New York Rangers hat, because he couldn't find the Giants hat among the mess inside the Escalade. Freddie already had his golf shoes on, having laced up in the SUV.
Accompanied by Tony Renaud, an ESPN producer and organizer of the Skins Game, they looked like cast members from "Entourage" who made a wrong turn off Sunset Boulevard. Still at his high school playing weight, always with his hair cropped to the skin, Joe has been carrying Fred's bag since the early '90s. He has been there for the highs and lows, and knows Fred's back and his putter dictate results. For now, a doctor in Waco, Tex., has solved the back issues. The putter is syrupy on days like this at Riviera, but get him out on tour and Freddie admits it's a different stroke.
But at least now he is playing, and that's something he didn't do after the Masters last year, all the way to the Skins Game. On the range at Torrey Pines, Phil Mickelson was marveling at how long Couples was hitting it--especially with a square-headed Callaway 3-wood that he snuck in the bag. "To see him hit the ball that far and that well with a driver, you know he's feeling well," LaCava says. "You certainly know he's not 100 percent, but if he hit it that well in those weather conditions, you know he's feeling decent."
At the Bob Hope Chrysler Classic, where Couples made his 2008 debut, there were days when it was cold and windy. At Torrey Pines, the ground was soft. The toughest playing conditions were Monday at Riviera, where he conducted a clinic, had lunch, rode in a cart and alternated playing with two groups. It was a chance for him to check out the condition of the course and hit shots on fairways where he won in 1990 and '92, and finished second in '93, '94 and '96.
Couples does 3-5 of these outings a year for Merrill Lynch, plus he plays in Greg Norman's shootout in Naples. One of his closest friends has become Devon Baranski, Merrill Lynch's Western Director for Private Banking and a former center on Yale's football team. "This is definitely the best Fred has looked physically," says Baranski, who has known Couples for six years. "Even he says he hit some drives that he has no idea where the extra yardage came from. If Joe can get him to chip and putt a half-hour a day, who knows what could happen."
During the clinic, Couples talks about playing with John Daly in the Merrill Lynch Shootout, when Daly, his bus parked right next to the first tee, hit only one practice ball all week, and that was with a cigarette dangling from his lip. He describes what his lessons are like at Butch Harmon's studio in Las Vegas, how he can only hit balls for an hour at a time and how, after working on video, he discovered that he swung the club better starting his backswing with the clubface five inches behind the ball at address. "Ask Joey, I won the Memorial like that," he says.
At the end of the exhibition, he talked about how he flights a ball high or low not by changing his technique, but simply by envisioning a high or a low shot and just letting his body react to it. He admitted it was part of his background growing up as a baseball player, something Bob Rotella, the sport psychologist, pointed out to him. "I paid him $1,500 to have him tell me it was just like throwing a ball," Couples said, and everybody laughed.
That night, after an awards presentation, he ate dinner at a Santa Monica restaurant, sitting across from Brad Shaw, a former USC golfer, and John McClure, a longtime friend and developer who's referred to as the mascot in Freddie's posse. Afterward, he was on the road to his place in Palm Springs, LaCava behind the wheel. And late Tuesday afternoon, he and LaCava were in that Escalade again, driving the 3 1/2 hours to Phoenix/Scottsdale. "Freddie's jacked up," Harmon said during a phone conversation over the weekend. "He's the new text king. He's excited about his back. He's able to practice. He wasn't able to practice last year."
The plan calls for Couples to sit out the long rounds at Pebble Beach, attend The Grammys on Feb. 8 (he was the winning bidder for two backstage passes at Tiger Woods' Block Party) and return to Riviera for the Northern Trust Open (Feb. 14-17). A new trophy was unveiled at Riviera the same day Couples was there, as the bank takes over for Nissan, but it's always the L.A. Open--as Northern Trust will find out.
Behind the scenes at Riviera, there's worry about whether Tiger Woods will play after two straight weeks of tournament golf that included across-the-globe travel to Dubai. Although Riviera is where Tiger hit a shot for the first time in a pro event, he has never won there. Neither did Jack Nicklaus or Arnold Palmer. There is fear among tournament directors and sponsors that Tiger only plays courses now where he has won.
Hogan won back-to-back L.A. Opens in 1947 and '48, coming back in the summer of '48 to win the Open. Not being sacrilegious, but there was talk that if Freddie came back and won at age 48, that the alley should be renamed. "The place still echoes for him when he comes down Capri Drive," says Renaud, who has known him since Fred won the old Kemper Open at Congressional in 1983. That was 25 years ago, but in a sense, not much has changed. "I've always loved Riviera," Fred said many times during the day. "It's my favorite place."