News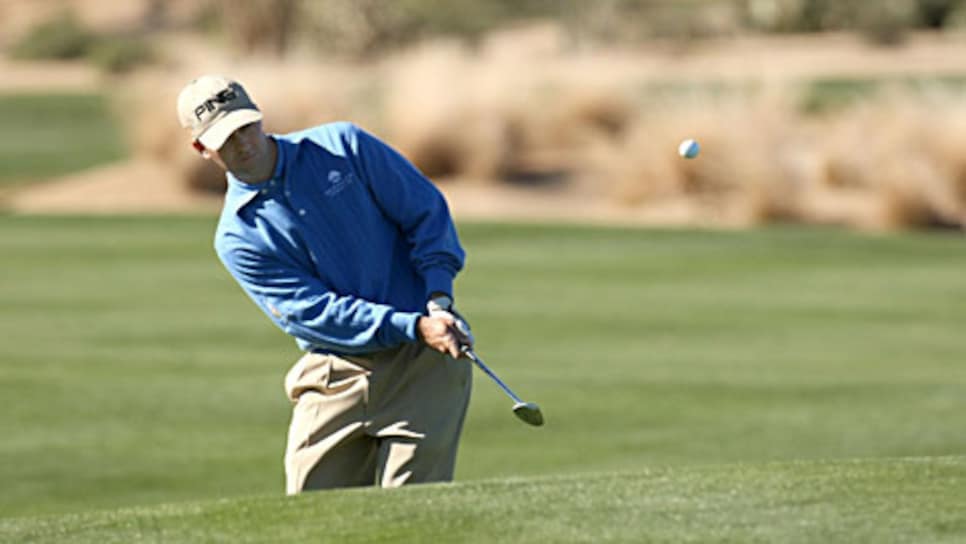 Charles Warren overcame cold and frost delays to fire a six-under 65.
SCOTTSDALE, Ariz. (AP) -- Charles Warren and Kevin Sutherland shared a one-stroke lead in front of a record opening-round crowd of 83,657 on a crisp, clear Thursday at the FBR Open.
Phil Mickelson overcame a pair of early bogeys on par-5 holes and was in a group of 12 three shots back at 3-under 68 on the 7,216-yard desert layout.
Warren played a bogey-free round of 6-under 65 early in the day, then Sutherland birdied the final two holes, the last with a 24-foot putt, in the twilight.
Brian Gay and Camilo Villegas were one shot back at 5-under 66.
Twenty-four players were still on the course at 5:58 p.m. when play was suspended because of darkness, including Nick O'Hern, who was 5 under through 14 holes.
Six were two shots behind at 4-under 67, and another two were still on the course at 4 under.
The chilly weather didn't stop revelers from streaming to the most raucous stop on the PGA Tour.
Crowds should only get bigger until peaking on Saturday, when more than 150,000 are expected. Partly because of the thousands in town for the Super Bowl, tournament officials say there's a good chance that overall attendance will top the record of 536,767 set in 2006.
The start of the tournament was delayed for 30 minutes because of frost on the TPC layout in north Scottsdale, some 50 miles east of the site of Sunday's Super Bowl. It was 35 degrees when the first group finally teed off at 8:10 a.m.
Gay, in the third group to start, used a hand warmer and wore mittens between shots on the first few holes.
"It was freezing this morning," he said. "Being a Florida guy, I don't like the cold very much. My fingers were a little numb, toes were a little numb, but I hung in there early and kept the momentum going."
The temperature climbed into the mid-50s later but seemed warmer because of the sunshine.
Sutherland, the 2002 World Match Play champion who lives in Sacramento, Calif., broke his 9-iron swinging it into a cactus. He played the back nine first, and broke the club on the 13th hole.
After his ball landed near the cactus, he got permission from an official to wrap a towel around his leg to keep from being stuck by the cactus on the follow-through. He never thought the club would break, though.
Sutherland and his caddie put in a call to their Ping representative, and the Phoenix-based company had one for him six holes later.
"I used it on the ninth hole and made birdie," he said.
Warren, 32, of Greenville, S.C., has never won on the PGA Tour. His best finish was second at last year's Reno-Tahoe Open. He played in the same group as the colorful Villegas, a Colombian hearthrob known as "Spiderman" for the way he sprawls on the green to line up putts.
"As soon as I knew I had drawn him, I definitely knew that we would probably have decent sized gallery following us," Warren said. "He seems to bring all the young people out, that's for sure."
Villegas has two second-place PGA Tour finishes, one of them as a tour rookie at the FBR Open in 2006. The 26-year-old Colombian finished last year with three top 10 finishes.
Villegas said a golfer has to tune out all that's going on around him to succeed in the tournament's party atmosphere.
"Well, there's a lot going on outside the ropes, like everybody knows," he said, "and you're going to get good comments and you're going to get bad comments. The fans have been awesome to me the last two times I've played here. But you've got to have hard skin because the bad comments are going to sneak over there."
Villegas' tee shot on No. 11 came within inches of the water and required drastic measures to hit it out of there.
"I had to take my shoes off, hop in there, and I can tell you that water was cold," he said. "I managed to get it close to the green and a good up-and-down for par."
Mickelson, a two-time winner of the tournament who missed the cut last year, played the back nine first. He hit his tee shot into the water on the par-5, 595-yard 13th en route to a bogey, then bogeyed the par-5, 552-yard 15th, too.
"I'll certainly take 3 under because after the start, it was looking like I could shoot myself right out of it," he said. "Now at least if I have a good round tomorrow I can get right back on top of the leaderboard."