News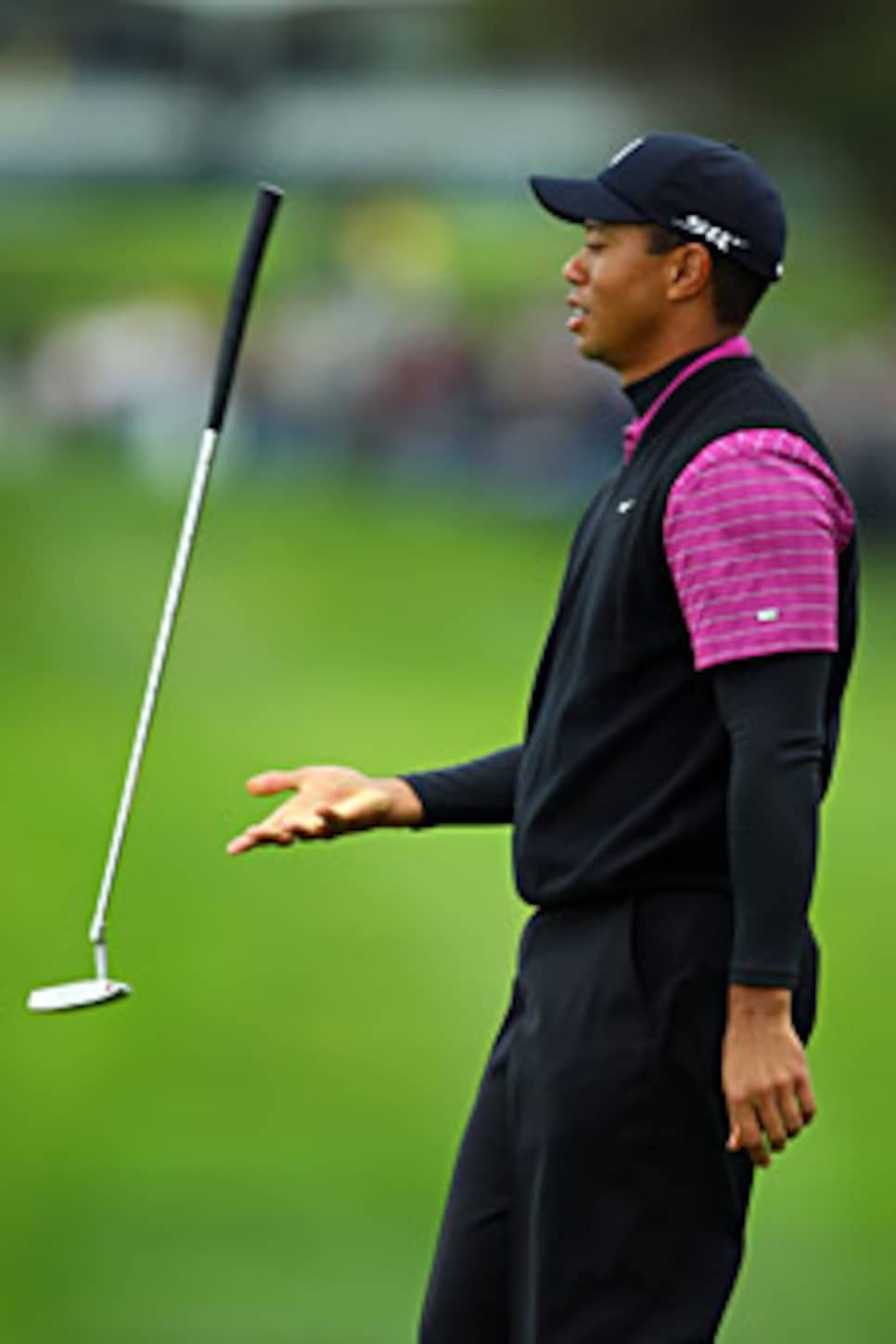 Tiger blends the creative and the intuitive like no one else in the game every has.
If anyone is sick of reading stories about Tiger Woods, here's a tip: You are in for a long season. On Friday, after Woods dialed in an impressively routine 65 to take a four-stroke lead into the weekend at the Buick Invitational, I went out on a limb about the size of Barry Bonds' head and projected a winner at Torrey Pines. That might have been the safest prediction since Noah said it felt like rain. Now, it seems, everyone is getting on board, marching two-by-two up the gangplank and forecasting the impossible for Tiger. And none of it seems outrageous.
When someone says this could be the year Tiger sweeps the Masters, U.S. Open, British Open and PGA Championship, it seems like a plausible prediction. When the most unbreakable record in professional golf -- the 11 consecutive victories by Byron Nelson in 1945 -- is placed on the table as suddenly breakable, no one says, "Are you nuts?" After seeing the way Woods played in his first PGA Tour event in four months -- running away with the Buick Invitational for his third consecutive tour victory, fifth in his last six starts and 62nd of his career -- it's difficult not to believe the man simply plays the game better than it has ever been played.
There may be no sport in which domination is as difficult to achieve as in golf. Two very wise women, the Golf Digest Top 50 teachers Lynn Marriott and Pia Nilsson, taught me that we have in life two categories of events: Those which we can control and those we can't control. Successes, they say, involves distinguishing between the two and directing your energies toward the controllable while having the discipline to not waste time and energy on that beyond your control. In no game is the challenge greater than in golf, and no athlete has ever made the distinction as successfully as Woods.
Now I'm not clever enough to have figured any of this out myself, but I am aware enough to take a healthy drink when led to pond of knowledge. Several years ago I worked on the book "Every Shot Must Have a Purpose" with Marriott and Nilsson and was bowled over by the simplicity of their peak-performance philosophy. Think about it: We can't control what happens to us, but we can control how we react to what happens to us. And who shows more control than Woods?
Golf is all about the uncontrollable. The test of a true champion has as much to do with how they react as it does with how they act. In just about every other sport -- even the individual sports of tennis and boxing -- you can influence the outcome of your opponent by playing defense, disrupting their rhythm or simply out-hustling them. Not so in golf. There is no game in which you have less control over whether you win or lose than in golf. That's what makes what Woods is doing even more remarkable.
Truly, you can't control whether you win in golf, you can only control those things that can lead to winning. You can't control the weather, bad bounces or the fact that someone else plays lights out. But you can control your tempo, your decision-making, your focus and your preparation. Has anyone ever done that as well as Woods?
As much as we focus on the physical talents Woods brings to the game of golf -- he's probably the most-skilled athlete ever to play the game -- it is his intangibles that make him special. Yes, he is strong, yes he can do wondrous things with the golf ball and yes he has the uncanny ability to hit the big shot at the most important time. But his genius is much more complex than any of that.
He is not only smart, he is creative and intuitive. Part of the unique nature of golf is that it is both an art and a science. Tiger blends the two brilliantly. As he has matured before our eyes from the 20-year-old gambling swashbuckler into a 32-year-old father he has developed an uncanny sense of control on the golf course. The driver stays in the bag more often as he opts to hit fairways and go after greens from 200 yards out rather than risk the rough for a 150-yard approach shot.
Woods sees the golf course like a chessboard and plays the game several shots ahead without ever losing focus on the shot he has to hit right now. If the pin is on the right side of the green he drives to the left side of the fairway. If the pin is back, he brings in a low knock-shot that releases and runs. If the pin is up, he hits a high shot past the flag and spins it back. This is the way Jack Nicklaus dominated; this is the way Ben Hogan surgically took apart a golf course. This is why Woods is now tied with Arnold Palmer on the career victory list, two behind Hogan and 20 behind Sam Snead's all-time record of 82.
If you are tired of reading about Tiger Woods then it is time for you to become a cricket fan. But this has the potential to be the kind of season that will not only please the pure golf fan; it will captivate fans of all sports and, in fact, those who appreciate genius in any area of achievement. If you are tired of reading about Tiger Woods you are missing the point. History is a blank page open in front of Woods, and he is in the process of authoring an entry people will read about as long as greatness is appreciated. Embrace it.
Sirak's most-recent book with Marriott and Nilsson is "The Game Before the Game: The Perfect 30-Minute Practice."