News
Is There A Mercy Rule In Golf?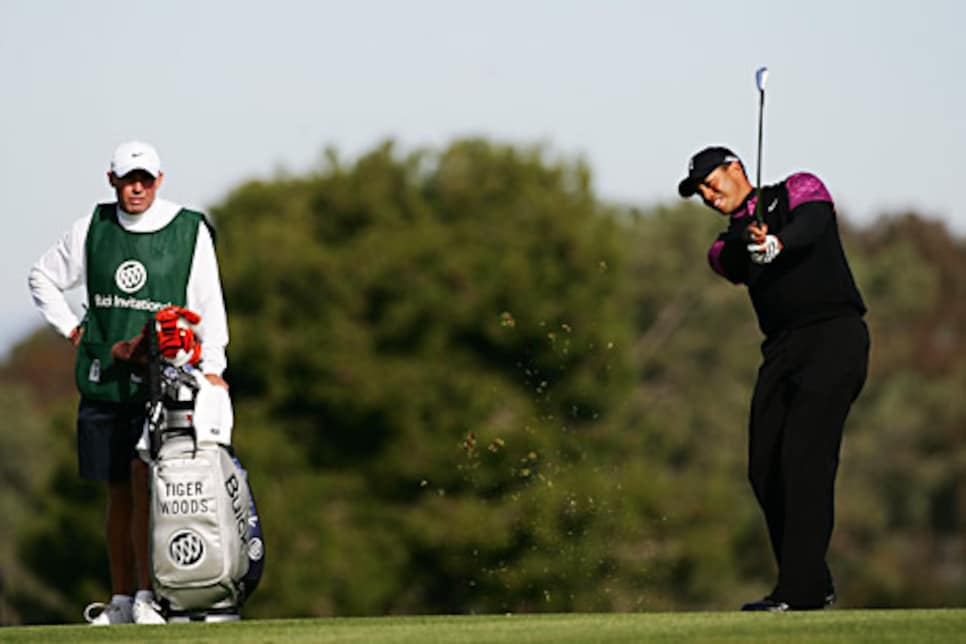 First in Greens in regulation and second in putting puts Tiger's domination of the Buick Invitational in perspective.
SAN DIEGO, Calif (AP) -- Break out the umbrellas for rain, and the white flags for Tiger Woods.
Winning the Buick Invitational became a matter of when -- not who -- after Woods put on a clinic Saturday by hitting 17 greens in regulation, building an eight-shot lead and hoping he doesn't have to wait until Monday to collect a fourth straight title at Torrey Pines.
"I'm in second place. I'm not really in contention," Stewart Cink conceded. "He's just hard to beat right now."
Woods finished off a 6-under 66 with a tap-in birdie on the par-5 18th, where his 3-iron landed on the bank guarding a pond but stopped short of going into the water. That put him at 18-under 198, tying the 54-hole tournament record set by Woody Blackburn in 1985.
Cink made a 35-foot eagle on the final hole to trim the lead to eight.
Woods shattered the Buick Invitational record for largest 54-hole lead (five shots), and it was the largest on the PGA Tour since Phil Mickelson led by eight shots at the BellSouth Classic in 2006.
This is a course Woods loves, but he has never dominated like this at Torrey Pines. Two years ago, he was in an eight-way tie for the lead with six holes to play. Last year, he had to rally from two shots behind in the final round.
"A lot more enjoyable," Woods said of his margin. "I'd like to have the biggest lead you can possibly have. You've still got to go out there and play well and post a number. Whether that takes us tomorrow or into Monday, I still need to go out there and hit good shots. You don't ever want to give guys a chance by playing poorly."
Joe Durant was among the deflated, having posted a 67 on the tough South Course only to lose ground. He was at 9-under 207, and when someone asked if the tour should have a mercy rule, Durant could only laugh.
"If there was ever a week for it, this might be it," Durant said.
Mercy might come from Mother Nature. Sunshine gave way to clouds late in the day, and the forecast Sunday was for heavy rain that could wash out the final round. Players would have to return on Monday if the course conditions and forecast allow.
PGA Tour tournament director Mark Russell said Woods with an eight-shot lead would have no bearing on the decision.
"There's no mercy rule," he said. "We're not playing Little League baseball. We'll see what happens. We might get lucky."
Everyone else might need much more than luck.
Woods has never lost a tournament when leading by more than one shot, let alone eight. And it became clear as he kept piling up birdies, and stretching his streak to 38 holes without a bogey, that there were two tournaments being played at Torrey Pines.
"I'm going to try to win the tournament that Tiger's not playing," Justin Leonard said after a 65, the best round of the day that moved him up 44 spots into a tie for fourth.
It was his largest 54-hole lead since he led by 10 on his way to a 15-shot victory in the 2000 U.S. Open at Pebble Beach, an ominous sign with Torrey Pines hosting the U.S. Open this summer.
"If it was over, they'd be handing out the trophy," Woods said.
Kevin Streelman, the 29-year-old rookie who was the last alternate to get into the Buick Invitational, finally met Woods on the first tee, and then came the introduction to his game.
Streelman held his own, driving past Woods on the opening hole and stuffing his approach into 4 feet. But he missed the putt on the low side, and while he was 1 under through eight holes, he sent a wedge over the green on the par-5 ninth and took double bogey.
Streelman wound up with a 75 that dropped him into a tie for 11th, but he had a blast.
"That was one of the coolest things ever, no doubt," he said. "He was fun to watch but just kind of fun to compare myself against him, as well. It's inspiring and very educational. I recommend everyone try it at least one time."
Even his best golf might not have mattered. Woods built a four-shot lead going into the weekend despite some scrappy play off the tee. He sorted that out Saturday, and once the putts started falling, he was on his way.
Phil Mickelson made an early charge with a 30 on the back nine (he started on No. 10) to get within five shots of the lead, but the best he could manage was a 68.
Woods holed a 10-foot birdie on the fourth, and his approach at No. 5 spun back and grazed the edge of the cup for a tap-in birdie. He hit his tee shot on the 212-yard 11th hole to 3 feet, and two-putted for birdie on the 13th, his only look at eagle all week. The only time he flirted with bogey came at the 12th, but he holed a 20-footer for par.
"I've only made one bogey," Woods said, explaining his eight-shot lead on a course where the scores usually are bunched. "I'm sure some guys have made just about the same amount of birdies as I have, but I've only dropped one shot."
Woods and everyone else will find out Sunday whether they play, but even if the fourth round can't finish until Monday, that might bring another omen to the world's No. 1 player.
The last time a PGA Tour course held the U.S. Open -- the AT&T Pebble Beach National Pro-Am -- Woods won that on a Monday. But he had to rally from a five-shot deficit that year. This was a runaway impressive even by Woods' standards.
Divots:@ Streelman made small talk with Woods during the round, even asking for an exemption to the AT&T National at Congressional that Woods hosts in the summer. "I told him he was playing well enough that he could earn his way in," Woods said. ... The last 54-hole event on the PGA Tour was the 2005 BellSouth Classic, the week before the Masters. ... The only 54-hole event Woods has won was the 1997 Mercedes Championships up the road at La Costa.