News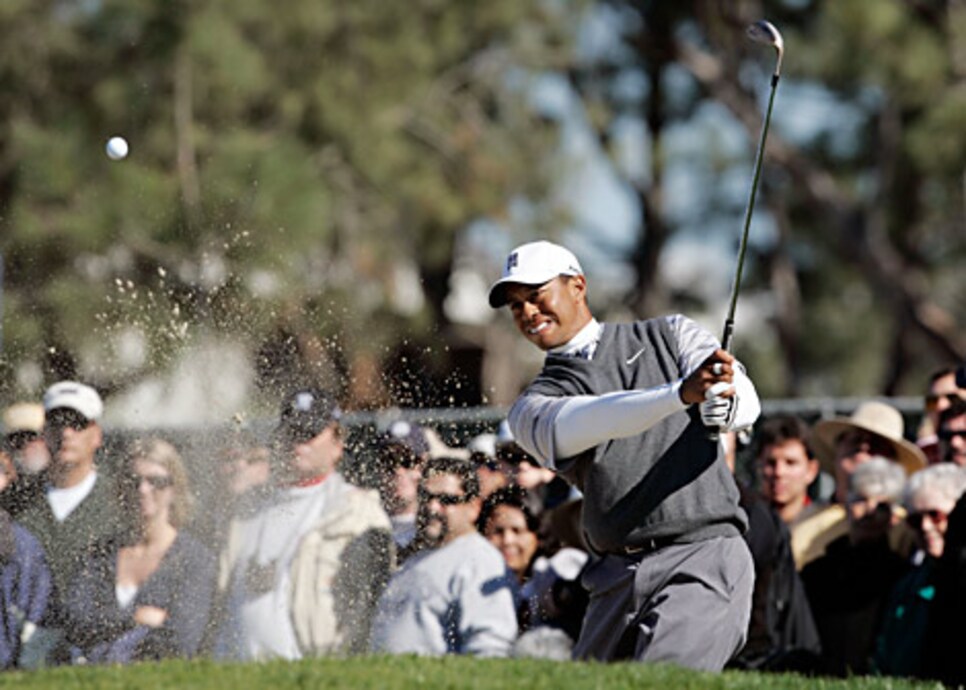 If Friday's round is any indicator of what's to come in 2008, Tiger's only competition is himself.
SAN DIEGO, Calif. (AP) -- Kevin Streelman had his head down as he rapped a few putts to kill time, realizing that as third alternate at the Buick Invitational, the 29-year-old rookie probably would get a chance to play.
When he looked up, he was startled to see Tiger Woods in front of him.
"I was kind of awestruck for a second and I said, 'Wow, I guess I am on the PGA Tour," he said. "It was pretty cool."
It might be even more jarring to see Woods on the first tee in the final group Saturday at Torrey Pines.
Woods made short work of the North Course on Friday with a 7-under 65, giving him a four-shot lead as he tries to win the Buick Invitational for the fourth straight year. Adding to his odds is being a chased by a rookie who's just happy to be here.
Streelman was the last alternate to get in, opened with a 67, then made it around the tough South Course on Friday with a 69 that put him in second place on the leaderboard, and under a big spotlight on the weekend.
"Obviously, it's going to be a huge ordeal out there, but it's going to be great," Streelman said. "If I play great, great. If I don't, it's going to be a tremendous learning experience."
For Woods, it was old hat.
He chipped in for par, escaped from a couple of trees and matched his best start ever at Torrey Pines at 12-under 132.
The hard part might be reminding himself the tournament ends Sunday.
"If they handed out the trophy today, then it would be over and no big deal," Woods said. "But since we have so many more holes to play ... as you've seen on tour, anything can happen."
In this case, "anyone" might be more appropriate.
The world's No. 1 player said he had never heard of Streelman, and when told that he was No. 1,354 in the world ranking, Woods replied, "I think he might be going up."
Joining them will be Stewart Cink, who shot a 69 on the South and was another shot back at 7-under 137.
Troy Matteson got turned in the wrong direction. After a 65 on the South Course that he said he couldn't top, he was 10 shots worse on the North Course, shooting a 75 to fall eight shots behind.
For the second time in three weeks, nearly 20 guys left town with last-place money and no tee time.
The cut of top 70 and ties amounted to 85 players, and because that number exceeded 78, only 66 players advanced to the weekend. Among the casualties were Kenny Perry, Chris DiMarco and Jay Williamson, who was one of six players who signed a petition at the Sony Open to get rid of the new cut policy.
Fueling their frustration is that Jose Maria Olazabal won the Buick Invitational in 2002 after making the cut on the number. But that year, Olazabal was only eight shots behind the co-leaders, J.L. Lewis and Kent Jones.
The 19 players who made the cut and can't play the weekend were 13 shots behind Woods, who is turning this Pacific property into his personal playground.
Under sunny skies and a stiff breeze, Woods got his round going with a par. He drove it well to the right, then bladed his iron so far over the green that he was happy that his third shot stayed atop a ridge in the rough. That left him 25 feet for par, and he chipped that in. He holed a 10-foot birdie putt on the next, then made three straight birdies around the turn to seize control.
Along with chasing Woods, the biggest frustration might be weather.
The forecast was for rain to arrive Saturday afternoon, with heavy rain expected on Sunday. That leaves a dual challenge of trying to catch golf's best player and cope with potentially miserable conditions.
"Chasing Tiger Woods is always the tallest task on the PGA Tour, so I get a chance to try again," Cink said.
For Streelman, it's a new experience, and one he is relishing for all the right reasons.
Whereas Woods never had to go to any stage of Q-school to earn his card, Streelman has been toiling on the mini-tours since leaving college. When he learned he was in the field, he had enough time to call his fiancee in Phoenix and his sponsors in Southern California, and they rushed to Torrey Pines to watch him play.
"It's going to be, for me, very gratifying, and a tremendous learning experience," he said. "To be able to walk next to him, to just kind of see what he does and try and compare ... obviously, if I can keep doing what I'm doing, just play the golf course, that's all it is."
Woods is 30-6 when having at least a share of the 36-hole lead on the PGA Tour, but one reason that Woods closes so well is that he never takes any lead for granted — no matter who is trying to catch him.
And the more he learned about Streelman, the more he liked his story.
"People don't realize the difference between someone making cuts, getting on the tour, and winning a golf tournament," he said. "It's just a couple of good shots here and there, maybe a couple of lucky breaks here and there. It really isn't as big a gap as people might think. The great thing is watching guys taking advantage of opportunities, whether they're first alternate or they get an exemption.
"Those are fun stories to see transpire."
Divots:@ Phil Mickelson shot a 73 on the South and was at 1-under 143, 12 shots out of the lead. "I'm not sharp right now," he said. ... Any meeting of Woods and Rory Sabbatini will have to wait. Sabbatini shot a 75 and was 10 shots behind. ... John Daly missed the cut after a 76 on the North Course and headed straight for the parking lot.