News
Two Back But Tiger Delivers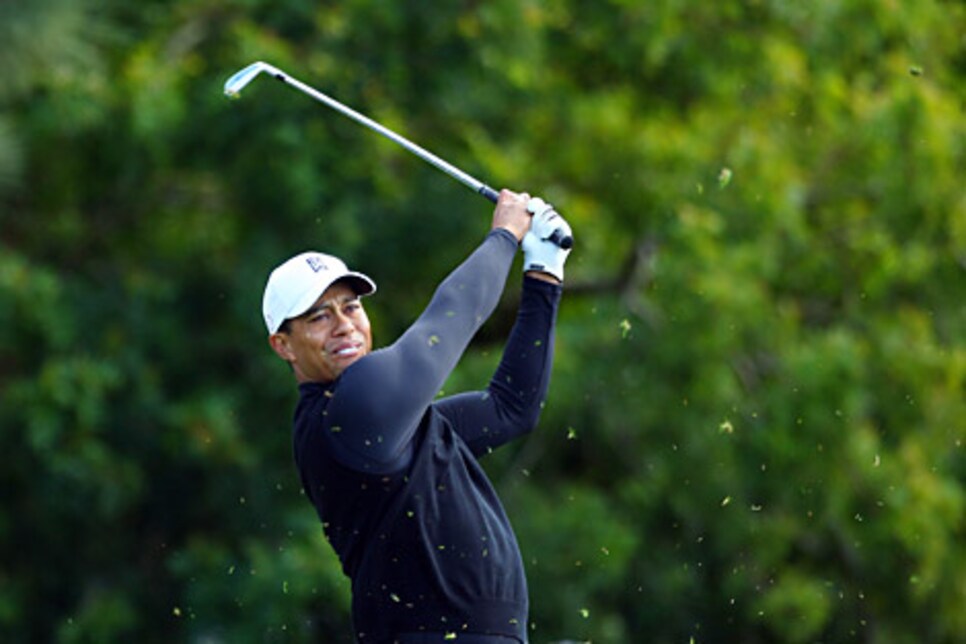 Tiger got a good start on his goal of a four-peat at the Buick Invitational.
SAN DIEGO, Calif. (AP) -- Tiger Woods delivered the score he expected in his 2008 debut, just not the game.
Despite playing from the sand, rough and behind a few trees early in his round, Woods began a much-anticipated season Thursday with a 5-under 67 on the tougher South Course at Torrey Pines. That left him two shots behind Troy Matteson, and gave him a strong presence on the leaderboard as he goes for his fourth straight title in the Buick Invitational.
"It wasn't pretty off the tee, but I hung in there," Woods said. "Shooting 67 is always going to feel pretty good on the South Course."
Imagine how it felt for Matteson.
He ran off five birdies in a six-hole stretch on the back nine, then finished his round with consecutive birdies to become the first player since Davis Love III in 2000 to have the first-round lead while playing the South.
"I won't top that for awhile," Matteson said.
Brad Adamonis had a 66 on the North Course, which is 600 yards shorter and played more than two strokes easier.
Rory Sabbatini, Stuart Appleby and Kevin Streelman, who began the day as the third alternate, were in the group at 67 with Woods. They all played on the North, which is where Matteson and Woods play on Friday.
Phil Mickelson opened his season with a 70 on the North.
Matteson was 11 shots better than his last trip around the South Course. That was the final round a year ago, when he played alongside Woods and watched the world's No. 1 player turn an ordinary round into a winner.
Maybe someone of that rubbed off on Matteson.
"That's an experience that any player would remember," Matteson said. "Anytime you get paired with Tiger, it's very interesting from a crowd standpoint, from a what-he-does standpoint. It's just pretty neat to see the guy shoot 66 on Sunday to win."
Woods, who hasn't played since winning his Target World Challenge by seven shots on Dec. 16, wasn't the only person returning to work.
Golf Channel anchor Kelly Tilghman was back in the booth after a two-week suspension for jokingly suggesting young players wanting to take on Woods should "lynch him in a back alley." She recorded an apology that opened the telecast.
That seemed to end a month's worth of troublesome news in golf outside the ropes — Tilghman's suspension, the firing of a magazine editor for putting a noose on the cover, and the death of popular caddie Steve Duplantis in Del Mar early Tuesday.
But maybe there's more tension to follow.
Woods put his name atop the leaderboard with a chip-and-putt birdie on the par-5 13th, his name right below Sabbatini's. And after the round, the chilly air dropped a few more degrees.
They have not spoken since Sabbatini withdrew from the final round of the Target for what his agent described as shin splints, pocketing $170,000, and Woods said the South African has never called to explain what happened.
"I haven't talked to him about any of it," Woods said. "It is what it is."
Sabbatini donated the money Tuesday to the United Through Reading Military program at a ceremony for sailors at the Navy assault ship USS Boxer. Asked if the money came from his withdraw at the Target, Sabbatini said, "That's what the situation was."
"Unfortunately, the media took a lot of criticism toward me after the event, in that situation I was there," Sabbatini said. "I was tired, and we thought about it, and we thought we'd put it some good use."
Sabbatini was asked to describe his relationship with Woods.
"As far as I understand, there's no animosity," he said. "We're both competitors and we both want to win."
But as he walked out of the interview tent, with Woods waiting to enter, Sabbatini kept his eyes glued to the ground and Woods made no effort to speak to him. Told about the donation, Woods said, "Oh. That's good."
The way the start of this season has gone, it wouldn't be surprising to seem them paired together on the weekend. But this tournament doesn't take shape until two days, when everyone gets a crack at two courses that couldn't be more different.
Woods doesn't always overwhelm the North course, which is playing slightly more difficult in cold air and a stiff breeze, and with two par 3s that have been lengthened.
"The key is take care of the par 5s and then try and sprinkle in a few more (birdies) here and there where you can," Woods said.
He didn't fare that great on the par 5s at the South, playing them in only 1 under. But he did enough to get the attention of anyone who might have missed him over the last four months on the PGA Tour. Woods hit only two fairways on the front nine, but picked up birdies with a 10-footer on No. 4 and chipping in from 25 feet on the par-3 eighth.
He also hit 7-iron out of the rough on No. 10 to 4 feet, and holed a 25-foot birdie on the par-3 11th. His lone mistake was a chip from short of the 16th green that bounced high and soft, staying 10 feet below the hole.
So why was swing in control everywhere but on the tee?
"Your guess is as good as mine," Woods said. "I had a low, left ball or a spinny, high right. Kind of hard to aim when you've got both of those things going."
Divots: Mike Weir withdrew after nine holes with an illness. "Early on he was not feeling well, and Charley (Hoffman) was not feeling well," Troy Matteson said. "I thought we were going to be down to one there pretty quickly." ... John Daly, who withdrew last week from the Bob Hope Chrysler Classic, opened with a 77.