News
Funk Seals Doyle's MasterCard Fate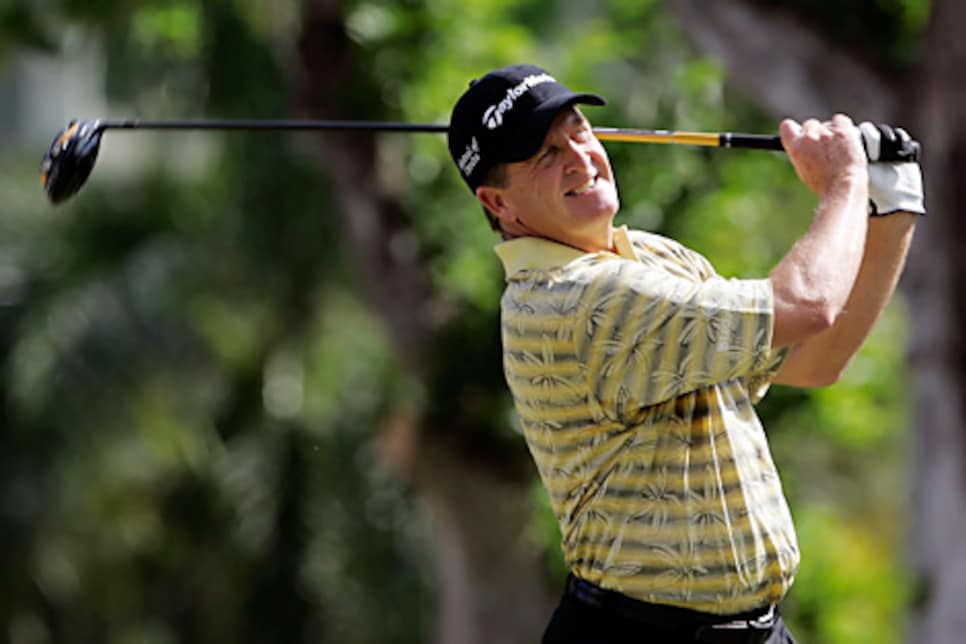 "What are you going to do?" said Doyle as he watched helplessly.
KAUPULEHU-KONA, Hawaii (AP) -- Last season, Fred Funk fell $2,036 shy of becoming the first golfer to earn $1 million on both the PGA and Champions tours.
This season, he's well on his way to accomplishing his lofty personal pursuit of becoming golf's first $2 million man.
Funk earned $300,000 after he won the Champions Tour's season-opening MasterCard Championship on Sunday with birdies on the final two holes for a 7-under 65 and a two-stroke victory over Allen Doyle.
The 51-year-old Funk finished with a 21-under 195 for his third Champions Tour victory in 14 starts and his second title in Hawaii in two years.
Funk raised his club in the air after he chipped in from 20 feet on No. 17. He then holed a 7-foot birdie putt on the 54th hole, after hitting a spectacular 6-iron shot out of the bunker, capped with an emotional high-five to his caddie.
"What are you going to do?" said Doyle, who blew a four-stroke lead with 11 holes to play and finished with a 68. "The chip on 17. The great sand shot on 18. That's the way it goes."
Funk's victory comes after he earned $185,571 in his first two PGA Tour events. He opened the year by tying for 25th in the PGA Tour's Mercedes-Benz Championship and tying for 10th place last week at the Sony Open.
Next, he heads to Oahu to defend his title at the Turtle Bay Championship, which he won by 11 strokes last year.
"If I can stay healthy, I think I can do it," Funk said. "It's not a slight to anybody. It's just the fact that I don't have any goals. It would be very difficult for me to win the Schwab Cup. I can't really do much on the FedEx Cup. So I have to have my own little cup."
Last year, he earned $1.2 million in 22 PGA Tour events and $997,964 in 10 Champions Tour events. A birdie putt by Denis Watson at the season-ending Charles Schwab Cup Championship prevented him from becoming golf's first $1 million man.
Funk acknowledges $1 million on each will be extremely difficult to accomplish since he plans on playing at just 15 events on the regular tour, more if he can qualify for the majors, and 13 tournaments on the 50-and-over circuit.
He estimates it will take about five or six wins on the Champions Tour.
Players on the senior circuit have encouraged Funk to stick to the regular tour, where he won the Mayakoba Golf Classic last year.
"Then I go out (to the PGA Tour) and they all say, 'What the hell are you doing out here. You're supposed to be out there,'" he said. "I'm confused."
Funk said he didn't know how much opening the season on the PGA Tour actually helped. Doyle said there was no doubt it helped Funk.
"I'm sure that helps. He was probably coming here, feeling very good about his game," Doyle said.
Jay Haas, seeking a record third straight money title and player of the year award, closed with a 67 to tie for third with Bernhard Langer (65) at 17 under.
First-round leader Tom Purtzer had a 69 to finish fifth at 16 under.
The wind was down most of the day at Hualalai until late in the afternoon when it changed directions and shook the palm trees and most of the players, except Funk.
Funk made his move on the back nine. He tapped in for birdie on the par-5 10th to move to 17 under and trim Doyle's lead to two strokes. Doyle lost a stroke on the next hole when he missed the green short and his chip died 10 feet from the hole.
Funk tied Doyle for the lead by sinking a 26-foot birdie putt on the par-3 12th.
"He's got a four-shot lead and I was just saying, 'Let's have a good tournament regardless of what Allen's doing,' and all of a sudden I got on a little roll," Funk said.
The 59-year-old Doyle, seeking his 12th Champions Tour victory and his first since the 2006 U.S. Senior Open, parred his final five holes.
Doyle, who dropped 20 pounds in the offseason, said his round was encouraging after a poor ending last season.
He birdied three of his first four holes and started to pull away. Funk, meanwhile, was having trouble early off the tee.Doyle started the round by holing a 12-foot birdie and opened up a four-stroke lead over Purtzer and Funk when he chipped to a couple inches for birdie on the 551-yard seventh.
"The momentum was totally Allen's at the beginning of the day," Funk said.
After bogeying No. 2 because of a tee shot in the left rough, Funk got a couple consoling pats on the back from his 12-year-old son Taylor as they walked together to the third tee.