News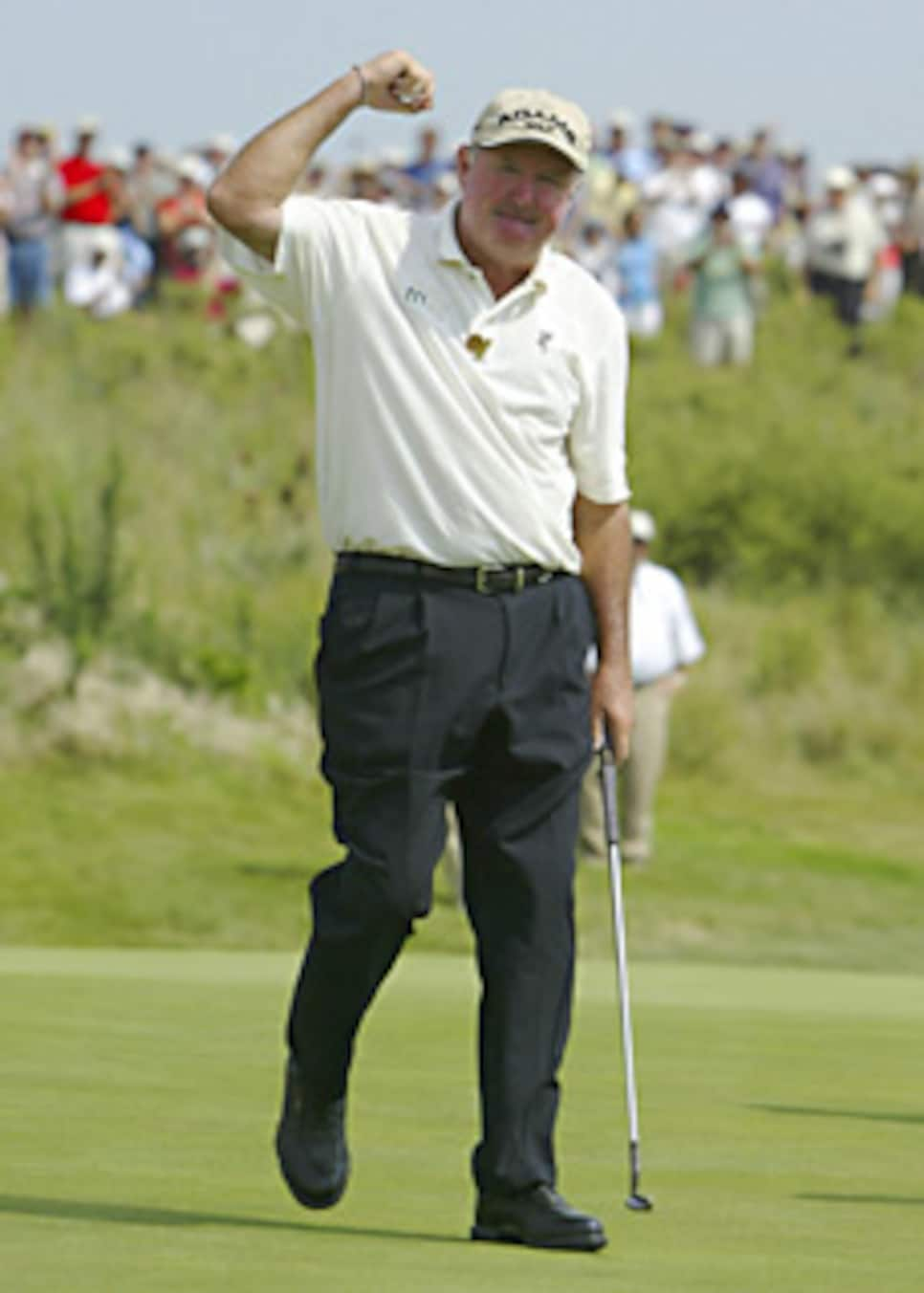 Doyle got in shape during the off season and it's paying off.
KAUPULEHU-KONA, Hawaii (AP) -- Allen Doyle dropped about 20 pounds in the offseason. It helped him drop putt after putt Saturday.
Doyle birdied the final two holes for a 6-under 66 and a one-stroke lead over Fred Funk after the second round of the MasterCard Championship.
"When you can finish birdieing 17 and 18, you know you've done something, so I'm very pleased," the 59-year-old Doyle said.
He holed a bending 26-foot birdie putt on the 18th hole to finish at 15-under 129 in the winners-only tournament, the first of 29 Champions Tour events of the year.
This time, his feet weren't aching like they did in 2007, which was his worst full-season since joining the 50-and-over circuit.
"At the end of last year, I was in tough shape," he said. "My weight was way up and my feet were killing me. I kind of had a bad last third of the year. I kind of vowed to shed some weight and get in better shape."
He lost weight by playing golf, lifting a little weights and eating right. The effort is already paying dividends.
"I'm tickled to be where I'm at," said Doyle, seeking his 12th Champions Tour victory and his first since the 2006 U.S. Senior Open. His best finishes last year were a second in the ACE Group Classic and a ninth-place tie at Hualalai.
Funk, coming off a 10th-place tie last week in the PGA Tour's Sony Open, had a 63 to put himself in contention for a second victory in Hawaii in as many years. It was his best round on the Champions Tour.
First-round leader Tom Purtzer (69) and Jim Thorpe (68) were third at 13 under.
Jay Haas, seeking an unprecedented third straight money title and player of the year award, was alone at 12 under after a 67. Loren Roberts (65), Dennis Watson (66) and D.A. Weibring (69) followed at 11 under.
After the players attacked the defenseless Jack Nicklaus-designed resort course with a 67.53 average in the first round, the wind picked up in the second, with the players averaging 2½ strokes higher.
Doyle wasn't the longest hitter, but had a solid and consistent short game and turned in a bogey-free back nine. He tied Funk for the lead at 14 under by sinking a 6-footer for birdie on the par-3 17th.
Doyle had eight birdies and two bogeys in his round, which was his 19th straight below par at Hualalai dating back to the second round of 2002. His best MasterCard finish is a fifth-place tie in 2002. He also finished seventh three times.
The bogeys came when he three-putted on No. 4 and sailed his drive way right onto the cart path and into the ink-black lava fields on the par-5 seventh, one of the easiest holes at Hualalai.
"You give up two shots when you make 6 there," he said.
Funk surged up the leaderboard with a torrid start, birdieing five of his first six holes and hit a 3-iron to 12 feet for eagle on the 551-yard seventh to reach 12 under.
"It was a great round and obviously a ridiculously good start — a dream start," he said. "Seven under through seven holes. That's as good as it gets."
He three-putted for his lone bogey on No. 9 and quickly got back on track with birdies on Nos. 10 and 11 with thoughts of shooting a 59.
The 51-year-old Funk seemed to be in midseason form as he continues what he refers to his "Hawaiian slam." He opened the season on the PGA Tour, tying for 25th in the Mercedes-Benz Championship and 10th in the Sony Open.
He won on each tour last year, winning the Turtle Bay Championship by a record 11 strokes and the regular tour's Mayakoba Golf Classic. This season, he has a goal of earning $2 million on each tour.
"It would be very difficult to do but it's also feasible," he said.
Defending champion Hale Irwin was tied for 36th of the elite 41-player after shooting a 70 for a two-day total of 2-under 142.
The 62-year-old star, who has nine official victories in Hawaii, had a string of 12 rounds in the 60s at Hualalai before this week.
Last year, Irwin beat Thorpe and Tom Kite by five strokes for his tour-record 45th victory. Irwin closed with a 65 for a 23-under 193 total.
The winner Sunday will take home $300,000 of the $1.8 million purse.