News
Gamez Takes Lead at Bob Hope Chrysler Classic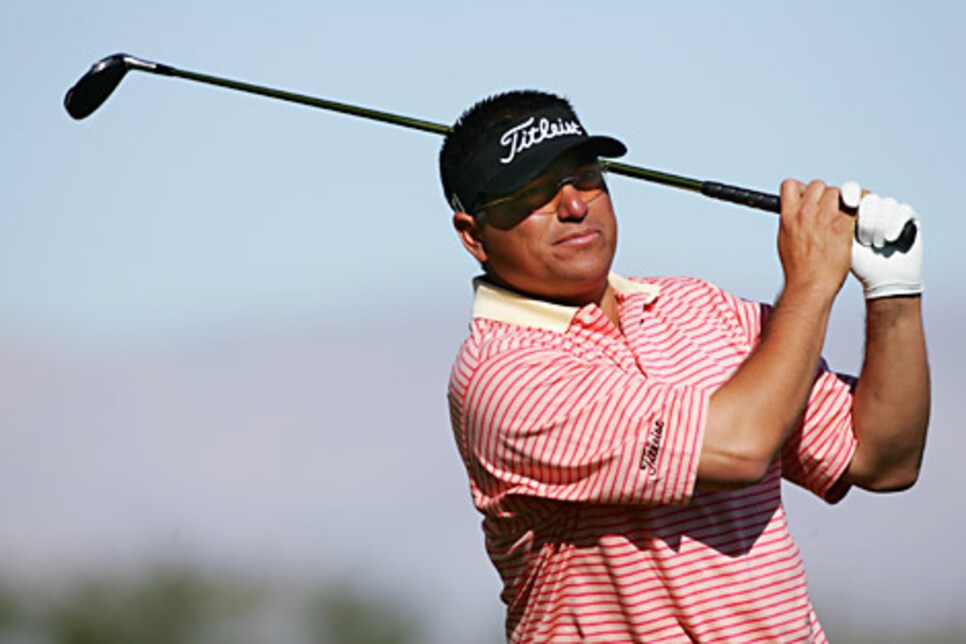 Playing on a sponsors exemption, Robert Gamez is making the most of his opportunity.
PALM DESERT, Calif. (AP) -- Robert Gamez, in the tournament on an exemption, missed some short putts but still shot a 5-under 67 on Friday to take the lead after three rounds of the Bob Hope Chrysler Classic.
Gamez went to 18-under 198, good for a one-shot lead over Justin Leonard and D.J. Trahan through 54 holes.
Gamez was surprised to be in front.
"The wind didn't blow very much and I don't think the golf course played that difficult," Gamez said. "I don't know what the weather was like at the other courses, but I am a little shocked to shoot 5 under and be leading.
"I left at least four (strokes) out there. I missed a couple little, short birdie putts, a 3-footer and a 4-footer, two holes in a row on the back. And then I had a three-putt on the back, the par 5, and missed a short par putt on seven."
When there is no wind at the desert event, scores usually go extremely low. Joe Durant finished 36 under when he set the tournament record in 2001.
So Gamez expected a lot of players to rack up birdies during the third round.
"They were out there for the taking, with the wind being down, the weather being warmer," he said. "I thought there would be a lot lower scores."
Leonard, the 2005 champion, had a 67 to pull into the tie for second. Trahan shared the lead with Gamez after the second day, and shot a third-round 68.
Boo Weekley vaulted into contention with a 10-under 62 that put him at 201, three shots off the lead.
Weekley, Gamez and Leonard played at PGA West, one of four courses used for the pro-am portion of the 90-hole tournament. Trahan was at La Quinta Country Club.
Leonard said he missed a few birdie chances, but was pleased with his round.
"I think I hit everything on the button today," Leonard said. "I didn't always hit it where I wanted to, but I hit the ball pretty solid."
Weekley had 11 birdies, six on the back nine, and one bogey.
He said he obviously played well, and enjoyed his amateur playing partners.
"I have fun with it. It just kind of reminds me of when I get to go home and play golf with my buddies," Weekley said. "That's just my mind-set, that's the way I take it for what it is.
"I just got different names for my buddies."
Kenny Perry (65), Anthony Kim (67), Steve Elkington (69) and Tim Petrovic (68) were tied for fifth at 203.