News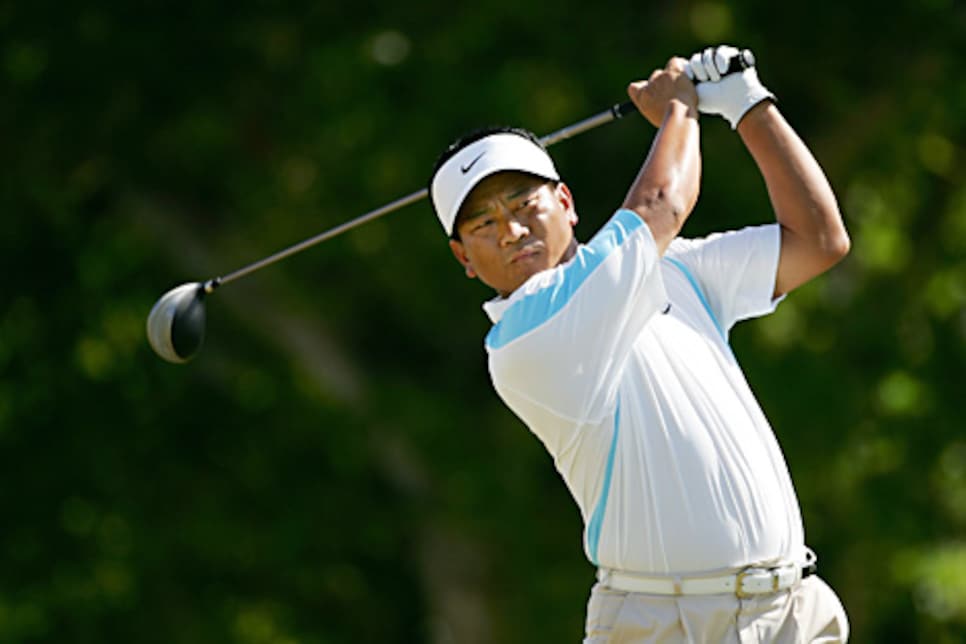 It was a special day for South Koreans living in America and K.J. made them proud.
HONOLULU, Hawaii (AP) -- K.J. Choi felt the pressure of performing before an audience at the Sony Open, not only a large contingent of South Korean fans living in Hawaii, but the 11 friends who flew from his hometown on Wondo Island to watch him play on the weekend.
He delivered a three-shot victory at Waialae, and only when it was over did he realize the significance.
After making his only birdie of the final round on the 18th hole to secure the seventh PGA Tour victory of his career, Choi was told that Sunday was the 105th anniversary of Korean immigration to America.
It was on Jan. 13, 1903, that the ship Gaelic entered Honolulu Harbor at dawn with 56 men, 21 women and 25 children from Korea.
"For me to win this tournament on this special day really means a lot," Choi said. "I think that's why with all the fan support out there, it made it that much more special."
Good thing no one told him that when he teed off.
"They didn't want to give me the pressure and tell me beforehand," Choi said with a laugh.
He had enough problems on the most demanding round of the week at Waialae.
Even though Choi was equipped with a four-shot lead, it was a battle from the opening hole. He had to save par with a 12-foot putt at No. 1, then get up-and-down from 60 yards on No. 2 to save par, again from 12 feet. On the fourth hole, he made an 8-footer to escape with bogey. He had only two birdie putts inside 15 feet in the final round, both on the par 5s.
Such was the wind off the shores of Oahu. It was strong enough to make skinny palm trees sway and dry up the birdies that led to so many low scores throughout the week. Only eight players broke par in the final round, when the average score was 72.2
"Waialae showed it's teeth today," said Rory Sabbatini, who tried to bite back with a valiant rally.
Sabbatini, six shots behind to start the final round, was still six shots behind when his 2-iron caromed off a tree and into a hazard for a double bogey on No. 8. But the spunky South African kept plugging along until he was only two shots behind.
But he ran out of steam when he missed a 10-foot birdie putt on the 17th, and he three-putted for par on the par-5 18th, giving him a 68 and his third runner-up finish in Hawaii, two of them at the Sony Open.
Choi never expected to work this hard. He figured he would have to shoot a 68 to keep his lead, and instead became the first Sony Open champion in 41 years to finish with a round over par. Dudley Wysong shot a 1-over 73 in 1967 and beat Billy Casper in a playoff.
"I can't remember having such a difficult round as today," said Choi, who finished at 14-under 266 and rose to No. 7 in the world ranking. "I told myself, 'Try not to lose focus.' With strong winds out there today, it was very hard to make decisions. Every shot out there was difficult, it was risky, because you never knew where the ball would go."
At his low point in the round, Choi found strength.
Struggling to make par, Choi lagged a 35-foot birdie putt to 3 feet on the 13th hole, then missed that for his only three-putt of the tournament. His lead was down to two shots, and Sabbatini was attacking flags as if he had nothing to lose.
"When I made that three-putt, that really woke me up," he said. "It was kind of like medicine. It woke me up and I said, 'I have to hang in there, not fall apart.' It motivated me."
He made four straight pars, two of them from just off the green, including a chip on the par-3 17th that caught part of the lip. And when Sabbatini failed to birdie the 18th, Choi finally was in the clear.
He was on the verge of becoming the first player since Justin Leonard at Memphis in 2005 to win a tournament without making a single birdie in the final round. After his tee shot found the bunker, he laid up and hit wedge to 3 feet.
With three leis wrapped around his neck, another trophy for the collection, Choi joined some elite company. It was his fourth consecutive year with at least one PGA Tour victory — Tiger Woods, Phil Mickelson and Vijay Singh are the only other players riding a streak like that.
"It has a lot of implications for this year," Choi said. "I think the biggest thing I learned this week is no matter what the conditions are out there, you have to stay patient. And I think this experience here in Hawaii is going to help me prepare for the major tournaments."
Sabbatini also got a nice lift.
After a four-week vacation that began in turmoil when he bailed out of the Target World Challenge one round early, he tied for 17th and was runner-up in his first two events, coming off the best season of his career.
"It gives me a lot to look forward to," said Sabbatini, who moved back into the top 10 in the world.
Jerry Kelly had a remarkable round without a bogey, closing with a 67 that also had world ranking implications. The top 64 get into the Accenture Match Play Championship next month, and he was on the bubble until his third-place finish, which moved him up 12 spots to No. 52 with four weeks left to qualify.
Steve Stricker again got off to a slow start in Hawaii, but squeezed a tie for fourth out of it.
Choi was serenaded by a Hawaiian band in the clubhouse at Waialae, then headed for the airport to fly home to Houston. He won't return until the Buick Invitational at Torrey Pines, the debut of Woods and Mickelson.