News
Strong Start At Sony Open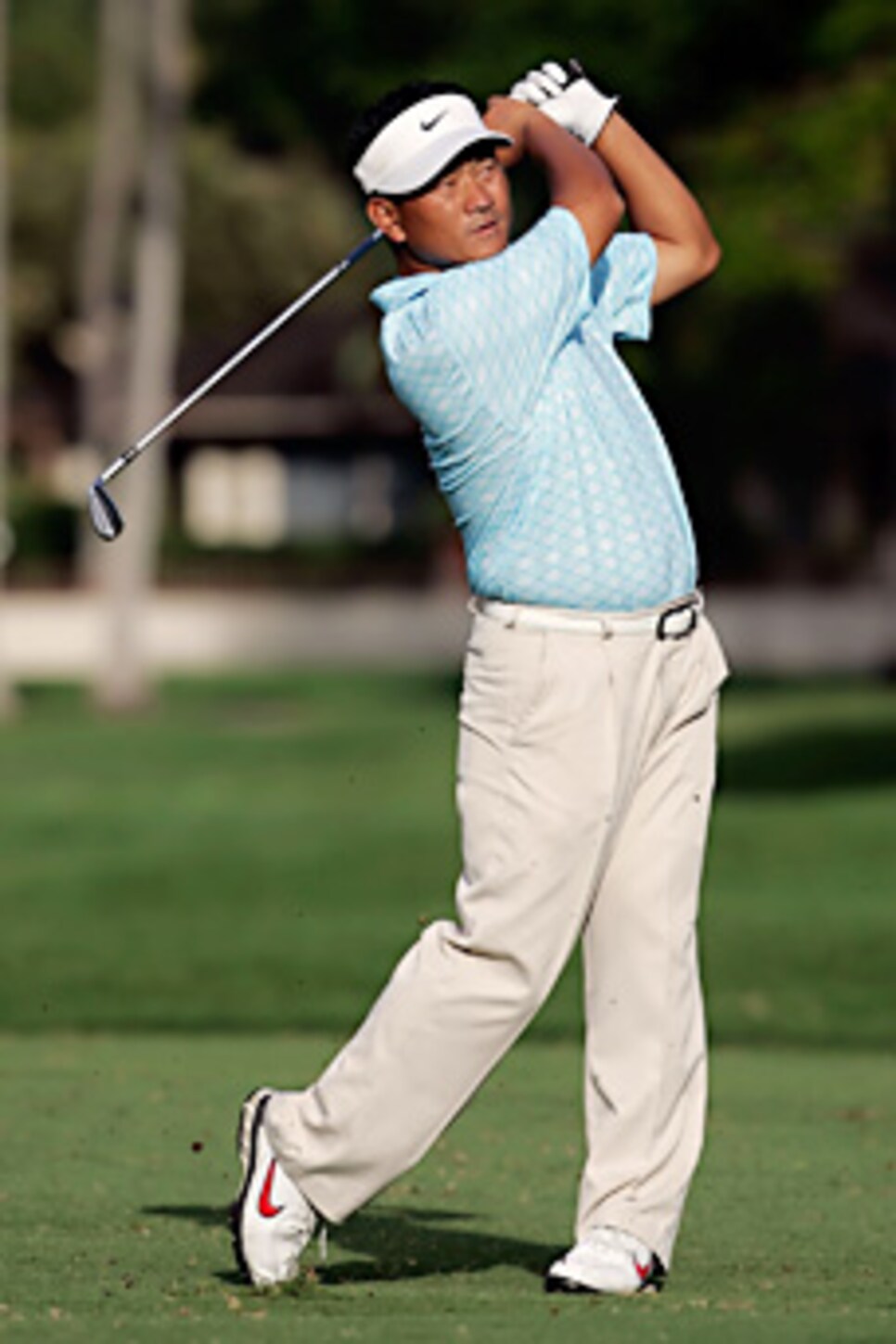 Apparently, K.J. Choi has left his opening round 79 from last week behind.
HONOLULU, Hawaii (AP) -- Nothing was quite the same at the Sony Open, except for K.J. Choi getting off to another strong start.
Choi apparently has recovered from his 79-75 start to the 2008 season last week at Kapalua, which left him in last place on the weekend and playing by himself. He closed with 69-69, and brought that rhythm to Waialae with a bogey-free round that he capped off with a 5-foot birdie for a 6-under 64 and a one-shot lead.
It was his sixth straight opening round in the 60s at the Sony Open, and if he can ever figure out how to follow that with three more days of good golf, he might walk out of Waialae with a lei around his neck.
"All I can say is I'm going to try my best until the end of the week," Choi said, who opened with 64 last year and tied for fourth.
That was the only repeat from last year.
It starts with Stephen Marino, whose 65 put him one shot behind along with Heath Slocum and Jimmy Walker. Marino was a rookie last year and played the first round of the Sony Open expecting no one to notice him except for his parents. But he wound up in the same group as Michelle Wie, and spent the first two days before his largest galleries of the year outside of a major.
Wie is not at the Sony Open for the first time since 2003, and that much was obvious on the first hole. A sign last year in someone's backyard read, "Wie Why?" The poster was changed Thursday to say "Wie Where?"
"I told my caddie on the first tee, this time last year I was standing on the first tee with Michelle Wie with about 3,000 people right behind us," Marino said. "It was a little bit different, but it was nice."
The two teenagers from Hawaii in the field are Tadd Fujikawa, who turned 17 on Tuesday and his playing his eighth event as a pro, and 17-year-old amateur Alex Ching, who qualified for the Sony Open through a special qualifier. Ching only played in the Pro-Junior shootout last year, with Wie as his partner.
Fujikawa made history a year ago as the youngest player in 50 years to make a cut on the PGA Tour, which inspired him to turn pro. He shot 66 in the second round, 66 in the third round and tied for 20th. The encore wasn't so great, starting with a double bogey on the second hole and not getting much better. Fujikawa shot 74 and will have to match his best score to make the cut.
"I had a rough day," he said. "I've got to shoot a good round tomorrow to make the cut. I think I can do it. Anything is possible."
Perhaps the biggest change was Walker, who doesn't have fond memories of this island.
He was the Nationwide Tour player of the year when he first came to the Sony Open three years ago as a rookie in the big leagues. But he never made it to the first tee. Walker hurt himself on the range, an injury diagnosed as a bulging disk in his neck that limited him to only nine starts the rest of the season. "Set the tone for the year," he said.
The following year, he started over at the Sony Open and opened with an 80, missing the cut. So when he earned his tour card back through the Nationwide Tour and realized he would get his first start in Hawaii, emotions were understandably mixed.
"When I saw I was getting in, I was like, 'Oh, good. I get to go back to Hawaii.' I've got some good memories," he said, smiling wryly. "My wife stayed home; it hasn't been a great couple of trips for us. When you get in, you've got to play."
The blessing was playing well, starting with a birdie on No. 10, his first hole of a new season. He kept moving right along, using short irons from fairway and thick rough to get it close enough to make some putts, then finishing on the easy par-5 ninth with a 322-yard drive that left him a 7-iron for his second shot, and putt that put him atop the leaderboard among the early starters.
"Too early for that," Walker said. "I just want to keep playing well. You'd love for the fairy-tale ending, but there's a lot of golf left. I feel good, and I hit it well, and I'm putting well. Just keep all that going, and it'll be good."
It has all been good for Choi lately.
He already had won four times on tour, but moved into elite class last year by winning at the Memorial and the AT&T National at Congressional, moving into the top 10 in the world ranking.
Choi has noticed a difference on the golf course, where more people know his game. Even after he finished off his 64 on Thursday, volunteers applauded him as he walked off the course and into the clubhouse.
"I feel good this week," he said. "It's a good vibe that I'm feeling, with all the fans supporting me. They're treating me well."
The biggest change of all was on the golf course. The fairways of Waialae always have been difficult to hit, and it was even more punishing to miss because of heavy rain in December that has made the rough thicker than ever.
"If you get the ball in the fairway, you've got a chance to do something," said Chad Campbell, who was in the group at 66 that included Mercedes-Benz winner Daniel Chopra and Rory Sabbatini.