News
Weir Holds On To Mercedes Lead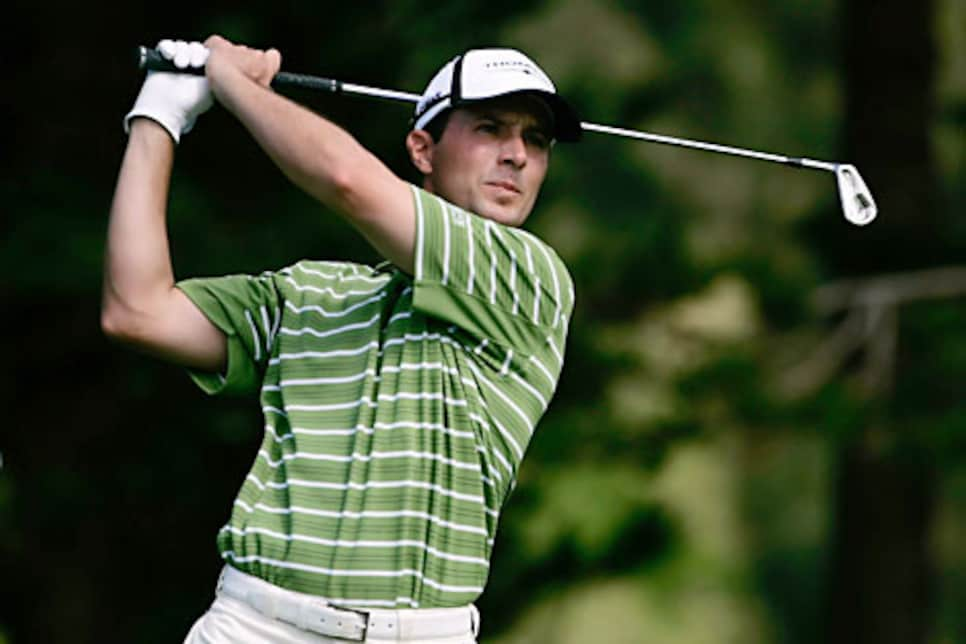 Few tour players are as good as Mike Weir from inside 100 yards.
KAPALUA, Hawaii (AP) -- Three days into a new season was enough to get the attention of a dozen players at the Mercedes-Benz Championship, starting with Mike Weir and his tenuous one-shot lead at Kapalua.
Weir kept firing at flags Saturday and making his share of birdies, only to see a leaderboard and realize just about everyone else was doing the same thing. Only after a delicate chip that he played to near perfection on the 18th hole did he get one last birdie for a 5-under 68 that put him atop the leaderboard.
"You obviously want to get as low as you can because it was scorable for a lot of guys out there," said Weir, who was at 13-under 206. "I saw the board, a lot of good scores. I wanted to keep making some birdies."
Nick Watney birdied his last two holes for a 67 and will play in the final group with Weir, one shot behind.
Daniel Chopra (67) and Jonathan Byrd (69) were another shot behind, and it was crowded behind them, everyone from defending champion Vijay Singh to U.S. Open champion Angel Cabrera to Kapalua homeowner Jim Furyk.
In the 10 years that the season-opening event on the PGA Tour has been coming to the Plantation Course at Kapalua, there has never been so many players in contention going into the final round. Twelve players were separated by five shots.
This working vacation has quickly turned into a grind.
"There a lot of guys behind me with a lot of experience," Weir said. "I'm sure I'm going to have to shoot 5, 6, 7 under tomorrow, depending on what the day gives us. But I'm sure I'm going to have to shoot somewhere in that range to pull this thing out."
Chopra thought it might be even lower, remembering the 62 that K.J. Choi shot in the third round in 2003.
"If it's soft, the greens are soft and the wind doesn't blow, somebody can do that tomorrow," Chopra said. "Anybody can still win."
Weir had to wait three years to make it back to Kapalua, the longest stretch without winning in his career, and he appears ready to make sure he won't have to do that again. Playing in the final group with Stephen Ames of Calgary, followed along by a gallery with shirts, flags and even tattoos of the Canadian flag, Weir played without a bogey on a soggy course with strong breezes and sensational views.
But he never could pull away, not with the numbers being posted ahead of him.
Weir had three great looks at birdie starting on the 14th, but all of them grazed the lip. He wasn't too worried because the stroke was good, and he had not forgotten the two par saves he made from 12 feet earlier in the round.
Watney made up a lot of ground on his final two holes with an approach that caught the ridge and grain beautifully on the 17th hole that set up a 20-foot birdie, then nearly reached the 650-yard closing hole in two for a routine birdie to get in the final group.
"I hit the ball really well. It was a pretty stress-free day as far as that goes," Watney said. "I made some putts coming down the stretch, which is nice, and I'm excited for tomorrow."
It should be quite the shootout. One birdie can change everything. One mistake can send someone tumbling down the leaderboard.
Ames kept pace through nine holes and was tied with Weir at the turn, but he came up short of the 10th green, made bogey, and did not make another birdie until the final hole. He shot 70 and was alone in fifth at 10-under 209.
The group at 9 under included Furyk, whose 66 matched the low round of the tournament. Furyk, who bought a home years ago off the 18th fairway, had other plans for this week if he didn't win the Canadian Open last year to qualify. Having grown up in western Pennsylvania, he was invited by Pittsburgh Steelers coach to attend the wild-card game Saturday against the Jacksonville Jaguars.
"I guess it's too bad I won last year," he said. "I would have enjoyed that immensely."
Maybe not, considering the Jaguars' victory in the final minute. But Kapalua isn't such a bad place to be, especially with a shot at winning $1.1 million, a new sports car and a ticket back for next year.
The way this week has gone, that could be anybody.
"For whatever reason, there just isn't much separation, which is good for me because I haven't done anything to separate myself," said Justin Leonard, who was in the group at 9 under. "There's a lot of guys there. It would be easier being four shots behind with only a couple of players ahead of you. I'm not going out there thinking about winning the tournament, but it is doable."
Weir attributed the bunched leaderboard to the conditions, which have been soft all week. One year he was at Kapalua, Ernie Els hit a drive so far on the par-5 15th that he had only an 8-iron into the green, and most of the field could reach the downhill, downwind closing hole in two shots because of how fast the ball runs on the fairways.
With balls slowed by the wet grass, the advantage for big hitters isn't as great.
"I think maybe some of the longer guys can't separate themselves as much because the ball is not traveling out there as much," Weir said. "You see a lot of guys in the same areas. That's probably why the scores are a little more bunched."
Divots:@ Paul Goydos gets the award for most improved this week. After opening with an 81, he was eight shots better with a 73 in the second round, and followed that with a 67 on Saturday. ... Henrik Stenson and Joe Ogilvie are the only players who have yet to break par this week on the Plantation Course. ... With more rain overnight, rules officials allowed players to lift, clean and place their ball on the short grass for the first time this week.