News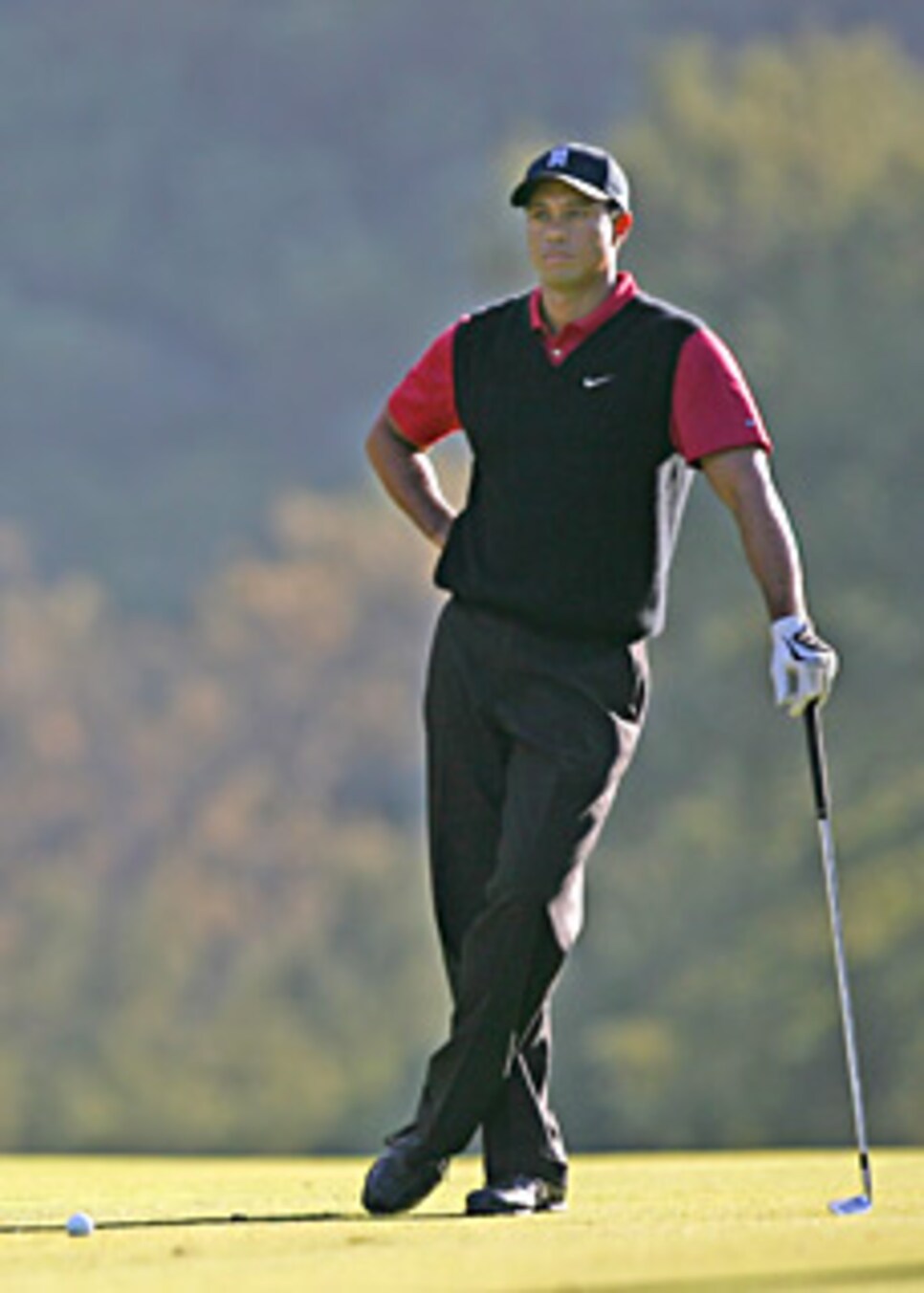 A little bit bored isn't necessarily a bad thing for Tiger.
THOUSAND OAKS, Calif. (AP) -- The maturation of Tiger Woods includes one new aspect of his game: he's become boring.
The trained eye can still see greatness from a difficult shot that Woods can make look easy. Perhaps his most impressive round of golf was Saturday at the U.S. Open when he hit the first 17 greens in regulation at Oakmont (and had to settle for a 69).
And there is no denying the results.
Woods again dwarfed the competition this year with seven PGA Tour victories, his 13th career major, skipping the opening playoff event and still taking the drama out of the FedEx Cup, and collecting two more World Golf Championships to make him 14-of-25 against the world's best.
But where was the spectacular shot that defines a special year?
One exercise to wrap up a season is to ask the major champions for the shot that people remember about their victory, and a shot that might get overlooked but was meaningful to them.
Two years ago, it was Woods' chip-in for birdie on the 16th hole at the Masters, which made a U-turn and hung on the lip before falling. Last year was a 4-iron he holed out for eagle on the 14th hole at Royal Liverpool.
What will people remember about his victory this year in the PGA Championship?
"Hmmm," Woods said, contemplating almost long enough to grow a goatee.
He settled on a shot he missed, a 15-foot birdie putt on the 18th hole of the second round at Southern Hills that spun 270 degrees out of the cup and forced him to settle for a 63, tying a major championship record.
"If you think about it, I had a chance to break a record," he said. "Otherwise, I didn't do anything the entire week that stood out, except to be consistent. But I think the nature of the course lent itself to that."
As for the best shot, Woods didn't hesitate.
"The drive on 16," he said. "I just flushed it."
Woods' lead was as large as five in the final round, but it was down to one over Woody Austin -- until he birdied the 15th hole. Then came the tightest driving hole at Southern Hills, and Woods hit it so pure that he twirled the club, the sure sign of a perfect strike.
"Woody was ahead of me and I didn't know what he was doing on 17, which is a birdie hole," Woods said. "I needed to put that ball in play and not make bogey. I'll tell you what, to step up there have to put it in play ... and I just piped it down the middle."
That was as exciting as it got for Woods, one of the most exciting players in the game.
As he has gotten older -- and better -- Woods has so much more control of his game that he rarely has to do anything dramatic.
There is no 6-iron out of the bunker, over the water and right at the flag with the tournament on the line. Or a 3-iron over the trees to 15 feet despite his legs pressed up against the side of a sand trap. Or a 7-iron gouged out of the rough on the sixth hole of Pebble Beach that reaches the green in two. Or the hole-in-one that nearly caused a riot in Phoenix.
"He's playing more from the correct side of the fairway now," caddie Steve Williams said. "He doesn't need anything dramatic."
That supports an adage in golf that some of the most thrilling shots usually follow some of the worst. One reason Arnold Palmer and Seve Ballesteros were so exciting to watch was because of the spots from which they played, parking lots included.
That used to be Woods, too.
"All you guys watched me in college golf and amateur golf, and even early tour days, and I'm up for any shot, really," Woods said. "I believe I can pull off any shot. But there's also being smart about it, as well. If I don't pull it off, I can make 6, 7, 8. And those were the scores I was making, instead of being a little more conservative.
"It's learning how to play over a 72-hole period, not just one hole."
Woods wasn't the only major champion this year whose signature shot was tough to find.
Masters champion Zach Johnson was torn between his 12-foot birdie putt on the 16th hole in the final round, or his chip from off the 18th green that settled a foot away for par to keep his two-shot lead.
The shot that won't get any recognition came at No. 11.
"It was a cut 3-iron around the trees in a right-to-left wind with the water, obviously on the left," Johnson said. "I don't hit a cut except when I mis-hit it. But I hit it in there to 30 feet, two putts for par. That's when I knew I was doing something right."
Most people likely remember the 7-iron that Angel Cabrera hit to 3 feet on the 15th hole at Oakmont to build his final-round lead at the U.S. Open, allowing him to drop shots on the next two holes without losing the lead.
However, the big-hitting Argentine will always remember the drive on No. 18 that found the fairway.
"It was one of the best shots I've hit in my life," he said. "It was what I needed to win the U.S. Open."
Finding the signature shot for Padraig Harrington is messy, but so was the finish at Carnoustie. He figures it was either his 50-yard pitch over Barry Burn to 5 feet for double bogey that ultimately got him into a playoff, or his 7-iron to 10 feet for birdie on the first playoff hole against Sergio Garcia.
But his favorite shot came Friday morning left of the eighth green.
"The ball ran down to a tight, hard lie on a downslope, and I had a pot bunker between me and the flag," he said. "I chipped it as pure as can be to a foot. It was my best strike ever. It was ever so pleasing."