News
Tiger Closes Out 2007 With A Win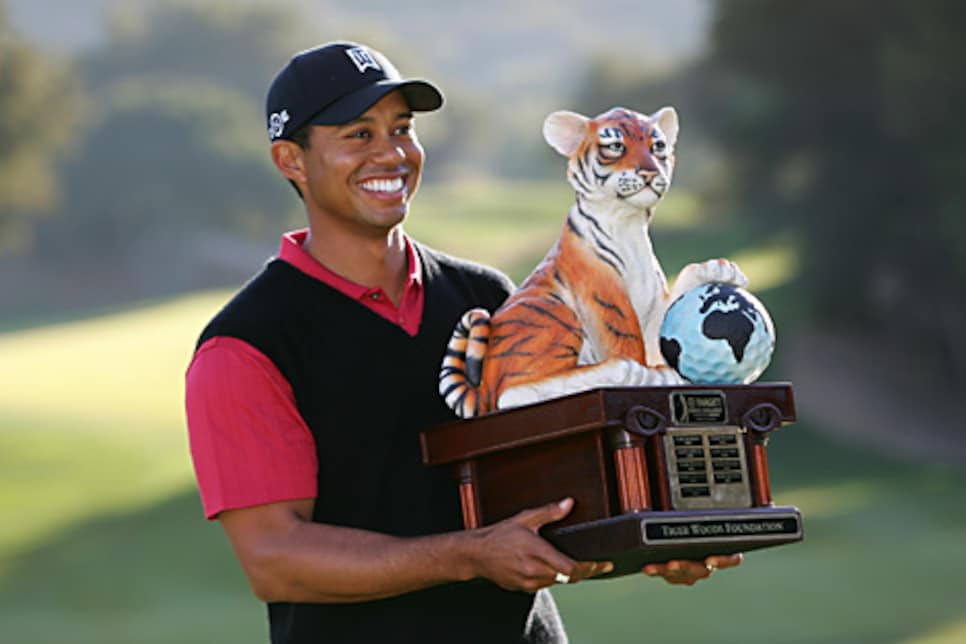 Life has never been better for Tiger... On or off the course.
THOUSAND OAKS, Calif. (AP) -- First came a kiss for his daughter. Then came a pose with the trophy.
For Tiger Woods, life has never been better.
"This year on the golf course, it's been a great year," he said Sunday after closing out the season with a seven-shot victory in the Target World Challenge. "Off the golf course, it's been the greatest year I've ever had."
He could not have picked a better way to end 2007.
Woods hosted an elite, 16-man field at Sherwood Country Club to play 72 holes in gorgeous weather for $5.75 million in prize money, with last place getting $170,000 without even having to show up on Sunday.
But the relaxed setting gave way to a frightening future.
Woods had been out of competition for 10 weeks, dating to his singles loss to Mike Weir in the Presidents Cup on Sept. 30. He began hitting balls about 10 days ago to get ready for the Target World Challenge, then played as if he never left the couch.
He set the course record with a 62 in the second round. He tied the tournament record at 22-under 266, first set by Davis Love III in 2000 the first year the tournament came to Sherwood. And his 68 in the final round Sunday gave him a seven-shot victory, the largest in tournament history and his third win this year by at least that many.
"Doesn't help us, does it?" Colin Montgomerie said. "If he took a bloody year off, it would help."
Paul Casey was coming off a four-week break and expected to hit a few loose shots. He did not think he would wind up 21 shots behind a guy who took off 2½ months.
"We have a saying in England that he was Rolls-Roycing it," he said. "You fire up the car and it purrs perfectly."
The scary part is that Woods said he was struggling with his swing over the past two days. Jim Furyk noticed a few loose shots and forged ahead Sunday, closing a six-shot gap to two shots when they made the turn in the final group.
Furyk hit a wedge with no spin that stopped 4 feet behind the hole, leaving him a downhill putt. Woods' wedge spun back to 12 feet below the hole. And that's where the tournament effectively ended.
Woods calmly made his putt for birdie, and Furyk three-putted for bogey to fall four shots behind.
"You don't start six down to Tiger very often and cut it to two, so I had a really good opportunity," Furyk said. "And I wasn't able to take advantage of it."
The consolation prize went to Masters champion Zach Johnson, whose birdie on the final hole secured a 68 and second place, which was worth $840,000. Furyk bogeyed the last hole for a 71 to finish third and earn $570,000.
Another consolation prize might be the fact that Woods is taking another vacation, not returning to start his 2008 campaign until he defends his title at the Buick Invitational at Torrey Pines.
But the world's No. 1 player still feels like he can improve.
"I'm going to shut it down a little bit, go back home and think about it and talk to Henry about some of the swings I've made this week," he said, referring to swing coach Hank Haney. "Obviously, I've got a lot of room for improvement, which is a great sign."
He won seven times on the PGA Tour this year, including the PGA Championship for his 13th career major. He swept all the major awards, won the inaugural FedEx Cup, and came out of hibernation to win his Target World Challenge for the fourth time, the first player to win in consecutive years.
As usual, he donated the $1.35 million to his Tiger Woods Learning Center.
"I hit a lot of good shots this week, but I also hit some loose ones," Woods said. "The great thing is my bad ones aren't as bad as they used to be. Either I just miss fairways or just miss greens, but obviously not off the planet like they used to be.
"Just imagine if I could hit the ball the way I wanted."
Even more fulfilling was having 6-month-old Sam Alexis making her first greenside appearance, held by her grandmother, Kultida Woods.
Woods is a new father, but he was amazed at the British Open when he watched Padraig Harrington make double bogey on the 18th hole at Carnoustie, then melt into smiles when 3-year-old Patrick rushed into his arms.
"That's how powerful family is," Woods said.
About the only mystery at Sherwood was the absence of Rory Sabbatini, who started the final round 28 shots out of the lead in last place and never made it to the course. He told the PGA Tour he withdrew for "personal reasons," but his agent later said that Sabbatini pulled out because of "shin splints."
"Of course, he did," Fred Couples said. "And Roger Clemens' agent said he didn't do steroids."
Tournament officials were still looking for Sabbatini's courtesy car late Sunday afternoon, although the search began at Los Angeles International Airport. A locker room attendant said Sabbatini cleared out his locker Saturday, giving away sweaters and shoes and saying he was on his way to Maui for Christmas vacation.
That didn't sit well with Woods, who said he wanted to get to the bottom of it, and for several players in the field, with Couples being the most vocal. He suggested Sabbatini give the $170,000 to Woods' foundation.
"I think it's poor taste, poor judgment," Couples said. "Tiger deserves a little better than that."
Everyone else left Sherwood richer than when they arrived, headed home for the holidays after the final golf tournament of the year, no doubt wondering what's in store for 2008.