News
Tiger Leads Target Challenge By Four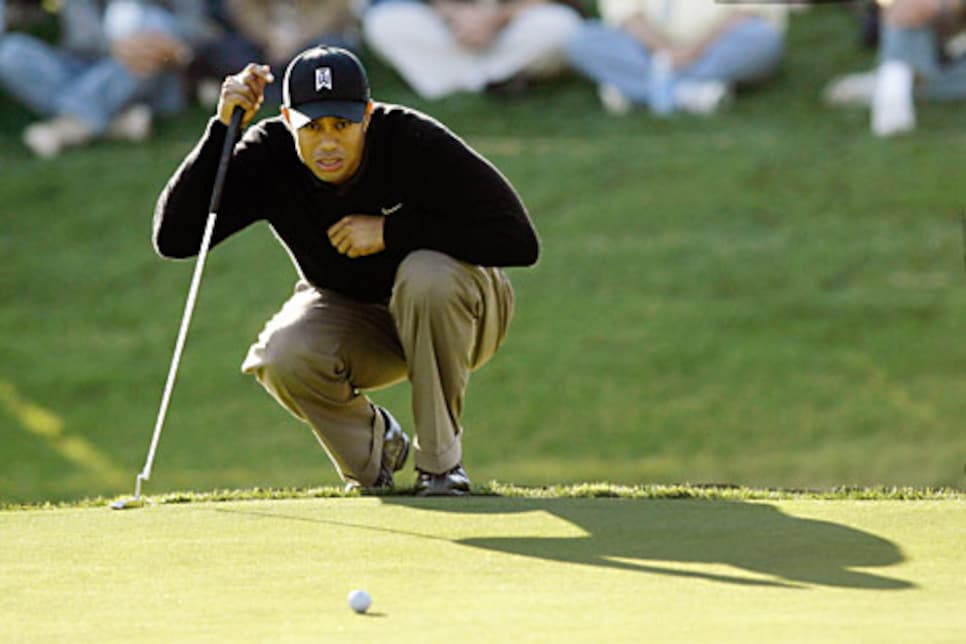 It's December and Tiger Woods is displaying mid-season form.
THOUSAND OAKS, Calif. (AP) -- Tiger Woods twice hit a ball in the hazard and played those holes in 1 under par. He twice avoided bogeys by making putts of about 8 feet. One of his birdie putts was picking up steam when the hole got in the way.
It was at that point, on the 12th hole Friday at Sherwood Country Club, that Woods straightened and smile, because he couldn't think of anything better to do. He has played long enough to know what sometimes, everything falls your way.
And this was one of those days.
"They were just going in," he said after setting the course record at Sherwood with a 10-under 62, building a four-shot lead over Jim Furyk in the Target World Challenge. "Even that one I hit just a touch too hard. When things kind of go your way, they go your way."
The only surprise is the timing.
Woods is the defending champion and a three-time winner of his tournament, but the frightening thing is that he is coming off the longest unforced break of his career. His last shot in competition was Sept. 30 at the Presidents Cup, and Woods only started hitting balls again about 10 days ago.
But for two days in the Santa Monica foothills, where frost covers the ground on these December mornings, he looked as sharp as he did in August and September, when he won four out of five tournaments. The exception was a runner-up finish.
Woods was at 13-under 131 and will be paired Saturday with Furyk, who shot a 67 and lost ground.
"I went in there with a lead today and shot a good number, and I'm pretty far back," Furyk said. "Hell of a host."
Masters champion Zach Johnson also shot 67 and was another shot behind at 136, followed by British Open champion Padraig Harrington, whose 67 left him seven shots out of the lead.
At least the money is good, a $5.75 million purse that tops some regular PGA Tour events.
This is part of the silly season, the final golf tournament of the year for 16 elite players who are guaranteed $170,000 even if they finished in last place. And that might be the closest race. Colin Montgomerie opened with an 80 and turned it around with a 67. That gave him a three-shot edge over last place, Rory Sabbatini, who followed his 69 with three triple bogeys in a round of 81.
Woods has a history of playing well after long breaks, and one only need to look at his record starting a new season. He has won four times in his opening tournament, and he won two other times after a three- and four-week break in midseason.
And while this doesn't count except at the bank, it's tough convincing Wood of that.
"When you're in that rhythm, it feels the same, whether you're at home or whether you're here or you're in a major," he said. "It's the same type of rhythm, the same type of flow, concentration feels the same, everything just feels very even. And I felt that way today."
The 62 topped by one shot the previous record at Sherwood held by three players, Michael Campbell being the most recent in 2005.
Woods must have known it was going to be his day when he tugged a 4-iron on the par-5 second hole, fixed his eyes on the stream guarding the green and saw his ball hop toward the water until settling in the rough inside the hazard line. He pitched up a slope and down toward the cup, the ball settling a foot away for a birdie.
You want consistency? Try the seventh hole, which David Duval made famous in 1999 by hitting his tee shot into the large rock in the middle of the fairway. Woods narrowly missed the rock on Thursday, the ball landing just outside a ring of flowers. On Friday, his tee shot landed a foot away from Thursday's divot.
"I figured out to aim like a yard right of it or something like that," he said.
Woods pulled away from the field with his 25-foot eagle on the 11th, a 30-foot birdie on the 12th and a 3-wood to about 18 feet on the par-5 13th from where he took two putts for birdie.
The only trouble came on the par-5 16th, when he pulled his tee shot into a hazard. He took his penalty drop, chipped out toward the fairway, then hit his fourth shot 2 feet away for a par.
"You don't want to throw away rounds like that by making silly bogeys or double on easier holes," he said, still irritated about his double bogey on the 18th hole Thursday. "It was nice to get the save, and then lo and behold, I birdie the last two."
Furyk is far from out of it, the lifelong Pittsburgh Steelers fan did not turn into Anthony Smith and guarantee victory over the world's No. 1 player. Furyk chuckled at the thought.
"We all know what happens when you (tick) Tiger off," he said.
Even so, he knows a good round when he sees one, even if he could only see it from 300 yards behind him.
"A good round usually is when you separate yourself from the field," Furyk said. "Today, he shot five shots lower than anyone else in the field. That's a good round. I would consider that a great round."