News
Tour Insider: Ready For 2008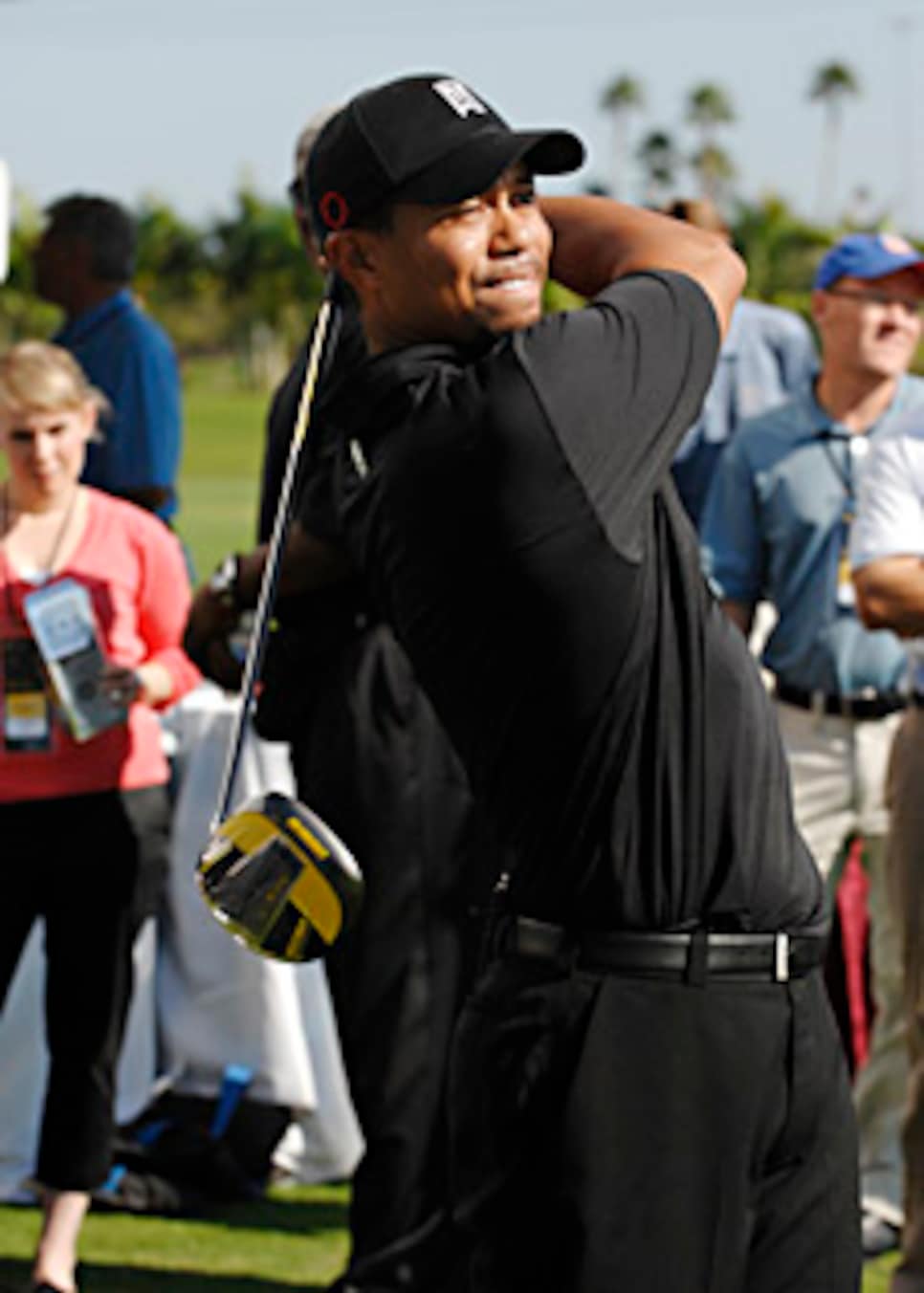 Displaying his effortless swing and superb shot shaping, there is no doubt about Tiger's readiness for the upcoming season.
PORT ST. LUCIE, Fla -- Dressed in black, sporting a vacation goatee, looking lean and rested, Tiger Woods checked back into public life Monday and pronounced himself feeling physically "stronger than I ever have" after the longest unforced break of his career.
Combining his golf with his fatherhood and the overall state of his life, Woods popped back into the spotlight after his first true offseason and appeared poised to rejoin his race against golf history. "This is the coolest ride ever," he said.
It wasn't like his "Hello World," greeting of 11 years ago, when $42 million seemed like a lot of money for Nike to be paying Tiger, but times have changed and so has the net worth of the world's most iconic athlete. Woods will turn 32 at the end of December, and return to the PGA Tour in 2008 with 61 career titles (21 shy of Sam Snead's career record of 82) and 13 major championships (just five back of Jack Nicklaus' all-time mark). He'll warm up next week as host of the Target World Challenge, and admitted he was out of the game just long enough to get his hunger back.
"I'm looking forward to getting back out and competing," Woods said. "This past week I started really missing getting out there and trying to beat people. Anybody at Isleworth who wants a game, we go out there and play and hopefully the cash goes my way."
The day was anchored around the launch of a new line of Nike drivers but also included promotional work with Buick, one-on-one satellite hook-ups with CNBC, ESPN, Bloomberg News and Fox Business News, and some indirect promotion of the PGA's Learning Center at PGA Golf Club, where all this took place. Woods was on his game, both on stage with Golf Channel's Kelly Tilghman and on the range for an exhibition with the new Nike product.
Woods left the clubs in the garage for seven weeks, from the final match at the Presidents Cup until some sessions on the range last week at Isleworth, where 5 1/2-month-old daughter Sam watched her dad hit shots. "This has always been the case with me when I come back," Woods said. "First day I hit it like a god. Next day I'm a 5-handicapper. Third day I'm an 18. Next week or two I try to get it back to a zero handicap. I don't know why it's like that. I always start out hitting it great, then I have this immediate fall-off [as I] start thinking about my game, it goes all to pieces and I have to build it back up again."
His product demonstration of Nike's new Sumo and Sumo Square line was as much a display of his innate ability to change shape and trajectory as it was a testimony to the new technology. But since everything from the glove on his hand to the shoes on his feet, let alone the kick-point in the shaft and the feel coming off the face, have Woods' imprint on it, there was a direct connection.
"We've said it a zillion times but we're fortunate to be living in an era when we get to watch this happen," said Bob Wood, the president of Nike Golf. "Think about the next 3-4 years: He's going to go past 82 wins, 18 majors, he's going to get to 100 tour wins. This is unprecedented, unheard of. But even to see him hit the 5-wood today, nobody hits the 5-wood like that. Only one person on the planet."
Wood and Woods met the night before at the PGA Golf Club complex to go over the state of Nike Golf. They have done this almost annually since Woods turned professional in the fall of 1996 and Wood is never under-whelmed at the amount of input Tiger has on Nike product, or its bottom line.
"He's all over it," Wood said. "He's a geek for product. He loves the process of creating product. He loves working with creative people. He's curious."
The December sun was broiling as Woods worked his way through the bag in his black outfit until he reached the two clubs that brought him back on the public stage for this moment, those two Nike drivers. He swung effortlessly and the shots behaved on command, everything from the stinger to the high right-to-left sweeper required on the 13th at Augusta.
Between swings, a writer asked Tiger to name his favorite stat of the 2007 season. "Seven wins," he said, changing clubs. Words like "ardent" and "functionality" flowed out of his mouth as easily as the high draws "where I release my shoulders and swing out to the right," or the punch cuts, "where I hold off the finish." He even explained the secret of the stinger as being nothing more to him than gripping down the shaft of a metal wood and swinging like it were a chip shot with a sand wedge, the wrists cemented through impact. He made it all look so simple, hardly like the man who felt like an 18-handicap last week with his daughter watching, a club in her hands already.
"It's interesting," Woods said. "She shakes it every time I hit a shot. She gets excited, like this could be a good thing. She's never going to beat me, though."
There was the Tiger that Bob Wood described, the competitive junkie on every level. "Now he's a father," Wood said. "He's going into that whole hog. He's that type of person."
Woods explained in his news conference that every once in a while, just for kicks, he takes an old persimmon driver to the range at Isleworth. The good shots travel about 15 yards short of modern technology, but the misses feel like a 3-iron. With new equipment, at 80 percent effort, he flies the ball 290 yards with a graphite shaft and a titanium head, square head or jumbo-sized, which is long enough. When Tilghman asked him to re-enact his 362-yard carry onto the 16th green at Doral two years ago, he laughed and talked about caddie Stevie Williams kidding him about his follow-through being faster than his downswing.
And then he hit a ball that could not have been hit by persimmon, could not have been hit by any other human being. "That was about 90 percent," he said after the ball landed beyond a far-off stand of palm trees.
Think about it: stronger than ever and still with 10 percent in reserve. The day before, Nick Price raved about the way Woods swung the club at the Tour Championship, when he won by eight shots to cap a seven-win, one major season. Price predicted that we could be seeing another 2000 again and without making any numerical predictions, so did Tiger's long-time business manager, Mark Steinberg.
Next week Woods and Steinberg sit down to discuss Tiger's schedule and the road to Augusta. "It was a pretty grueling year so it was a good time for him to do it," said Steinberg. "That stretch from Akron until the end of the year, I don't know if we've ever seen that."
Tiger was just finishing one of his interviews with Bloomberg News, laughing about the time Warren Buffett was his caddy, having the billionaire carrying his bag, replacing his divots, giving him yardage as part of a charity auction.
It was Tiger as relaxed as he's ever been. His news conferences that once yielded empty pages in a notebook now conclude with observations and nuggets about how he really feels. His stand-ups with a news camera are sometimes as good as his television commercials. "He's very comfortable with golf right now," Steinberg said.