News
Sunday's Q School Hits and Misses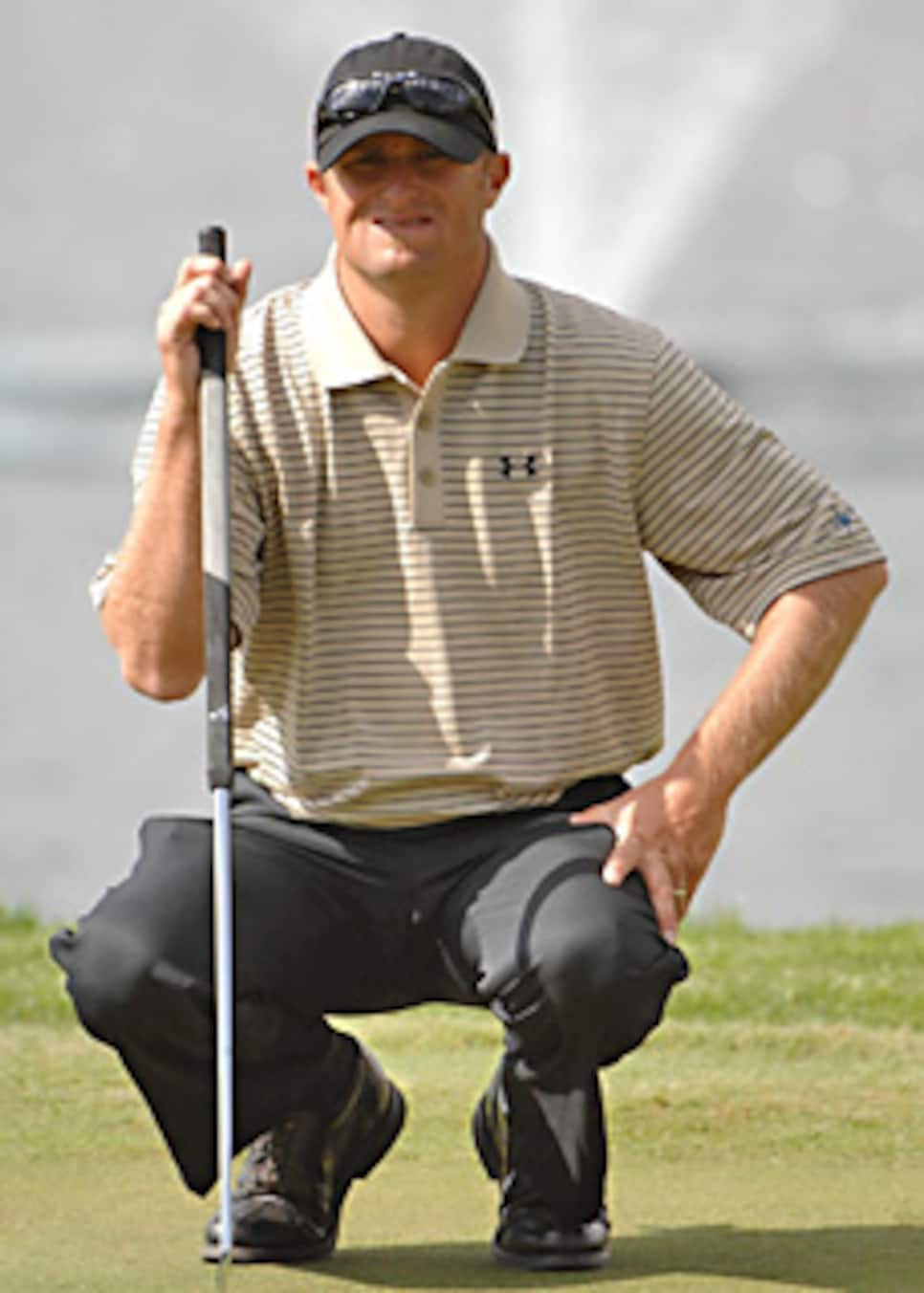 Playing in his own backyard, Chris Anderson fired a 63 to move up to T40.
• Chris Anderson is taking full advantage of what is essentially a home game. Anderson, nine days shy of his 37th birthday, lives 15 minutes from Orange County National in Windermere. On Sunday, he fell out of bed and shot a nine-under-par 63 for low round of the day to climb 78 places into a tie for 40th. Anderson is somewhat of a journeyman having twice ('03 and '05) been a member of the big tour. He finished 98th on the Nationwide Tour money list this season despite making 19 of 25 cuts.
• Sparked by an eagle on the par-5 second hole (his 11th of the round) at Panther Lake, Chris Stroud shot a bogey-free 64 to move into solo third place behind leader Frank Lickliter II. He has now played 52 consecutive holes without a bogey. Stroud (-22) showed promise as a rookie this year on the PGA Tour, finishing 133rd on the money list on just nine made cuts, including a T5 at the Zurich Classic of New Orleans.
• Kent Jones earned more than $650,000 this year on the PGA Tour and the near miss (134th on the money list) necessitated a fourth trip to Q School. After a solid 66 (-17, T9) Sunday, the 40-year-old Jones is in good position to improve upon his current conditional status next season in the bigs.
• Englishman Kevin Streelman is riding the momentum of his second stage medal straight to the regular tour. On Sunday, Streelman solidified a position in the Top 25 with a 66 (T11) heading into the final round. His best finish in four starts on the PGA Tour is a T29 in the "05 U.S. Bank Championship of Milwaukee where he eagled two of the last four holes.
• Parker McLachlin is making the most of veteran caddie John "Cubby'' Burke's experience and knowledge. Burke, longtime caddie for Davis Love III, is on the bag for McLachlin in the final. "I think it (Burke's experience) will really come into play on Sunday and Monday,'' Burke, who shot 67 on Sunday to tie for 11th, said earlier in the week. "Certain club choices he can read my body language and make the right call.'' Burke says his man has all the tools to make it on the big tour. "He can do everything,'' Burke said. "He can hit his iron shots; he putts well; chips well. He has a bright future out here.'' Hopefully his future is better than his past. At the Nationwide Tour's Pete Dye Classic this year, McLachlin had a seven-shot lead through 54 holes, largest in tour history. By nine holes of the final round, eventual winner Jimmy Walker had overtaken him.
• Korean Won Joon Lee, making his first appearance in Q School, had five bogeys and a couple of doubles in his 79 Sunday that ranked as the worst round of the day. The untimely struggle dropped Lee to one over par (T144) for the final and likely headed back to Asia for another year.
• There were 107 sub-par rounds Sunday. Unfortunately, Harrison Frazar, Ryan Palmer, Hunter Haas, Josh Broadaway and Bob May weren't among those taking it deep. Frazar, who missed five of six cuts down the stretch to finish 131st on the PGA Tour money list, shot 74 to fall into a tie for 64th. He has four runner-up finishes as a veteran on the big tour.
• Palmer, winner of the "04 Funai Classic at Disney, stumbled from contention with consecutive 74s. He's at -7 (T76) and in need of a hot final round to secure playing privileges next season.
• Haas and May both shot 73 and are among the group deadlocked at -10 (T42). Haas, derailed by a triple bogey at the par-4 13th (his fourth hole of the round) on Panther Lake, enjoyed exempt status on the big tour in '01 and '05.
• Broadaway earned a measure of notoriety a couple of years ago as a talented player with a cross-handed grip. His 75 Sunday dropped him to -7 alongside Palmer.