News
Hits and Misses From Q School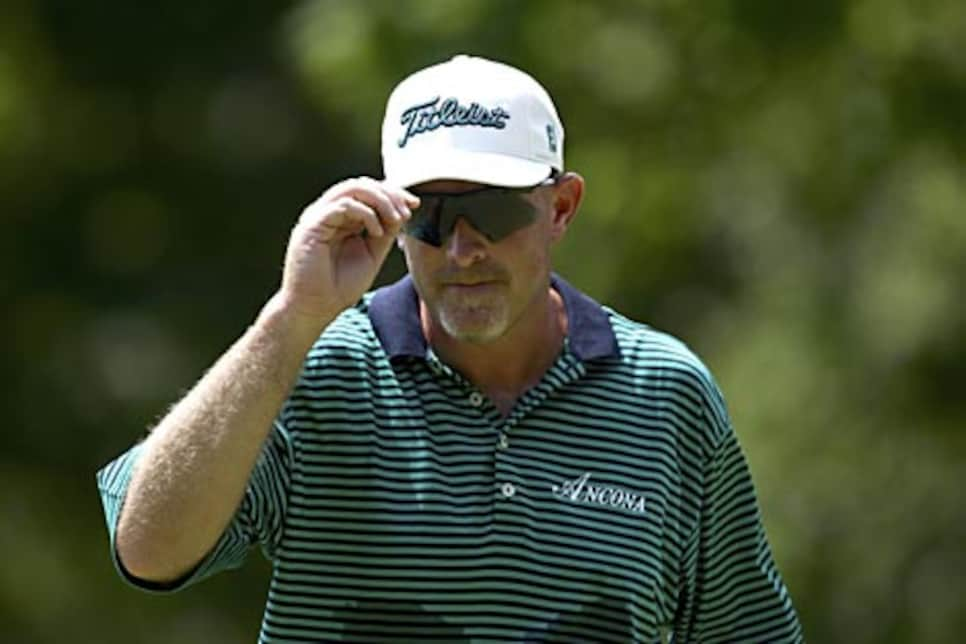 Two time PGA Tour winner Frank Lickliter is shattering Q School records.
• First-round co-leader Frank Lickliter II continued his torrid play with a second consecutive 10-under-par 62 on the strength of nine birdies and an eagle. In two days, the two-time PGA Tour winner carded only one bogey en route to shattering the 36-hole record of 16-under set (the tour started keeping records in '92) by Tommy Tolles in 2000 at PGA West in La Quinta, Ca.
• Seung-su Han, a native of Incheon, South Korea, and the only amateur in the 166-man field, birdied three of his final five holes for a solid three-under 69. At one-under, the junior at UNLV is tied for 108th with such savvy veterans as__Duffy Waldorf__ and Steve Pate.
• He garnered a measure of fame if not fortune as champion of the Big Break VII, the Golf Channel's reality show, and for qualifying at the 2007 Wachovia Championship in Charlotte. Tommy "Two Gloves'' (a throwback to his baseball days) Gainey is still riding the wave as evidenced by his second-round 68 and 36-hole total of 135 (T7). "Coming into the final stage I just wanted to get off to a good start,'' Gainey said, "that way it would ease a little bit of the pressure I was under. So, I'm pretty happy with my two-day total.''
• In addition to Han, five other "iron men'' earned their trip to the finals by surviving the pre-qualifying tournament, plus the first and second stages. Mike Wendling, a 34-year-old mini-tourist from Oklahoma City, Ok., shot the lowest round (68) on Thursday to move into a tie for 38th. The others: Tyler Aldridge (-3), Gibby Gilbert III (-2), Garrett Osborn (+1) and Brendon Todd (+1).
• D.H. Lee of Korea parlayed a sixth-place finish on the Japan Golf Tour money list into a spot in the 166-man field. After two rounds, he's tied for 15th and looking very much like a man comfortable in the pressure cooker finals.
• Record-setting 36-hole frontrunner Frank Lickliter II not known for his warm and fuzzy personality was even more foreboding behind those dark glasses Thursday, refusing post-round comment politely but succinctly. "Nope,'' he said never breaking stride.
• Three-time PGA Tour winner Robert Gamez needed a strong start after opening with an unspectacular 71. Instead, he stumbled to a four-over 40 going out on the Panther Lake course en route to a 75. It's a disappointing showing so far for Gamez, who finished T3 in the season-ending Children's Miracle Network Classic at Disney to move up 20 spots to 132nd on the money list. His conditional status should prove quite a consolation prize, getting him into 15-20 tour events in 2008.
• Veteran Bob May, most known for his dramatic final-round duel with eventual champion Tiger Woods (May lost in a three-hole playoff) in the 2000 PGA Championship at Valhalla GC in Louisville, Ky., slipped to T89 with a one-over 73 on Thursday after recording just two birdies on the Crooked Cat course. Dogged by medical problems, May is making a second consecutive appearance at Q school having finished 189th on the 2007 money list.
• Scoring averages Thursday on the Crooked Cat and Panther Lake courses were 70.253 and 70.205, respectively. Soft and calm conditions have turned both courses into birdiefests. Evidence? The magic number in 2005 was 11-under. Barring any change in the weather, that number might fall to 15 or 16 this year.