News
The Toughest Six Days In Golf?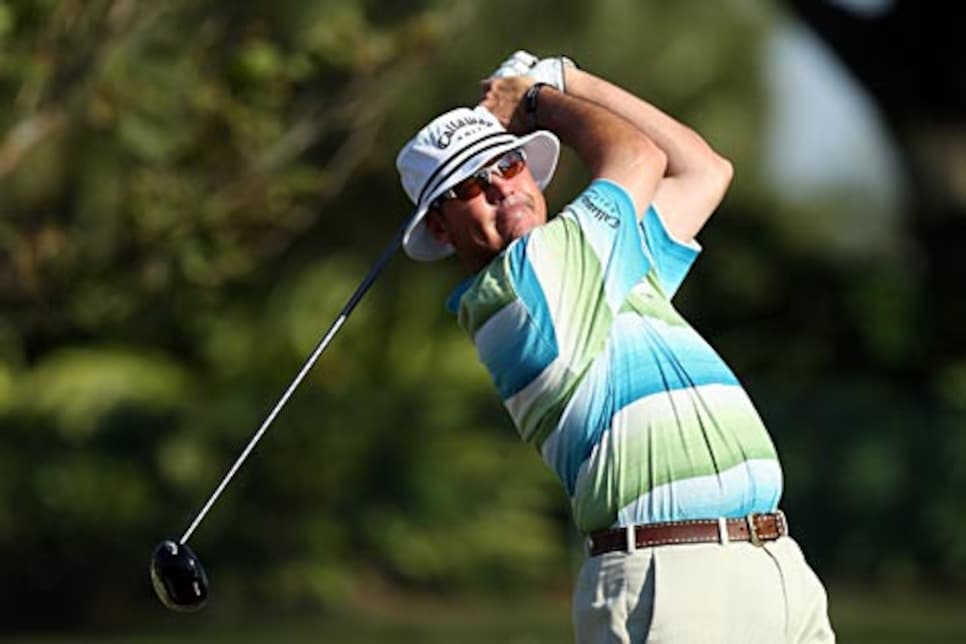 Rich Beem went to Q School in 1998. The 2008 season will be his 10th straight on the PGA Tour.
(AP) Eighteen players who made it through 108 holes of stomach churning last year at Q-school earned their PGA Tour cards, and what did that get them? A return trip to what many consider to be the toughest six days in golf.
The reality of Q-school is that six days is not nearly as difficult as the 10 months that follow.
The final stage of PGA Tour qualifying starts Wednesday at Orange County National in Orlando, Fla., and most of the 166 players would do well to remember the words of Rich Beem. He was asked what his goal was after earning his tour card in 1998.
"Keep my job," Beem said, pausing after each word.
"Are you kidding?" he continued. "I was so lost out there, I didn't even figure out until after the tournament in Hawaii that they gave us free food. I ate hot dogs at that tent between the first and 10th tee all week. I never expected to be where I am now. I wanted to keep my job, or at least say that I played on the PGA Tour for a year."
Next year will be his 10th straight season on tour. Not bad for a guy who was selling car stereos in Seattle.
Beem is one example of why Q-school remains as meaningful today as its first year in 1965. Guys like Beem are why some two dozen players will leave Orange County National next Monday with high hopes.
If nothing else, a PGA Tour card is a license to dream.
Beem eventually found player dining in the months after Q-school, and drinks were on the house when he won the Kemper Open. He was one of three Q-school grads from the class of '98 who were PGA Tour winners the next season. The others were Carlos Franco, who won twice, and Mike Weir, who in five years went from Q-school to Masters champion.
Yes, the hard part is keeping your job, but the good news for Q-school finalists is that 1998 was hardly a fluke.
One only has to look back one year to find George O'Neill. He was an assistant pro at Forest Country Club in Fort Myers, Fla., when he decided to try Q-school again. After failing in eight previous trips, he was the medalist and finally earned his card.
"I'm ready to see what I can do," O'Neill said that day.
He wound up winning the Fry's.com Open in Las Vegas, joining Brian Bateman (Buick Open) and Mark Wilson (Honda Classic) as PGA Tour winners who only a year ago were grinding away in Q-school. Bateman and Wilson got their cards on the number.
This happens more than people realize.
A year ago, J.B. Holmes went from Q-school medalist to FBR Open champion in two months. The year before that, Sean O'Hair narrowly made it through Q-school, then won the John Deere Classic to earn a spot at St. Andrews for the British Open.
Players who get their cards at Q-school have won the following season every year since 1981.
"I would have lost that bet," Lucas Glover said Tuesday. "That's pretty unbelievable."
Glover is on that list, having made it through Q-school in 2004, then winning the Disney Classic the following year by holing a bunker shot for birdie on the 72nd hole.
"I think the pressure you go through at Q-school sets you up for the tour, for that last nine holes if you have a chance to win," Glover said. "I wanted to keep my card for the next year. But you have to dream big."
Some players on the list of winners captured the essence of hope that Q-school brings.
Ben Curtis was just another face in the field at PGA West in 2002, one of 38 players who earned a tour card. Seven months later, blinking in the sunlight of a hot English summer, he cradled the silver claret jug as the British Open champion.
"The first goal I set was to retain my card for the year," Curtis said. "It was nothing extravagant, like winning three times, or even winning once. Obviously, when you play you want to win. But the big goal was to finish in the top 125, keep building on that, and try to improve each week and each year.
"I didn't think too much about winning until it happened."
Four players who made it through Q-school over the last 10 years have gone on to win majors -- Curtis, Beem, Weir and Todd Hamilton, who followed his first successful trip through Q-school by winning the Honda Classic and British Open.
Remember, though, 18 of the 40 players who earned cards last year are back for more punishment. Only 12 of them kept their jobs, and the other 10 didn't even make it back to the final stage.
For all the inspiration from players like McNeill, Curtis, Beem and Glover, Q-school has far more stories of failure.
Such is the nature of golf.
It has been proven the Nationwide Tour offers better experience and a higher success rate. According to PGA Tour research, 40 percent of Nationwide Tour graduates since 1991 have kept their cards, compared with 30 percent from Q-school. Major champions who paid their dues in the minor leagues include Tom Lehman, David Toms, Jim Furyk, David Duval and Shaun Micheel.
"Unless you have experience, those guys from the Nationwide Tour have a huge advantage," Beem said.
Still, it all starts with a dream.
After he won the Kemper Open in 1999, Beem was in the final year of his two-year exemption when he made eagle on the 17th hole to win the International. A week later, he shot 68 in the final round at Hazeltine to hold off a furious charge from Tiger Woods and win the 2002 PGA Championship, a career-defining victory.
All those memories, and one of his favorite keepsakes is in his wallet. It's the stub of his scorecard from the final round at Q-school, when Beem shot 66 to tie for eighth and earn his ticket to the PGA Tour.
"It's the only stub I've ever kept," Beem said.
That stub represents a tour card, and that gave Beem a chance. That's all any of these guys can ask.