News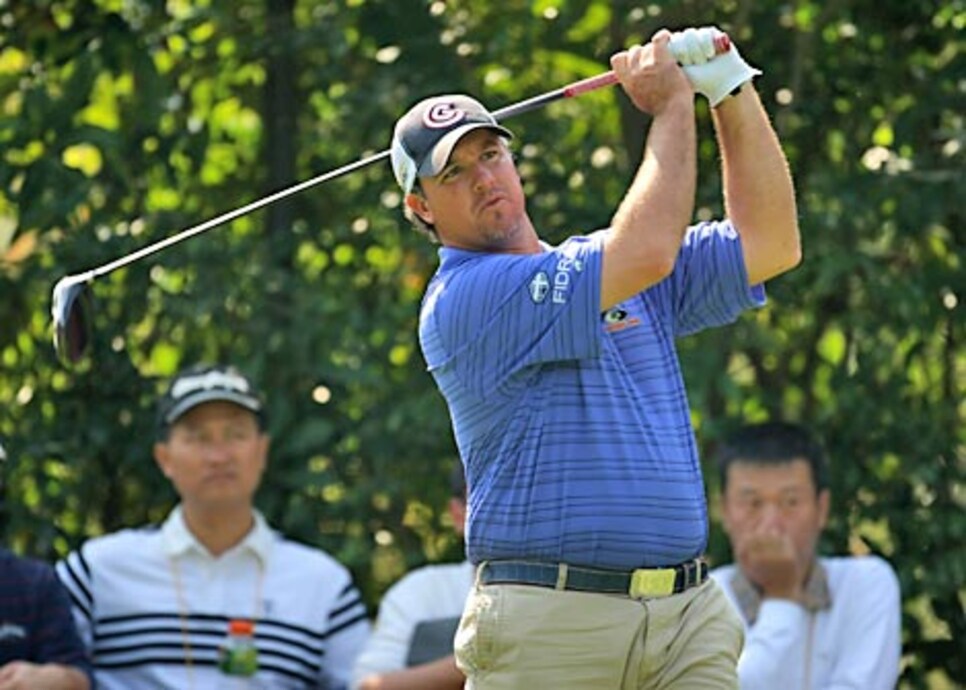 Weekley (above) and Slocum are one day away from giving the U.S. its first World Cup victory in seven years.
SHENZHEN, China (AP) -- Boo Weekley and Heath Slocum held their lead at the World Cup of Golf on Saturday, showing that the United States doesn't need Tiger Woods and Phil Mickelson to contend for the title.
They shot a 6-under 66 Saturday for one-stroke lead over France (62) and Scotland (66) entering Sunday's final round at Mission Hills Golf Club. The Americans are at 20-under 196 and have led by one stroke after all three rounds.
Scores dipped on a warm, sun-drenched day with teams playing the easier fourball (better-ball) format. Sunday will be tougher playing foursomes (alternate-shot) in what is still a stroke-play event.
South Africa (66) and England (67) were two strokes off the lead. Argentina (64), the Netherlands (65) and Germany (66) were three behind.
Weekley and Slocum said they struggled all day with firm greens, tough pin placements and swirling wind. In addition, neither made many putts. The exception was Weekley's eagle-3 on No. 3, where he hit a 4-iron to 15 feet and then dropped the uphill putt.
"It was just a tough day overall, it was a grind out there," Weekley said. "It wasn't like the first day when we hit it in there close and made some putts."
Added Slocum: "We survived with both of us not playing our best golf. So we have to feel a little fortunate."
After jousting briefly with France for the lead, the United States moved to 20 under for the tournament -- a one-stroke lead over the French -- with Slocum's birdie on No. 13, his only one of the round. Weekley had three to go with the eagle.
Weekley was chosen to play in the event after 13 other higher ranked Americans players declined. He then picked Florida high school friend Slocum as his partner. Both players have already won more than $2 million this season, and they'll each get $800,000 if they win this event.
Scotland went to 19-under when Colin Montgomerie dropped a 12-foot birdie on the 18th. Montgomerie and Marc Warren were the runners-up last year, losing in a playoff against Germany's Bernhard Langer and Marcel Siem. They did not return to defend.
"After last year coming so close, we want to win it this year and we gave ourselves a chance to do that tomorrow," Warren said. "Because of the experience from last year we're maybe one-up on the other teams out there."
The French pair of Raphael Jacquelin and Gregory Havret moved into contention with a 62 after starting the day five strokes behind the Americans. Havret had an eagle on No. 9, which helped to propel them up the leaderboard.
Both French players are part of a modest campaign to make golf more popular at home.
"This kind of result can definitely change things in France," said Havret, who turns 31 on Sunday. "The World Cup of Golf is very important to us because it's an international name."
The World Cup was prestigious years ago with winners like Jack Nicklaus, Ben Hogan, Sam Snead and Arnold Palmer, but lost much of its status recently without big-name winners. Woods won in 1999 and 2000, and Retief Goosen and Ernie Els of South Africa won in 2001.