News
Tour Insider: Changing Of The Guard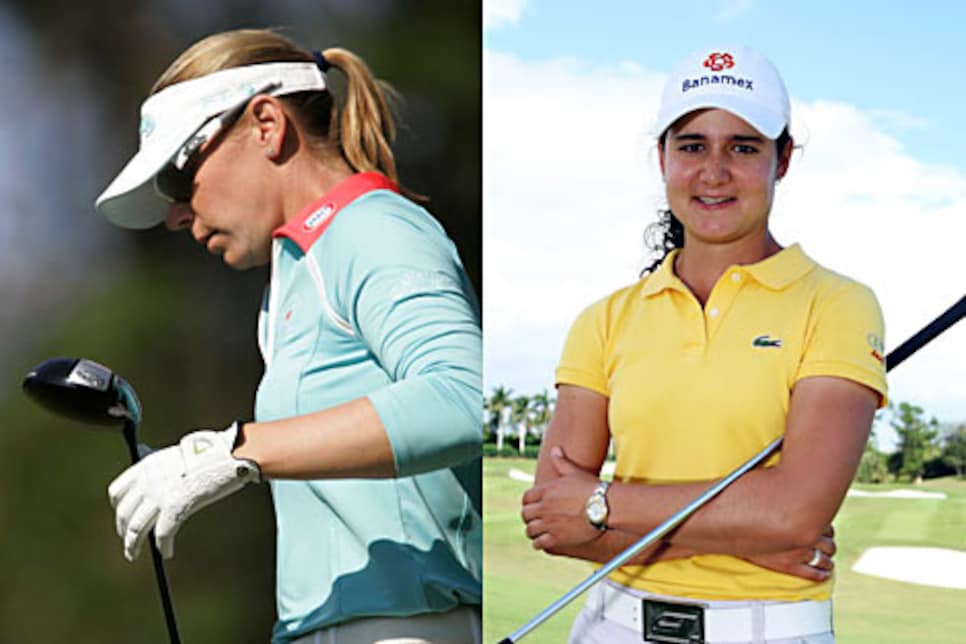 Lorena Ochoa may have arrived, but Annika isn't going anywhere yet
WEST PALM BEACH, Fla. -- They made late-afternoon appearances to the media tent at Trump International on Tuesday, almost an opening act for Wednesday's lineup of Lorena Ochoa and Suzann Pettersen. In a year when there were four new major champions on the LPGA Tour, it's easy to forget that just yesterday Karrie Webb and Annika Sorenstam were the best players in the women's game. And as both reminded us, they're not done yet.
Webb arrived, head down in her Blackberry. She won five times including the Kraft Nabisco in 2006, and there was reason to believe it would continue in '07 after her back-to-back wins to start the season in Australia. But when the clubs arrived in Arizona the magic in her putter did not. "I had a terrible summer with the putter," said Webb. "I probably swung [the club] better. For a two- or three-month period there was probably the most consistent I've swung the club in almost my entire career, and I got absolutely nothing out of it except frustration because I just putted so poorly."
Sorenstam was next. This has been a complex year for her, one in which she went winless for the first time since 1994, played only 12 events because of a neck injury and saw Ochoa supplant her as No. 1. Yet, she accomplished so much off the course, with the opening of her golf academy, the forming of her foundation and the engagement to her manager, Mike McGee. At 37, Sorenstam looks lean and focused this week, unlike previous years when she arrived in Palm Beach after monster seasons, looking for a break and talking about Kathy Whitworth's all-time win record of 88 (Annika has 69). Now she was promoting her blog, which debuted at 1 p.m. Wednesday, with a live chat from 5:00 to 5:30 p.m.
"I kind of got the team together about four weeks ago and I told everybody that I'm going to step away early next year and just focus on the golf," she said. "So hopefully everybody will pick up a little piece of what I'm doing and help me out." She explained that, being a control freak, the hardest part will be to let go. Webb seemed to be addressing that personality trait when she said, "I think, obviously, if Annika puts her mind to wanting to play good golf, she will. I don't doubt that for a second."
Webb, who turns 33 in December, and Sorenstam have been dueling for over a decade. Since 1999, they've won 15 majors and were right in the mix through the 2006 season, when Webb won the Kraft Nabisco in a playoff against Ochoa, and Sorenstam locked down her third U.S. Open and first since 1996. This year they were passed by youth, starting with 18-year-old Morgan Pressel in Rancho Mirage and ending with 25-year-old Ochoa at St. Andrews. In between, Norwegian bomber Pettersen, 26, won the McDonald's LPGA and Cristie Kerr the U.S. Open. At 29 when she won at Pine Needles, Kerr is the old lady in the group.
And that doesn't include Paula Creamer, 21, who joined Ochoa and Pettersen as the LPGA's only repeat champion this year with the most dominating performance of the season at last week's Tournament of Champions. In most cases, it's kind of hard for Webb and Sorenstam to hate them. "I think the younger players, Lorena and Paula and Morgan, Natalie (Gulbis), they're a very exciting group of players to watch," Webb said. "Having played out here for 12 years... it's fun to see them learning and playing well. They've all been great for the promotion of the tour, and they all have great personalities. You know, they all are really good girls and good to watch and obviously great to compete against."
When asked if she would play a new event in Guadalajara involving Ochoa, Sorenstam said, "I've always gotten along well with Lorena, and I would support her as much as I can."
They both admitted the kids motivate them -- but they'd be motivated anyway, whether it was the end of an era, as it appears, or in their prime years. Sorenstam didn't realize how much she could miss being No. 1. "Not being competitive and playing is something I missed," she said. Webb, who turns 33 in December, just missed playing at her 2006 level.
Between them, no victories for the first time since Sorenstam's rookie season, 1994. Now stuck on 69 career victories, Annika admits that chasing Whitworth's record is too "abstract" a goal. Meanwhile, Ochoa went from chasing down Sorenstam to barely staying ahead of Pettersen. Between then, they had 12 victories and two majors, perhaps starting the next rivalry.
Ochoa turns 26 on Thursday and celebrated with her family at a private dinner on Wednesday in Palm Beach. She still considers herself one of the kids and is already looking to next season in anticipation of the battles with the revitalized Webb and Sorenstam, not to mention the suddenly confident Pettersen. "She likes to win," Ochoa said of Sorenstam. "so it's not going to be easy next year, [but I'm] not only talking about her or Suzann or Karrie or different players, but I'm really excited to see just how much we're pushing ourselves..."
Creamer is talking about wanting No. 1. So is Pettersen, who said, "I don't think [my desire to be No. 1] has intensified. I think it has just made me realize that I can do it. I mean, you play well, you win tournaments, you get a lot of confidence. I think it's going to be a while before I can -- before any of us are going to catch Lorena, but we have to start somewhere."
That somewhere is this week at Trump, where $1 million goes to the winner. Ochoa knows it would push her over $4 million for the season and give her one more win than Tiger Woods. This is the kid that Webb and Sorenstam is chasing.