News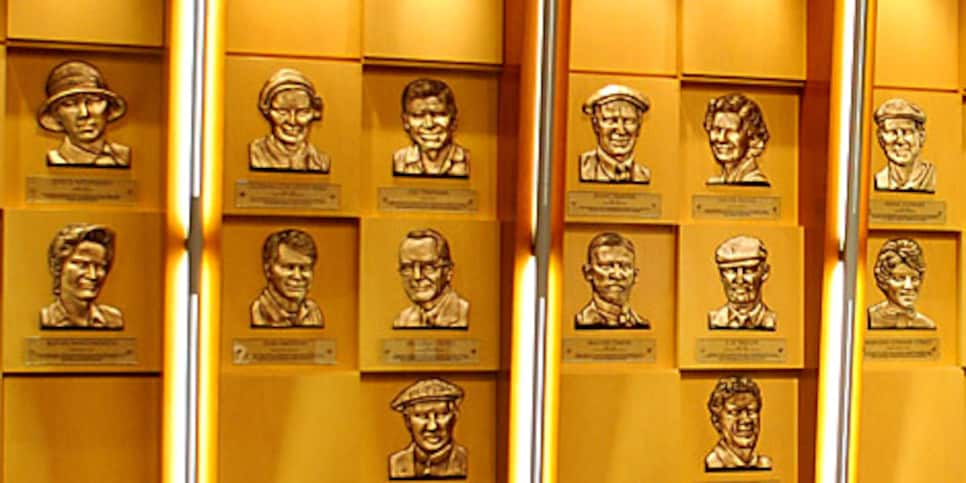 The class of 2007 has joined the all-time greats of the game.
ST. AUGUSTINE, Fla. (AP) -- Curtis Strange and Hubert Green could be crusty and surly on the golf course, a fighting spirit that carried Strange to consecutive U.S. Open titles and Green to major victories in the U.S. Open and PGA Championship.
They turned somber and reflective Monday night when they were inducted into the World Golf Hall of Fame.
"I have been extremely lucky and blessed to play golf," Strange said. "I love this game, and sometimes I hate it. It frustrates us and excites us at the same time. I've gone to bed many nights questioning my ability and you wake up the next morning and can't wait to play."
Joining them in the Class of 2007 was Se Ri Pak, at 30 the youngest player inducted into the Hall of Fame.
Beyond her five majors and 24 career victories on the LPGA Tour, Pak became a pioneer for young players from South Korea. She was one of only three South Koreans on the LPGA during her sensational rookie season, when she won two majors, and the tour now has 45 players from her country.
Kel Nagle of Australia, whose 76 victories around the world included the 1960 British Open at St. Andrews, was elected through the Veteran's Category. Nagle could not travel to Florida for the induction.
Inducted posthumously were golf course architect Charles Blair Macdonald and three-time British Amateur champion Joe Carr, both through the Lifetime Achievement Category. Macdonald helped build the first 18-hole course in America, won the first U.S. Amateur in 1895 and was the driving force in getting five golf clubs to form what became the U.S. Golf Association.
The induction at the World Golf Village brought membership in the Hall of Fame to 120.
Strange was only player who received at least 65 percent of the vote on the PGA Tour ballot. He won 17 times on the PGA Tour, but was most famous for becoming the first player since Ben Hogan in 1950-51 to win the U.S. Open in consecutive years. First came a playoff victory over Nick Faldo at The Country Club in 1988, then a one-shot victory at Oak Hill in 1989.
He was the dominant American for a decade, winning the PGA Tour money title three times and becoming the first to surpass $1 million for a year in 1988. This year, 99 players topped the $1 million mark.
Strange was presented by his twin brother, Allan, who also played on tour in the early '90s. Their father, Tom, the head pro at Bow Creek Country Club in Virginia Beach, Va., pulled them aside when they were 12 and told them, "Whatever you do in life, strive to be the greatest you can be."
Their father died of cancer two years later.
Strange won an NCAA title at Wake Forest, hitting a 1-iron to 12 feet for eagle on the final hole, then went on to dominance, particularly in the U.S. Open. He is the only player to finish under par in three straight U.S. Opens.
He prepared for that as a teenager, playing four balls late in the afternoon at Bow Creek -- one belonging to Ben Hogan or Byron Nelson, one representing Sam Snead, one for Jack Nicklaus and the other his.
"This is my finest day and my greatest honor," Strange said. "I understand that you will never confuse my record with Hogan, Nelson, Snead or Nicklaus. I understand I won't be in the starting rotation on this team, but I will be on the team. That's enough for me. And trust me, it's a privilege to be on the team."
Green was recruited to Florida State by the basketball coach, Hugh Durham, and was PGA Tour rookie of the year in 1971. He wound up with 19 career victories and two majors, one that showed determination, stubbornness and supreme concentration. Playing the final round of the 1977 U.S. Open at Southern Hills, he was told someone had threatened to kill him on the back nine.
Given the choice to clear the course of fans or return the following day, Green played on and captured his first major. He also won the 1985 PGA Championship at Cherry Hills over Lee Trevino.
Green, who overcame oral cancer four years ago, had 73 guests come to the induction, including his three sons. They played golf together Sunday for the first time.
Pak hardly spoke any English when she joined the tour, and learned the language mostly through her press conferences. She was nervous before a crowd of some 3,000 on a chilly night, but got through it with laughter, her larger-than-life smile and heartfelt emotion.
"My parents said when you make dreams, make them big," she said. "This night was always the one I dreamed about."
Pak had as much influence as anyone since Nancy Lopez, who presented her. She was relatively unknown as a rookie in 1998 until she won the LPGA Championship, then the U.S. Women's Open in a 20-hole playoff, and later shot 61 to set what then was the scoring record on the LPGA Tour. More than that, she inspired a nation of South Korean golfers to bring their games to America.
"Now everybody calls me the leader of Korean ladies golfers," she said earlier Monday. "Leader is always hard, really difficult. There's a lot of pressure. All I can do is just make them go the right way, to show them what's the best way, how to believe in themselves, how to make them as players. Things like that, it makes me really more stronger."