News
Ames Wins Season Ender At Disney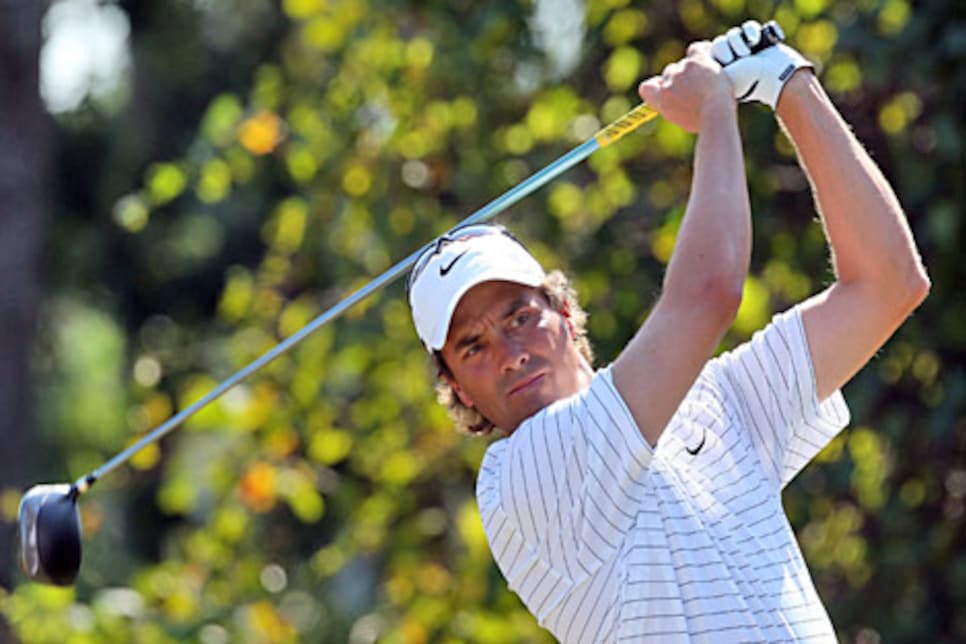 Ames 60-foot bunker shot to get up and down for par got him his third PGA Tour win on Sunday.
LAKE BUENA VISTA, Fla. (AP) -- Stephen Ames wanted to escape the chill of Calgary for the final PGA Tour event, a decision that paid off Sunday when he closed with a 4-under 68 for a one-shot victory in the Children's Miracle Network Classic.
Ames emerged from a typically crowded leaderboard at Disney with three straight birdies on the back nine of the Magnolia Course, then saved par from 65 feet out of the bunker to avoid a playoff with Tim Clark.
It was the first victory in a year that Ames already had deemed a success because of overhauling his swing to cope with nagging back issues. He took pride in being among the leaders in the final round of the U.S. Open, and playing in the final group with Tiger Woods at the PGA Championship.
Nothing beats winning, though, especially against a solid group of players contending at Disney.
"I was planning on going to Maui for a Christmas vacation, and now I have another reason to go," Ames said, referring to Kapalua for the winners-only Mercedes-Benz Championship that starts the 2008 season.
Clark, who has the most career earnings of anyone without a PGA Tour victory, birdied six of his final 10 holes for a 66 and played the brutal three closing holes in 1 under to see if it would be good enough. Scott Verplank, who shared the 54-hole lead with Ames, was tied for the lead with four holes to play until he could no longer keep up.
Ames made it tough on himself by putting his approach into a bunker, some 65 feet from the hole on the 18th. But he blasted out beautifully to 3 feet and calmly rapped in the putt for his third career victory.
He finished at 17-under 271, the highest winning score at Disney since Woods won with the same score in 1999.
The consolation prize went to Kevin Stadler, who tied for 15th to move into the top 125 and keep his card for next year. Stadler finished at No. 124, while Matthias Gronberg locked up the final spot with a tie for 37th.
Stadler began the Fall Series at No. 108 on the money list, but made only two cuts over the last six weeks and had dropped to No. 127. He played the final round knowing he was somewhere around the magic number.
"It's not life or death, but it's a hell of a big deal," Stadler said.
Justin Leonard was among seven players tied for the lead at one point until a late bogey dropped him into a tie for sixth, leaving him short of the top 30 on the money list to earn a spot in the Masters.