News
Tour Insider: Small Victories Are Huge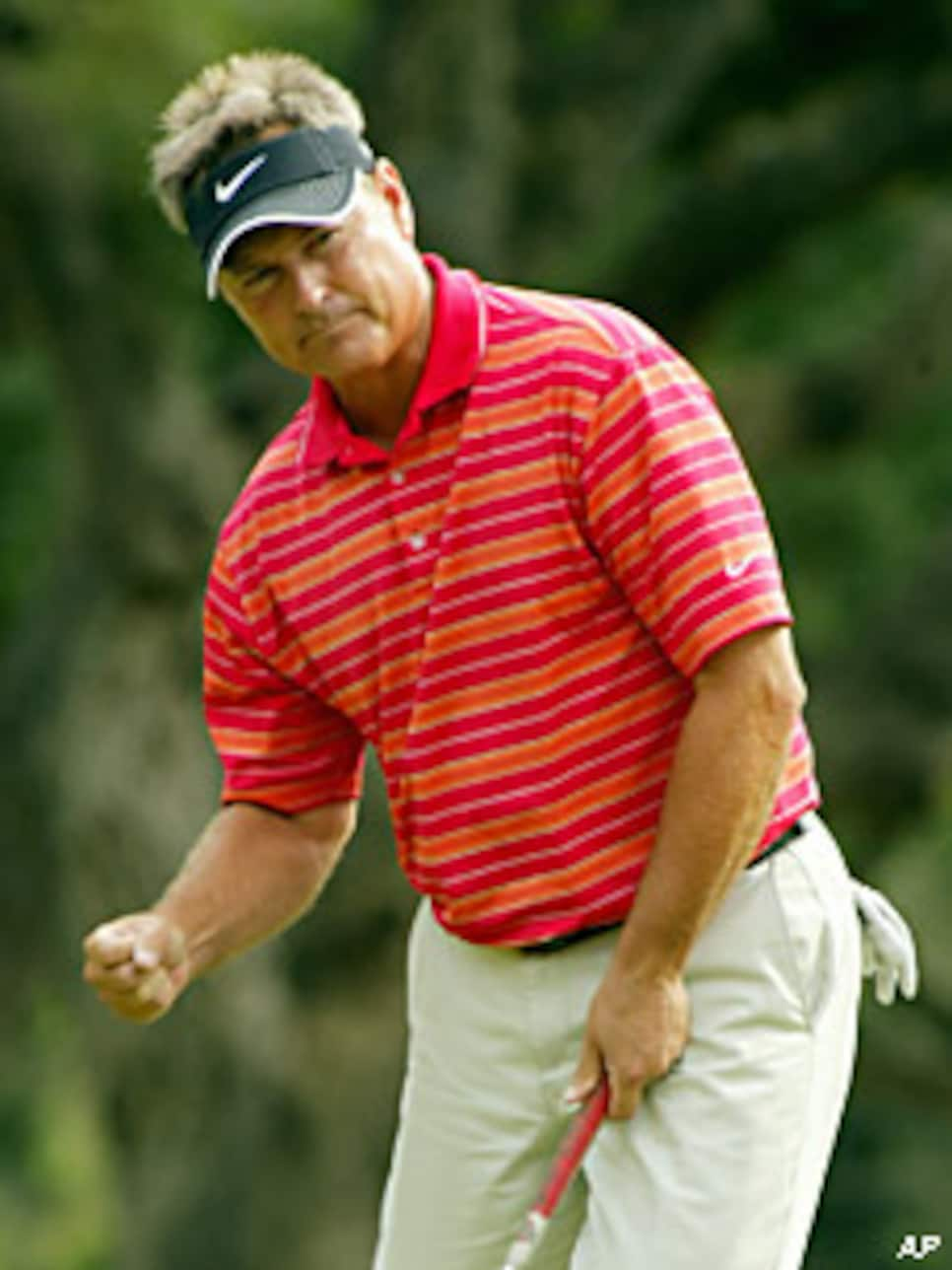 The AT&T title was another in a long list of personal wins for Cook.
John Cook has stayed young, seemingly forever. He was one of the first tour players to get an iPhone and the eighth-youngest player to win on the Champions Tour, just 19 days after his 50th birthday. Instead of classic rock, he's more likely to be wearing a pair of surf sandals listening to Audio Slave. Instead of a gated community in Florida, he has moved back to Southern California, and a beach house in Corona del Mar. He never even thought about a midlife crisis until he had one.
One of the first text messages Cook received Sunday in San Antonio after beating his former Florida neighbor, Mark O'Meara, in the AT&T Championship came from the third member of his old Isleworth posse, Tiger Woods.
In his post-round interviews, Cook mentioned this text, saying he couldn't repeat it on air or in the press room, laughing that he was surprised AT&T let it go through. Taking the profanity out of it, the message essentially said:
Now what do you think of the UCLA coaching job?
"And it went on from there," Cook said Monday, waiting on a delayed flight out of Houston.
This was the heart of all the emotion that came pouring out of Cook after his first victory in six years. At several points Sunday he could not continue his interviews without breaking down, so instead, he never elaborated. Cryptically, some of the stories out of San Antonio referenced "undisclosed personal battles off the course," and how emotional Cook was after the victory.
"It's hard to talk about really," he said. "I can't."
I had other journalists call Monday morning, wanting to know if John's marriage was all right, or if somebody was sick in the family. I know John as well as any tour player. We did the PGA Tour Sunday television show together with Fran Charles on the USA Network for four years. We hang, talk, text, email, stay in touch, but John doesn't share everything and it had me wondering, and worried.
Thankfully, it was nothing like that. And it goes beyond John not getting the UCLA men's golf coach job he thought he wanted so bad -- although that was kind of the last blow. It was a year in which he fought sickness and a career-threatening injury, a broken relationship with his manager, and at the lowest point of all, a rejection. Going back out on the Champions Tour this year was almost like starting over with no other options.
"The last couple years, I've been exploring outlets B, C and D to do things in case I couldn't play golf anymore," Cook said. "In a roundabout way, I'm glad it didn't work out now. There's no way I could have played and competed the last couple weeks had I been offered that job. But at the time, it was something I was passionate about. I was moved, just to be considered one of the last candidates. I would have taken it if offered to me, because it would have represented something solid in my life. It turns out now that it's OK. I've been saying that for the first time in my life I tried to get a real job, but I wasn't cut out for it."
The job went to Derek Freeman, one of O.D. Vincent's assistant coaches before the Bruins' coach departed to Duke. Cook went back to work with his Extreme Sports rehab specialist, and used the rejection as a quiet form of motivation. His shoulder came back, and so did his attitude.
Leading up to his senior debut two weeks ago in Houston, Cook sounded hungrier than some of the name players making the transition to the Champions Tour. He talked about the unfinished business remaining after his regular tour career ended with 11 victories and some scoring records, but no major championships. While O'Meara could slide off to his fly-fishing spots in Utah, knowing he had won the Masters and British Open in 1998, Cook still had memories of the British Open he lost -- some say gave away -- to Nick Faldo at Muirfield in 1992.
In Cook's first week out, Bernhard Langer tied the Champions Tour scoring record. Cook finished 19 shots back and realized he would have to shoot at more pins if he wanted to be competitive. When he arrived at Oak Hill CC in San Antonio it was like old home week. The course was always one of the top five favorites among players on tour, before it lost its spot as host to a course based at an amusement park, LaCantera GC.
At a little over 6,700 yards, it represents golf the way it used to be and that inspired a leader board that had Cook, O'Meara and Tom Kite at the top, with Fred Funk and Loren Roberts making weekend runs. "It was a throwback," Cook said. "The greens were perfect, the fairways that old common Bermuda, where you might get some sketchy little lies, where you have to play different shots. It's not like the balls were sitting up on a tee, like you get most weeks. It can't be perfect all the time. It was just a joy, like being back to old time golf."
And Cook finished the way he did in the old days -- if the 1980s and early '90s can be considered the "old days" -- with a 65 to beat O'Meara out of bragging rights. Bragging rights mean a lot to these two. I remember sitting in O'Meara's media room at Isleworth with Cook, when Marko pointed to the framed Golf World cover of him beating Cookie for the 1979 U.S. Amateur. It would have hurt worse had Cook not won the year before.
With the wind blowing and the greens hard, Cook's nerves held up. That was the most satisfying part about the little 54-hole dance around that delightful little Tillinghast course. "It's like our old friend Tiger says: 'It's about Ws,' " Cook said. "At this point in my career, it's even more so. It's not a money thing. It's the competition. You're trying to win, trying to beat guys you battled against 25-30 years ago, maybe longer when you go back to junior golf. That's what it's all about ... playing against and beating guys you laughed and cried and battled with."
Too bad it's not like this every week on the Champions Tour, but maybe it will be more often now that Cook, Langer and Jeff Sluman are taking it seriously. "There were some major champions on that leader board, tons of them," Cook pointed out. "It wasn't like I was stepping on the Champions Tour trying to beat a bunch of stiffs. These guys have won a lot of tournaments in their careers. They know how to close deals. I feel like I know what it's like to close deals, too."
The only part about the money -- and he made $240,000 for finishing first -- is that it allowed him to upgrade the champagne at the reception when he gives away his daughter, Kristin, this weekend. She is the first Cook child to marry, John and Jan have celebrated 28 years together, and everybody is healthy. Maybe now we call all understand why he got choked up talking about it.
"People close to me," he said, "know how special it was."