News
Weir Caps Off A Presidential Year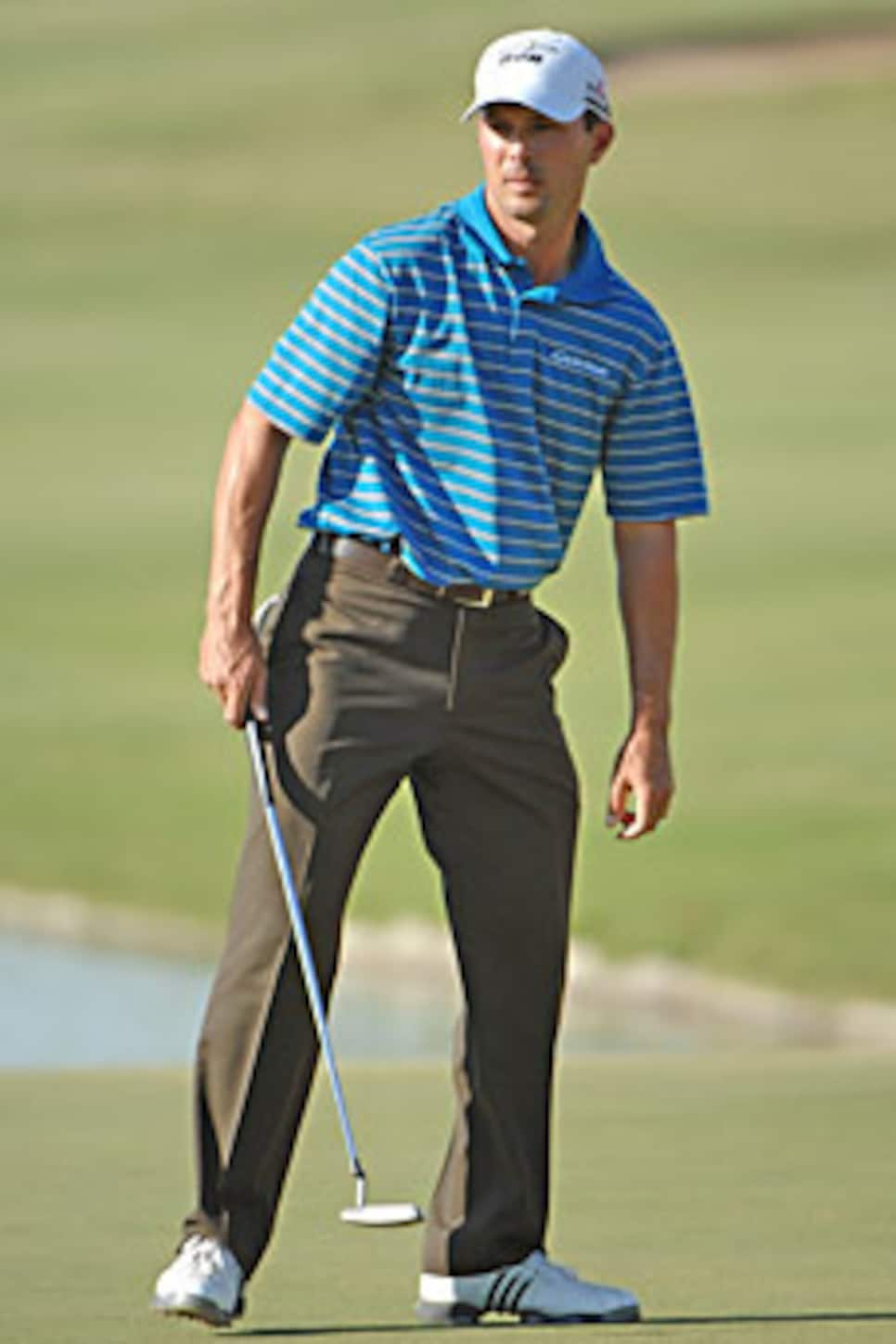 Up and down from the greenside bunker on 18 locked up the victory for Weir.
SCOTTSDALE, Ariz. (AP) -- Canadian Mike Weir won for the first time since early in the 2004 season, shooting a 2-under 68 on Sunday for a one-stroke victory over Australia's Mark Hensby in the Fry's Electronics Open.
Weir secured the win with a 6-foot par putt after hitting his approach on the par-4 18th into a greenside bunker.
The 2003 Masters champion took the lead with a birdie on the par-4 15th, rolling a chip shot to a foot, then held off Hensby over the final three holes on a warm, blustery day at Grayhawk Golf Club.
Weir finished at 14-under 266 for his eighth PGA Tour victory, and first since the 2004 Nissan Open, a span of 87 starts.
Billy Mayfair, a Scottsdale resident and Arizona State product, shot a 68 to finish third at 10 under.
Carl Pettersson, who led after three rounds, and Sean O'Hair tied for fourth at 9 under. Pettersson shot a 74, and O'Hair had a 69.
O'Hair briefly shared the lead after birdieing the 16th. But he double-bogeyed the 17th and bogeyed No. 18 to drop out of contention.
Play crawled along as players coped with 25 mph gusts, which kicked up dust in the desert bordering Grayhawk's 7,125-yard Raptor Course.
Pettersson opened the day with a one-stroke lead over Hensby and Weir.
By the second hole, they were all tied for the lead. But Pettersson dropped another stroke on the par-3 fifth hole, and fell behind by bogeying the 10th, 11th and 12th.
Hensby and Weir dueled the rest of the way, with no more than a shot separating them over the entire round.
Hensby missed a chance to pull even on the par-4 17th. Weir hit his second shot on a slope to the left of the green, but Hensby's second shot also sailed past the green. Both players chipped within a few feet to save par.
On 18, Weir hit his second shot into the greenside bunker but chipped to about 6 feet. Hensby's second shot landed on an embankment and came to a stop a few feet above a water hazard. He chipped to a foot and tapped in for par.
Weir has been playing better in the last month or so. After missing the cut in the PGA Championship, he improved from 41st to 30th to 10th in his next three PGA Tour events. And he beat Tiger Woods in the Presidents Cup three weeks ago.
Hensby, who lives in nearby Mesa, missed the cut in seven of the first 24 events he played this year and withdrew from two others.
He didn't have a lot of momentum coming into the tournament, having missed the cut and withdrawing in his previous two starts. Hensby's best previous finish this year was a 12th-place tie at the Crowne Plaza Invitational in May. His lone career victory came in the 2004 John Deere Classic.