News
Cook Wins The AT&T Championship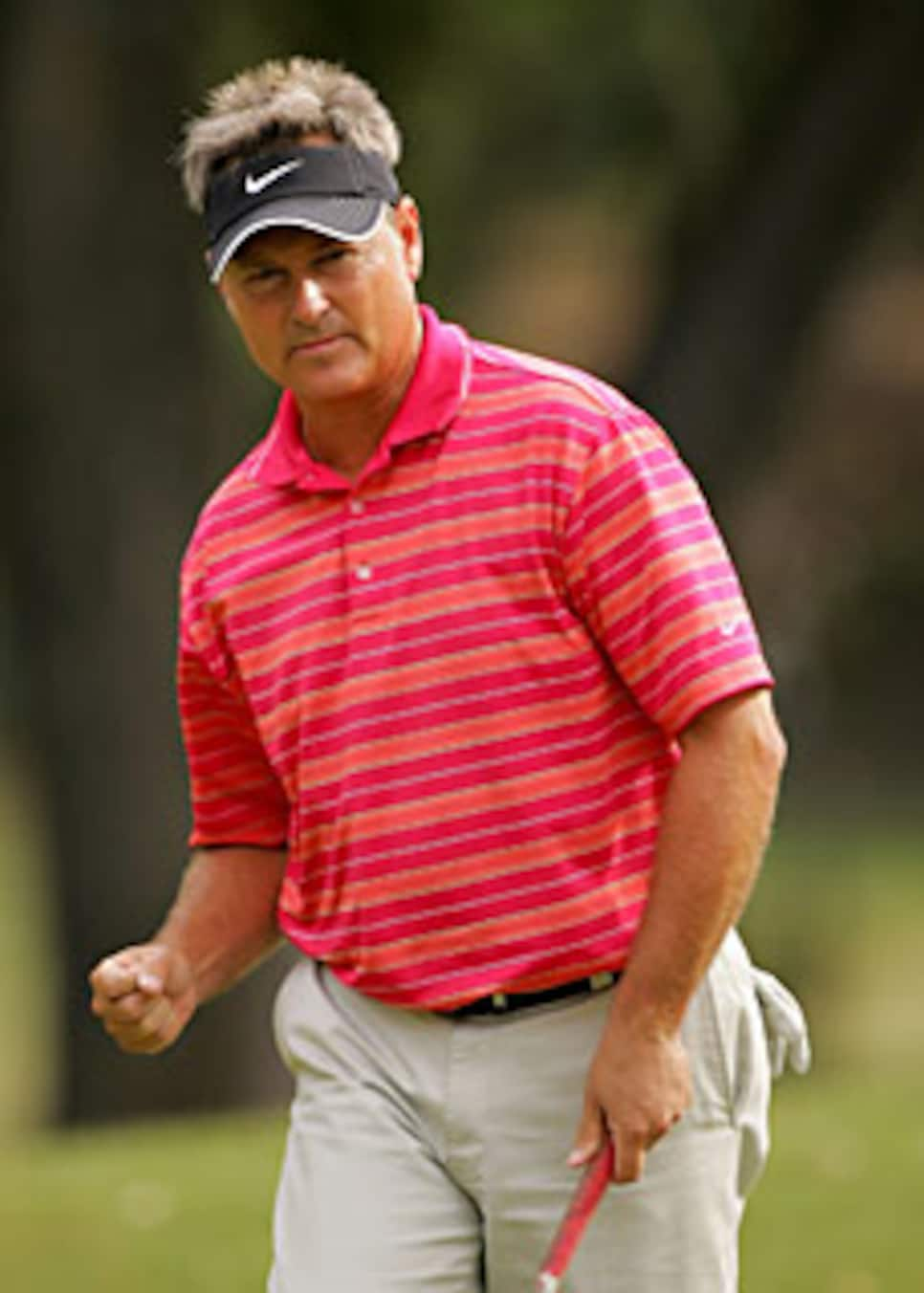 In only his second Champions Tour start, Cook comes from behind and wins.
SAN ANTONIO, Texas (AP) -- John Cook won his first Champions Tour title in his second start on the 50-and-over circuit, closing with a 6-under 65 on Sunday for a two-stroke victory over Mark O'Meara in the AT&T Championship.
Cook, the 11-time PGA Tour winner who turned 50 on Oct. 2, began the round two strokes behind O'Meara and Tom Kite and was three behind after a bogey on the par-4 third hole at Oak Hills Country Club. But Cook birdied the next two holes, and added five more birdies on Nos. 9-11 and 15 and 16 to finish at 15-under 198.
He made a 7-footer to save par on the 18th after his tee shot on the 197-yard, par-3 hole fell into the bunker right of the green.
"It was not easy out there," Cook said. "Some tricky winds on a good golf course and major championship winners all over the place.
"Thrilled? I guess I would be thrilled."
O'Meara won the Masters and British Open in 1998, and Kite took the 1992 U.S. Open.
O'Meara, another Champions Tour rookie, shot a 69. He had four birdies on the back nine, but also made three bogeys.
It's his fourth runner-up finish this year, including last week when he shot 17-under and lost by eight strokes to Bernhard Langer.
"I was 30-under par for the last two weeks and didn't win. I guess I better play better," O'Meara said. "I hit some good drives that ended up in the rough. I played relatively well."
Kite had the lead after a 10-foot birdie putt at the ninth, but bogeyed the 14th when he left his 130-yard approach in a bunker fronting the green. And he failed to birdie the par-5 15th after his second shot found the greenside bunker.
He shot a 70 to tie for third with 2006 winner Fred Funk (67) and Loren Roberts (67). Kite dropped to 0-for-120 in his home state on the PGA Tour and Champions Tour.
"A frustrating day," Kite said. "I missed four putts on the backside that I haven't been missing. I had been putting so well."
Kite had 30 putts Sunday after sub-30 performances each of the first two rounds.
Cook, whose last PGA Tour victory came in the 2001 Reno-Tahoe Open, played 13 times on the PGA Tour this year and made five cuts with a best finish of 26th.
And though he had two sub-70 rounds in his Champions Tour debut last week in the Administaff Small Business Classic in Spring, he finished 36th.
He fought off tears when asked about personal battles the past year he has endured. He wanted to keep them private.
"So many people -- it's hard to talk about, really. I can't," he said. "The timing of this, literally, couldn't be at a better spot. So many people know how special this was."
Roberts' finish allowed him to expand his lead in the season-long Charles Schwab Cup standings. He'll head to the season-ending Schwab Cup Championship in Sonoma, Calif., with a 165-point lead over Jay Haas. Roberts finished second to Haas in the championship last year when he three-putted the final green at Sonoma.