News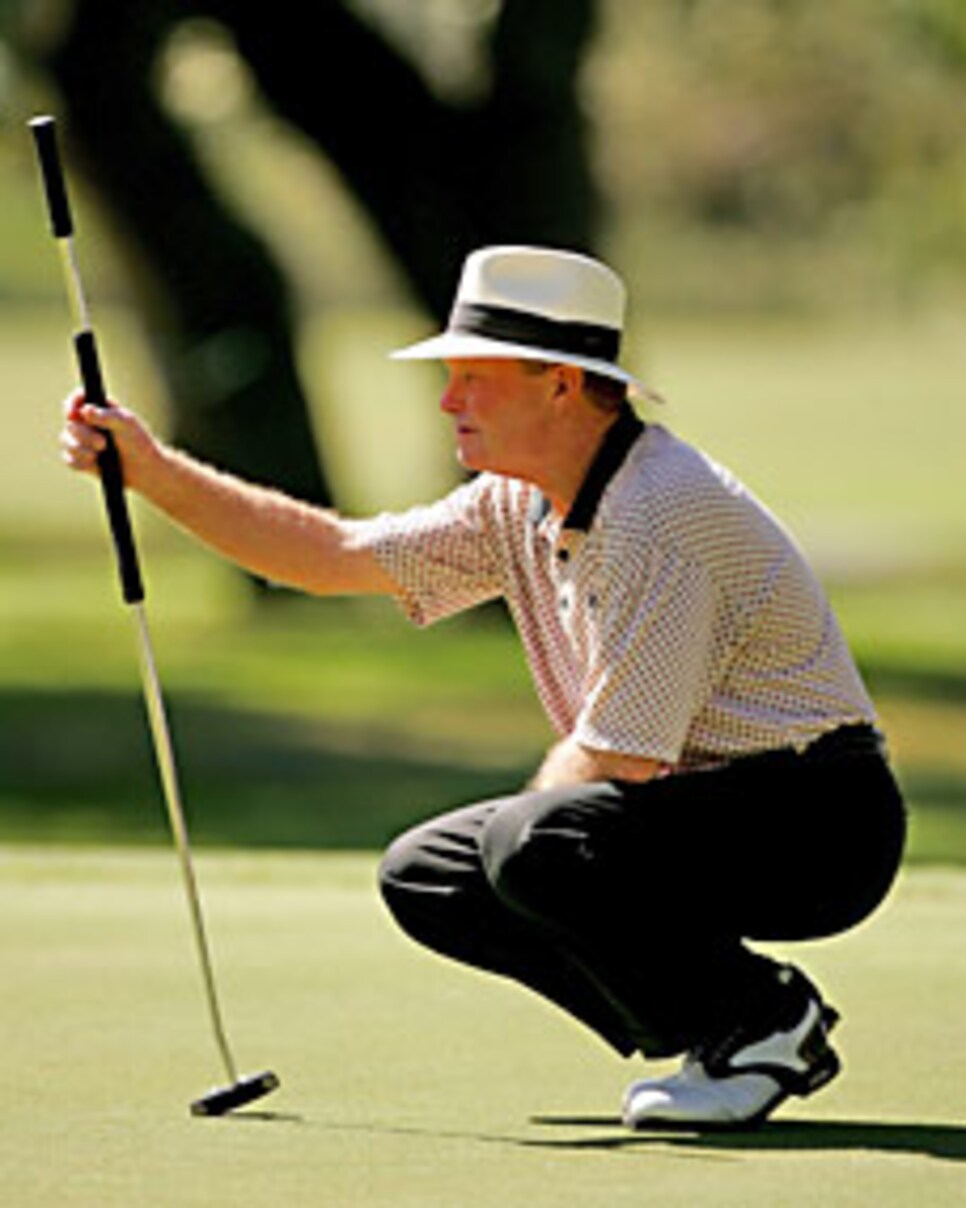 Kite is 0-119 in his home state of texas.
SAN ANTONIO, Texas (AP) -- Tom Kite moved into position for his first tour victory in his native Texas, shooting a 6-under 65 on Saturday for a share of the second-round lead with Mark O'Meara in the AT&T Championship.
Born in McKinney and a longtime Austin resident, Kite is 0-for-119 in Texas on the PGA Tour and Champions Tour.
O'Meara, the first-round leader after a 63, shot a 68 to match Kite at 11-under 131 on the Oak Hills Country Club course.
"I want to win every week. It doesn't really matter where the tournament is," Kite said. "I don't understand it because, obviously, I know how to win golf tournaments in Texas because I won a bunch of them as an amateur.
"I'm not really too worried about it. I've got myself in a position to win this week, so that's what I'm shooting for."
Englishman Mark James opened with a pair of birdies and led midway through the second round, but he bogeyed the final hole for a 66, leaving him a two strokes back at 9 under with Champions Tour newcomer John Cook (68).
Dave Stockton matched his age with a 65 to join defending champion Fred Funk (68), Loren Roberts (66), Scott Simpson (67) and Mark Wiebe (66) at 8 under.
Kite, who capped three straight birdies with a 20-foot, two-putt at the par-5 10th, took the lead when he made a 10-foot birdie putt on No. 17, but he missed a 10-footer for birdie on the 18th. O'Meara made a 3-footer at No. 17 to tie Kite, then missed a 19-foot birdie try at the 18th.
O'Meara, who won the PGA Tour's 1990 Texas Open at Oak Hills, opened his round with seven straight pars before birdies at Nos. 8 and 10.
He bogeyed the 451-yard 11th after pulling his tee shot into a bunker and left his 148-yard approach short of the green. But before the short birdie putt at 17, he almost reached the par-5 15th in two before sinking a 6-footer for birdie.
"Overall, I think I kind of got around out there, you might say," O'Meara said. "Today was a little bit of a battle out there."
Kite and O'Meara will play in the final group on Sunday for the second straight week. They lost at the Administaff Small Business Classic when Bernhard Langer ran away with an eight-stroke victory.
O'Meara shot a final-round 68 and edged Kite (69) for second.
"Overall, I'm going to have to execute a little bit better and drive the ball better," O'Meara said.
Kite, who's gone 23 holes without a bogey or worse, sounded more optimistic.
"I feel good about everything going on with my game right now," Kite said. "I haven't capitalized on everything that I've done because I really have played well. I feel like I'm stroking the ball well and putting good."