News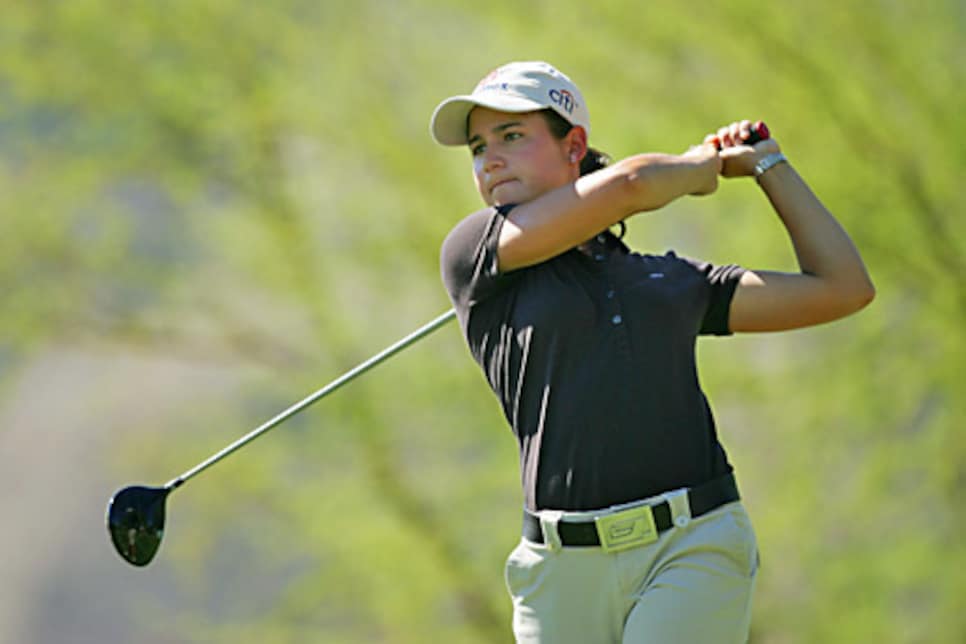 LPGA Tour Player Of The YEar and seven victories leaves little doubt who the best is.
PALM DESERT, Calif. (AP) -- Lorena Ochoa enjoys life at the top, and she intends to stay there for a while.
Ochoa clinched her second straight LPGA Tour player of the year award with a runaway victory Sunday in the Samsung World Championship.
Successfully defending her title in the elite event, Ochoa crafted a closing 6-under 66 in what began as a pressure-packed final round. The title was her seventh of the year and 16th overall.
She finished at 18-under 270 -- four shots ahead of Mi Hyun Kim -- and earned $250,000 to push her record total to $3,318,421.
"After what happened in 2006, I thought it would be hard to improve, but here I am," said the smiling Ochoa, who won six times last year.
Asked how she plans to remain No. 1, she said, "I always try to be one step ahead; not let any distractions get in the way, get in my practice and my rest.
"And there are a lot of things to improve. I'm going to work hard."
Kim closed with a 69. Angela Park, this year's rookie of the year, and Jeong Jang shot 70s to tie for third at 13 under.
Kim said that Ochoa, unlike many other players who hit the ball long, also has a fine short game.
"She is still young, but mentally good, and if she hits long, she hits a good putt. She has a lot of good things. I'm jealous," Kim said, grinning.
She added that, because Ochoa is so long off the tee, "I want to ask her, I want to get 10 yards distance from her."
Asked later if she were willing to give Kim a 10-yard advantage, Ochoa laughed and said, "No."
The Mexican star who turns 26 next month began the day tied at the top with Norway's Suzann Pettersen, who beat her in a playoff a week earlier.
Kim, Jang and Park all began the final round at Big Horn Golf Club just one shot behind the co-leaders.
Ochoa's game was solid from tee to cup, and she was particularly deadly with her irons. She also snaked in a 15-foot birdie putt to take clear command on No. 15, and sank a couple of 10-footers for birdies during her round.
She made a 5-footer to birdie the first hole and take the lead alone and was in front until Jang birdied No. 9 to draw even at 15 under.
With several Ochoa fans perched high on rocks high above the course and waving a large Mexican flag, she moved back ahead by one shot with a birdie on No. 10, then extended her lead with birdies on Nos. 14 and 15.
She had her lone bogey of the day on 16, but bounced back to make another 10-foot birdie putt on No. 17 to stretch her lead back to four shots.
When she knocked in a 6-footer for par on the final green, Ochoa grinned, pumped her right arm, then waved to the crowd.
Pettersen, who defeated Ochoa on the second hole of a playoff last week in Danville, finished with a 72 this time that left her in fifth at 12 under.
Michelle Wie, who received a special exemption to join the field, finished with by far her best round of the tournament, a 71 for an 18-over total. She was 19 over after the first three rounds, but her finish jumped her over Bettina Hauert into 19th place in the 20-player event. Hauert shot a 76 to go to 19 over.
A Stanford freshman who turned 18 on Thursday, Wie earned $13,125 for her 19th-place finish, $626 more than Hauert.
Wie, who made only two cuts in seven tournaments this year and had earned only $9,899, was pleased to finally get her game going.
"I didn't play for a while (because of wrist injuries) and it took me a lot longer than I thought to get back into the game," she said. "Definitely this was a lot better. I was really proud of myself for not giving up the whole week, that I just fought through.
"And today I just fought through the round. Obviously, I had a couple of missed shots, but I made a lot of putts and today helped me to think very positively."
Wie said she is looking forward to a fresh start after battling the wrist injuries this year.
"In my mind, I didn't play bad because because I played bad; I played bad because I shouldn't have played," she said. "The decision was on my part. But it wasn't really my fault either, because I really wanted to play."
She finished 17th at Big Horn last year. She would have finished fourth in 2005, when she made the tournament her pro debut, but was disqualified after the final round for signing an incorrect score card following the third round.
Annika Sorenstam, a five-time winner of the event, declined an offer to play in the tournament this year. After getting off to a slow start this season and missing time because of back and neck problems, she wasn't eligible for the 20-player field until the organizers changed the criteria to open a spot for her.
Sorenstam's agent said she did not want to take a spot that would have gone to another player under the old criteria. Sarah Lee got the final spot, and she tied for 10th and earned $21,667.