News
McNeil Increases The Odds In Vegas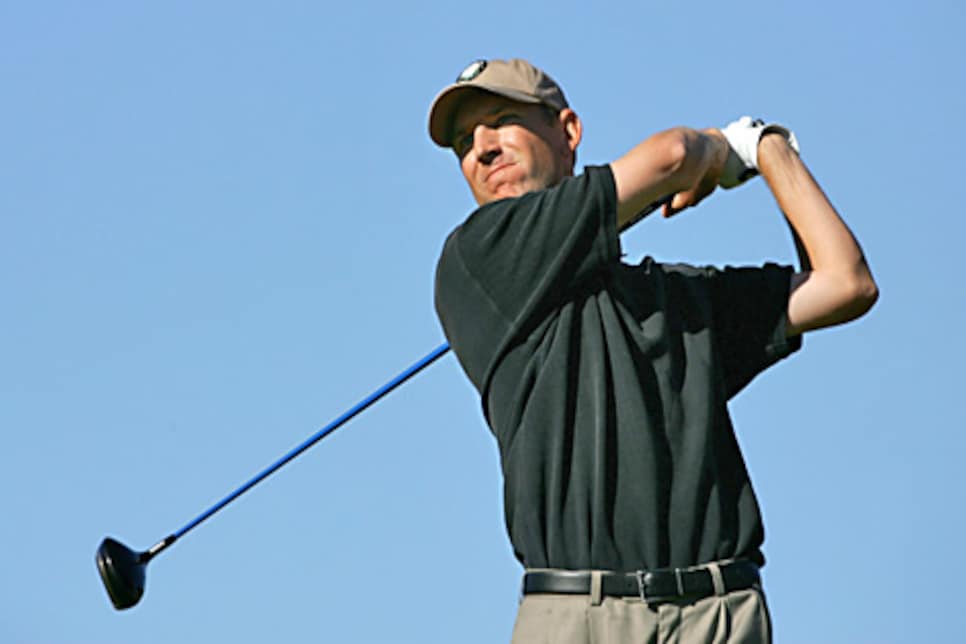 Almost unnoticed in John Daly's shadow, George McNeil moves to the front of the pack.
LAS VEGAS, Nevada (AP) -- Rookie George McNeill quietly took over sole possession of the lead in the Frys.com Open, with John Daly on his heels for much of the day and generating all kinds of attention.
There may be a little more fanfare if McNeill holds on for his first PGA Tour title.
McNeill shot Saturday's low round at 5-under 67 on a tough scoring day at TPC Summerlin, making birdies on four of his last eight holes to retain the top spot on the leaderboard with a total 13-under 197 and a five-stroke lead over two others heading into Sunday's final round.
A tiny gallery of about 20 fans walked with the leaders, who were followed closely by the beloved Daly and the big crowd that supports him almost everywhere he goes.
"John's always going to have that many people following him," McNeill said. "When he's playing he's obviously a crowd pleaser and a draw, so we would turn around to see where he was."
The 32-year-old McNeill -- who only last year worked as an assistant pro in Fort Myers, Fla. -- began the third round in a three-way tie for the lead. He overcame a pair of bogeys on the front nine, and was 17-for-17 on putts from 10 feet or closer.
McNeill's lead equaled the largest on the PGA Tour this year going into the final day, also done in August by Steve Flesch in the Reno-Tahoe Open.
Robert Garrigus and D.J. Trahan were tied for second at 13 under. Garrigus shot a 68 for a three-day total of 202, having already moved up the leaderboard with his 63 on Friday. He had hoped to go 4 or 5 under considering the conditions.
Players dealt with fast greens in blustery conditions on a day when the fairways were firm and unforgiving, birdies hard to come by and rounds painfully slow, causing groups to wait up to 15 minutes between holes after players were split between Summerlin and TPC The Canyons and playing with amateurs in the two previous rounds.
Garrigus sipped water and socialized with friends and family to pass the time. Several players said the tempo was more frustrating than the wind.
"We were waiting pretty much all day," Garrigus said. "I'm not one of those guys who likes to wait too much, so I had to do a lot today to calm myself down and stay relaxed."
McNeill and Garrigus, a pair of qualifying school veterans, hope to make it an exciting final round. McNeill has been to Q-school nine times and Garrigus 10.
"You dream about this kind of moment when you're 5 years old and sitting there putting around the house," McNeill said.
Trahan, playing in the top group with McNeill and Garrett Willis, shot a 72 after back-to-back 65s. Willis fell back into a four-way tie for fourth after his 1-over 73.
Having already secured full exemption for 2008, the 29-year-old Garrigus would love to break the top 70 on the money list to earn automatic entry into the elite invitational events. He was 101st with $906,510 in earnings coming into this tournament.
The slow play certainly didn't sit well with Daly, who much prefers a quick pace. Daly was held up more than 15 minutes to begin his back nine -- which started on the first tee -- after the leaders began their rounds.
Waiting to tee off on No. 3, Daly leaned on his bag, fiddled with his clubs and took a smoke break -- with a gallery of about 200 following him, many with beers in hand before noon. No matter that he hit into bunkers on back-to-back shots on No. 2.
Daly, who shot a blistering 28 on the back nine Friday to bounce back for a 63 after a first-round 74, was tied for 68th at 1 under after his 77.
Willis didn't get his first birdie until sinking a 14-foot putt on No. 7, and was the only one in the leading group without a bogey on the front nine until he got one on the very next hole to go back to 13 under.
McNeill's friend, Casey Roan, was scheduled to return to Connecticut but stayed in the desert for Saturday's round after McNeill was in such good position.
The men attended the same high school and often played together. Roan was the club pro at the former Lochmoor Country Club in Fort Myers when McNeill was a high school and junior golfer.
Jason Gore and Nick Watney, in the second-to-last group, both fell off the leaderboard in a hurry. Gore shot a 73 and was tied for eighth, while Watney -- dressed in bold pants with a large plaid print -- was already 4 over for the day after double bogeying his first two holes and finished in a share of 27th place at 7 under with his 76.
Bob May, the first-day leader who like Watney lives in Las Vegas and drew cheers as he teed off, was among the seven in eighth place.
One person enjoying the golf was Katie Walker, a freshman on the golf team at Cal State Bakersfield despite playing with a prosthetic on her left leg. The 18-year-old Walker was born with a heart murmur, one kidney, an improperly formed gastrointestinal tract and a missing tibia in her left leg that eventually led to it being amputated.
Walker was helping out with a clinic for close to 200 high school golfers led by noted instructor Butch Harmon, who personally invited her to take part.
"I never really considered myself having a handicap," Walker said. "My motto's always been that if you put your mind to it and you're determined, you can do it. You might do it a little differently, but you can still accomplish those things."