News
Pettersen Catches Ochoa For A Day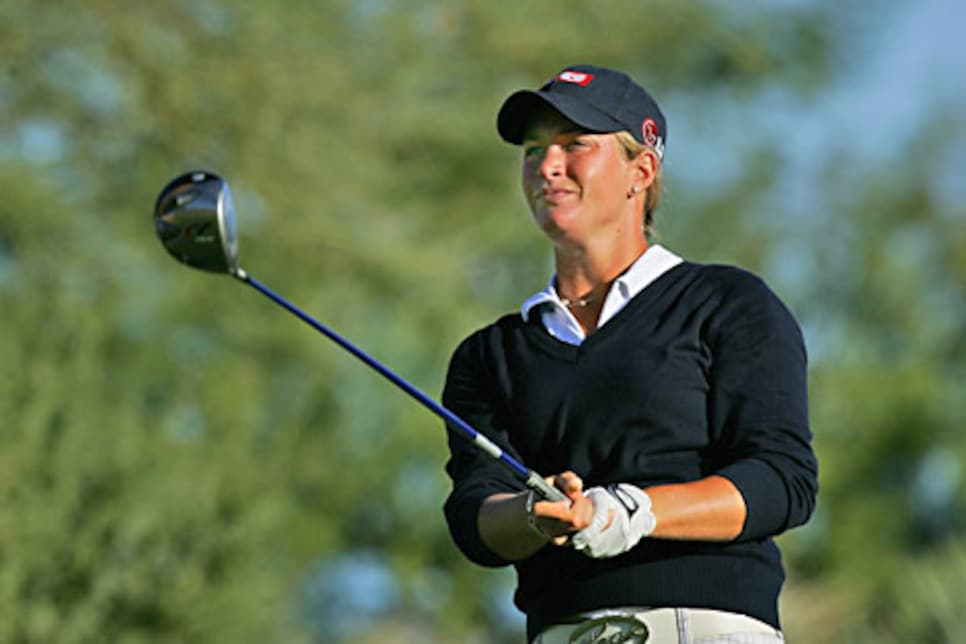 Suzann Pettersen came from five-srokes back to grab a share of the lead.
PALM DESERT, Calif. (AP) -- Suzann Pettersen is chasing No. 1 Lorena Ochoa.
At least on Saturday, she caught her.
Norway's Pettersen, coming off a playoff victory over Ochoa last weekend, birdied the final four holes Saturday to charge into a tie with the Mexican star in the Samsung World Championship.
Pettersen shot an 8-under 64 to match Ochoa at 12-under 204 through three rounds at Big Horn Golf Club.
"Obviously this year, winning six tournaments, she is the world's No. 1 right now and you always chase No. 1. She is just a very nice competitor," said Pettersen, a three-time winner this year who is a distant second in the player of the year race.
Ochoa, the defending champion in the event for the LPGA Tour's elite players, had a 69 that included a bogey 5 on the final hole when she pushed her drive into a bush for an unplayable lie.
Pettersen finished her round earlier, and thought she probably would be one shot off Ochoa's lead heading into the final day.
Pettersen missed a 15-footer for par on the second hole for her only bogey.
Beginning the day five strokes back, she rolled in a 15-foot birdie putt on No. 1 for the first of her nine birdies.
The 26-year-old Pettersen made four birdie putts from 15-25 feet during her round, and tucked her approach shots near the pin for other birdies.
"My long game I feel is in very good shape. I feel I can be very aggressive from mid irons all the way up to wedges," she said. "If you are in good position off the tee, you feel you can attack most of the pins. That's a good advantage."
Last Sunday in Danville, Pettersen made an 8-foot birdie putt after Ochoa missed her try from 20 feet on the second playoff hole.
Ochoa, the LPGA Tour's best player over the past two years, reeled off three consecutive birdies beginning on No. 3 to begin her third round, then briefly opened a four-shot lead with a 5-foot birdie putt on the ninth hole that put her at 13 under.
But she played the back nine at 1-over 37, while Pettersen, who had a 33 at the turn, shot 31 over the last nine holes -- including a tap-in for birdie on No. 18.
Ochoa said the final round should be a good one.
"Suzann is a great player, very competitive, very aggressive. Congratulations for the great round today," she said. "I think it will be fun for all because we are trying to push ourselves just to make more birdies and play well, and we both want to win really bad."
Asked about the finish last week, Ochoa said, "What happened in the sudden death was just a great playoff."
Angela Park, who has clinched the rookie of the year award, shot a 69 and was tied with Jeon Jang (68) and Mi Hyun Kim (67) one shot back of the co-leaders.
Although Park has six finishes in the top 10 this season, she's still looking for her first tour win.
"I feel like every week is the week that I could finally get my first victory," she said. "I'm only one stroke back. There are 18 more holes to go. You never know what they (the leaders) are going to do."
Michelle Wie had her lowest round of the tournament, but that was a 5-over 77. She had 79s the first two days and remained in 20th and last place at 19-over 235, four shots worse than Bettina Hauert of Germany in the 19th spot.