News
Creamer Tied For Samsung Lead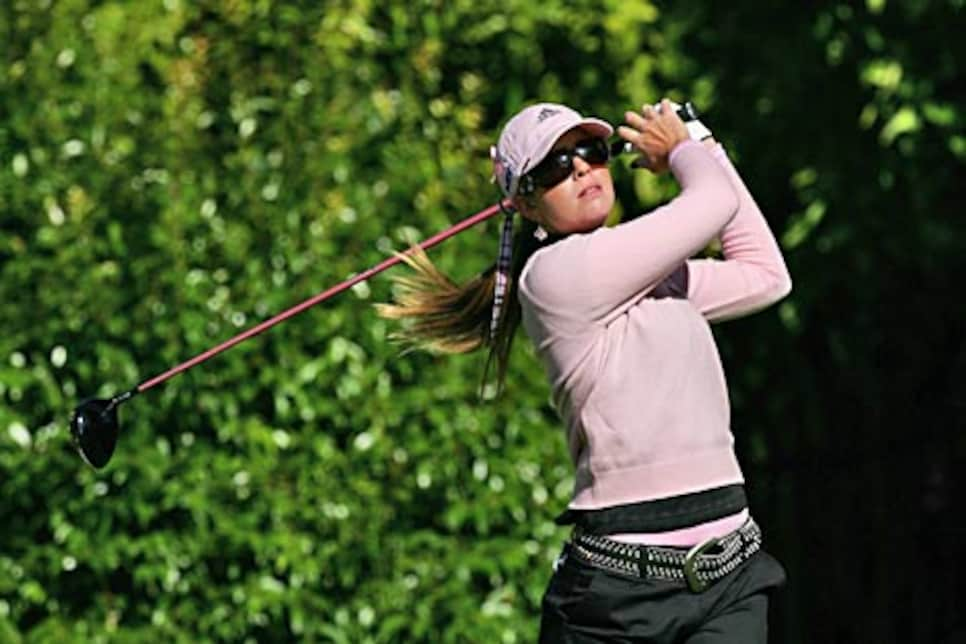 With superb ball striking, Paula Creamer has moved to the front with Angela Park.
PALM DESERT, Calif. (AP) -- Angela Park didn't particularly want to recall the two earlier times she played a round with Michelle Wie.
"Let's not talk about that," Park said. "I played with her in the Public Links and U.S. Amateur."
Wie beat her in both those 2004 amateur tournaments, but times do change. After Thursday's first round of the Samsung World Championship, Park's 67 was good for a share of the lead with Paula Creamer, and Wie's 79 was three shots worse than any other player in the 20-player field.
The 19-year-old Park, who already has clinched this year's LPGA Rookie of the Year award, said she was nervous being paired with Wie, who still draws large galleries despite her struggles on the course this year.
Asked whether the crowd or playing with Wie made her the most nervous, Park said, "I think a little bit of both. I was shaking out there. I don't know why. I was like, 'Calm down, calm down.'"
The shakes didn't creep into her game; Park birdied the first three holes.
"It was because of her (Wie) that I played a little bit better than I expected because I just tried to focus on my own game," Park said. "I knew she had her own things going on.
"I wasn't looking at her swing. I wasn't really focusing on what she was doing. I just kept focused on myself."
That wasn't the case in the two earlier meetings as amateurs.
"That was totally different," Park said. "Then I so totally followed her game, watched what she was doing."
Park, who was born in Brazil and moved with her parents to the Los Angeles area when she was 8, said she was excited just to be in the tournament.
"Obviously being one of the top 20, elite members of women's golf, is a very priceless experience," she said. "And especially to be the only rookie out here gives me great pride and gives me a lot of confidence."
The 21-year-old Creamer, the tour's rookie of the year in 2005, had her irons clicking during her bogey-free round.
She said getting up and down from 115 yards for a par on the second hole seemed to steady her, and she birdied No. 3 to get some momentum.
"I hit the ball really solid, had a lot of good looks at birdie. Made some good ones, missed a couple of very easy putts," Creamer said. "But overall, it's the first day and I am very pleased with the way I played."
Creamer finished second to Annika Sorenstam in the 2005 tournament, and was fifth last year when Lorena Ochoa won.
Ochoa led most of the first round this time, but a late lapse cost her when she made a double bogey on the final hole to drop into a three-way tie for second with Morgan Pressel and Mi Hyun Kim at 68.
Wie, who turned 18 on Thursday, sprayed some shots and couldn't get putts to fall. She was three shots behind 19th-place Bettina Huart.
"It was a really tough day for me," Wie said. "I just couldn't get anything going. What really was the pinnacle of the day: I hit a really good wedge shot and it hit the pin and came back 30 feet. It was just that kind of day."
"All the putts looked like they were going to go in, but they didn't," Wie said. "Obviously, I had a couple of stray tee shots. But there's always tomorrow."
Asked what she was doing for her birthday, Wie, a Stanford freshman, said, "Go home and study. Basically, I have a lot of stuff to do. I have to read a book, so it should be an exciting birthday."
Wie has struggled this year, making only two cuts and earning a total of $9,899 in seven events. She had been hampered by a wrist injury, but said it was much better this week.
Ochoa didn't have a bogey until she ran into trouble on the final hole. She hit her tee shot far to the right and the ball lodged in the top of a bush. She took an unplayable lie, then hit her next shot into a bad lie in the rough.