News
You Thought You Knew Everything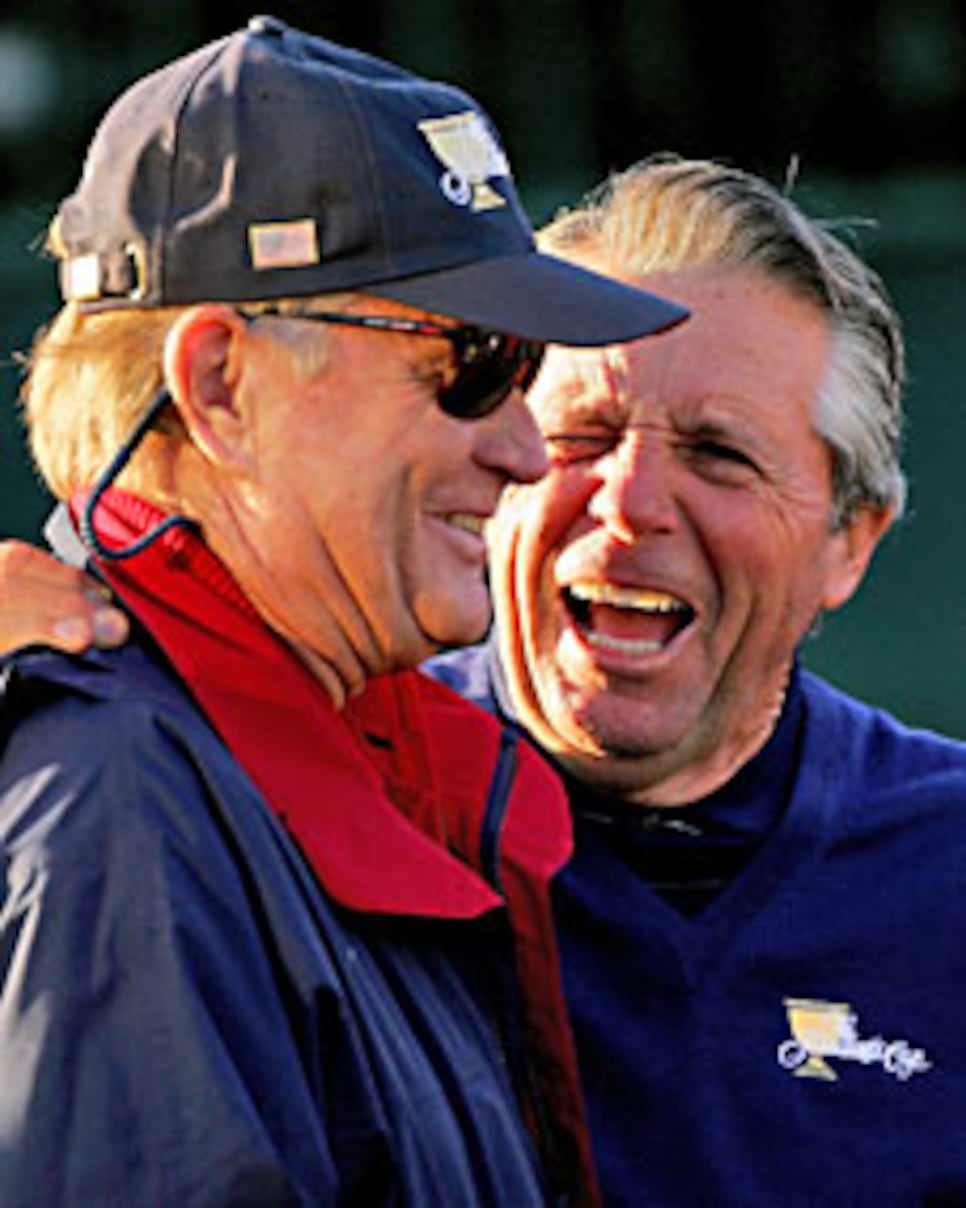 If Mike Weir is looking for a campaign manager, Gary Player might be available.
In all these cup thingies, there is so much going on in so many places at the same time, a lot winds up on the cutting room floor. Here are a few sweepings:
•: In the opening ceremonies, 71-year-old International Captain Gary Player not only managed to crack a joke about Cialis but remarked on the frugality of Canada's Prime Minister, the right honorable Stephen Harper, saying, among other things, that they had dinner with him the night before and the PM didn't pay for a thing. That was just before he called Mike Weir to the podium so he could wrap his arm around his neck and hug him. If they'd called an election at that moment, Weir would be living in Ottawa now. After he beat Tiger Woods in the singles, he still may be.
•: Until his match against Phil Mickelson when he just didn't have it, Vijay Singh was amazing. And, at 44, you have to wonder how many more of these is he likely to play? In the team matches he holed two bunker shots for birdie, pitched in from 30 yards off the green for eagle and chipped in for another for birdie. In addition, he and Stuart Appleby partnered for what was probably the single most dominating performance in all the matches, making nine birdies and two eagles between them to bury Woods and Jim Furyk in the second day four-ball.
•: Woody Austin was asked, only half in jest, if his agent had been able to take advantage of his newfound notoriety. "I don't know," he replied. "If that was the case my face would already be on the bottle of every antipsychotic drug there is." And one other thing, there is a new king of the ping-pong table. Beaten the first day, Austin was undefeated the rest of the week. "I can pretty much guarantee there's one thing I'm better at than him," he said of Woods.
•: The two players most off the boil for the week were Retief Goosen and Charles Howell III. Goosen and Appleby partnered for the worst of show when they played Austin and Mickelson in Saturday morning foursomes, managing no birdies and six bogeys in 14 holes. As for Howell, in the Saturday afternoon four-ball, he was paired with Lucas Glover, who made six birdies and an eagle on his ball, before succumbing to Weir and Ernie Els, 4 and 2.
•: Lastly, no matter how lopsided these affairs get or which side you're on, there is always some point during the Sunday singles when you look up at the scoreboard and see a tsunami coming your way. Captain Jack Nicklaus got that feeling and began to second-guess his singles selections. He put them out more for good theater than good effect. In the end, the curtain came down just in time.