News
Golf Or A Lopsided Prize Fight?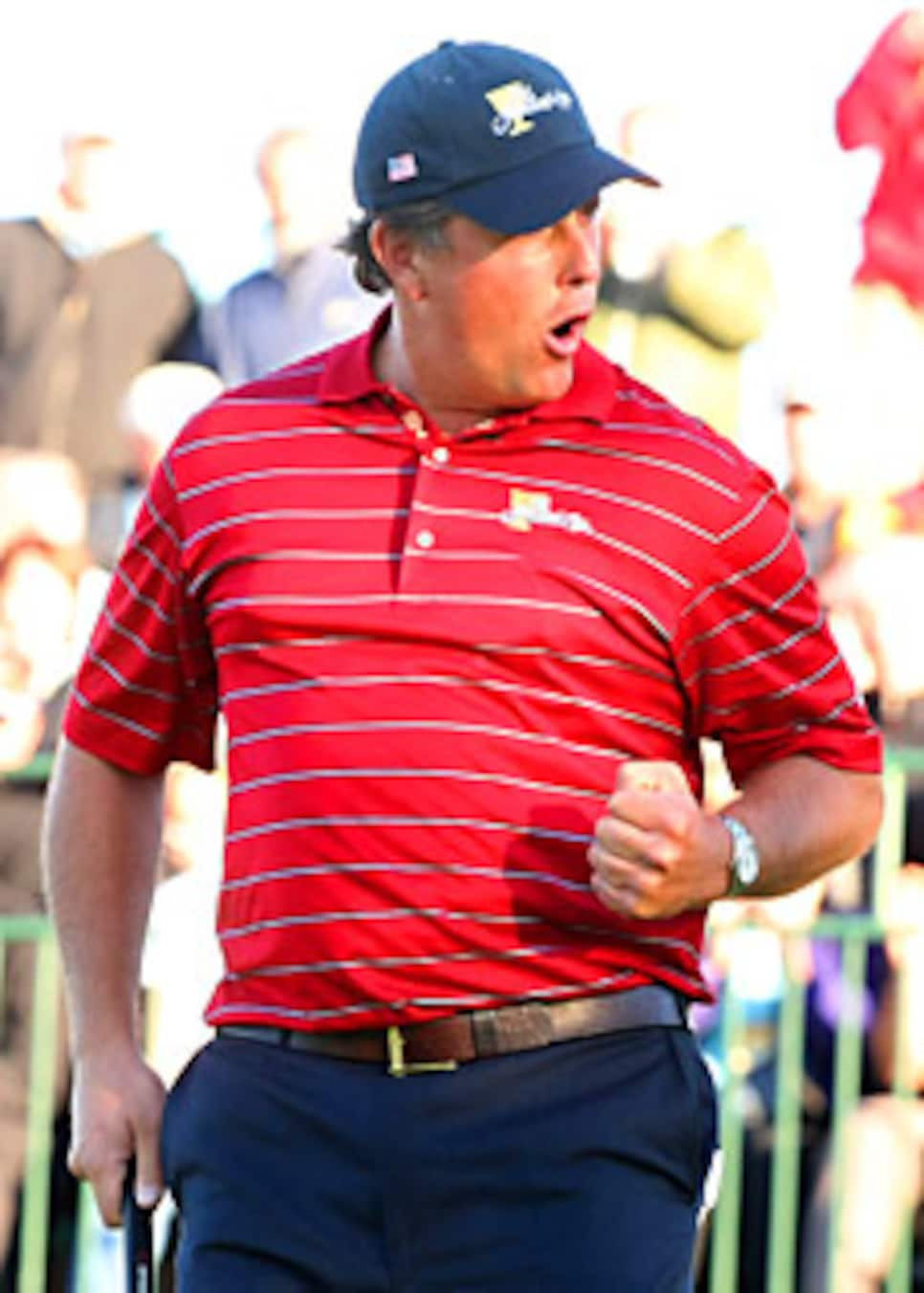 Phil shows Woody how to stay dry and steal a half point.
MONTREAL, Canada (AP) -- The Presidents Cup is supposed to be a team event. Based on the beating the Americans delivered Saturday, the only excitement left is one match between the two biggest stars at Royal Montreal.
Thousands of Canadian fans who wanted to see the International team hoist the cup might have to settle for a consolation prize of their beloved Mike Weir trying to take down Tiger Woods.
And just like the rest of these matches, it seems like a tall task.
Woods won twice with different partners, neither match going longer than 15 holes. The Americans pitched a shutout in the five morning matches of alternate-shot, then turned back an International rally in the afternoon fourballs with one of its own. When 11 hours of limited cheers finally ended, the United States had a 14-7 lead, the largest at the Presidents Cup in seven years.
That means the International team must win 10 of the 12 singles matches Sunday to take back the cup.
"It's not over," International captain Gary Player said. "But things don't look too good. The egg is not sunny-side up."
All eyes will be on Match No. 4, which Player and U.S. captain Jack Nicklaus orchestrated and both players welcomed.
"Anybody who plays Tiger has got their hands full," Weir said after winning one of the 2 points the International team earned out of 10 matches Saturday. "But I'm playing well, and I feel like if I can keep that up, it's going to be a great match."
Woods played Australian icon Greg Norman at Royal Melbourne in 1998 and Ernie Els in South Africa in 2003, winning both matches. He told Nicklaus he had no preference whom he played, but gladly accepted a match against a fellow Masters champion.
"I give Tiger all credit," Nicklaus said. "He had the choice to do it or duck, and he did not duck it. I said, 'You probably will not be the darling of the gallery tomorrow.' He says, 'I've had that before.'"
The outcome is starting to look familiar, too.
The last time the Americans held such a big lead was in 2000 in Virginia, when they rode a 14-6 lead into the biggest rout in Presidents Cup history. Just like then, contributions are coming from all corners.
Phil Mickelson showed Woody Austin how to stay dry in stealing a half-point in the afternoon when both made birdie over the final two holes. It included one comical moment when Mickelson had to step into the lake to hit a shot, just as Austin did the day before. Lefty didn't go face-first into the water, but he did borrow his caddie's shoe, a veteran move.
Stewart Cink made clutch putts to turn another likely loss into a point that continued to fill the scoreboard with American red numbers.
Player watched in disbelief, searching for answers that didn't exist.
"Look, you can come up with all kind of theories," he said. "But the Americans have just played better. Amen."
It appears that for the second time in three weeks, the Sunday chase for a cup will be anticlimactic. Woods essentially wrapped up the FedEx Cup at East Lake before the weekend arrived, and only the greatest comeback in Presidents Cup history will keep this event from turning into a snoozer at Royal Montreal.
Except for Weir vs. Woods.
"If there's one player on our team that can really give Tiger a go, it will be Mike Weir," Els said. "He's going to have all of Canada behind him."
Weir said it would help to have blue numbers on the board before he tees off, hopeful of building some momentum. Even so, the Americans have been playing the kind of golf they rarely display in the Ryder Cup, and Stuart Appleby sized up the International chances when he looked at the lineup, with the Australian in the 11th match.
"If the boys up front don't hold their position, we all collapse," he said.
They did plenty of that on Saturday.
Nicklaus nodded his head and clapped his hands with each point moving the Americans closer to their first outright victory on the road in the Presidents Cup, and their first in any cup since winning the Ryder Cup at The Belfry in 1993.
After the 5-0 blitz in the morning, Nicklaus was asked if he'd like to see the score closer.
"Uh-uh," he said through pursed lips.
"Why would you ever say to one of your guys, 'I hope you lose so it's close,'" Nicklaus said. "Would I like to see the matches played well? Absolutely. Would I like to see it close? Absolutely. But as captain, I put them out to win every match."
That they did -- or close to it.
Coming off his worst loss in a team match, Woods and Jim Furyk built a quick lead and poured it on in the closing holes for a 5-and-4 victory over Els and Adam Scott. In the afternoon with David Toms at his side -- Woods' 14th partner in cup competitions -- they never trailed in a 5-and-3 victory over Geoff Ogilvy and Nick O'Hern.
Woods went 3-1 in the team matches, his best record in the Presidents Cup or Ryder Cup.
Mickelson had not won a full point in the cups in eight matches until he and Austin were essentially handed victory by Appleby and Retief Goosen, who failed to make a birdie and were 6 over when the match ended on the 14th hole.
The tougher test came in the afternoon against Goosen and Scott. The match was all square when Mickelson's approach on the 15th went into the hazard, about two-thirds of the ball resting above the water. Mickelson asked Austin to try to make par so he wouldn't have to play the shot. Austin missed, Mickelson stepped into the lake and all the Americans got out of it was a good laugh.
"I don't know if he thought he was going to lose the tag of Aquaman," Mickelson said. "I don't think that's going to do it."