News
A Long Bus Ride Back To The Hotel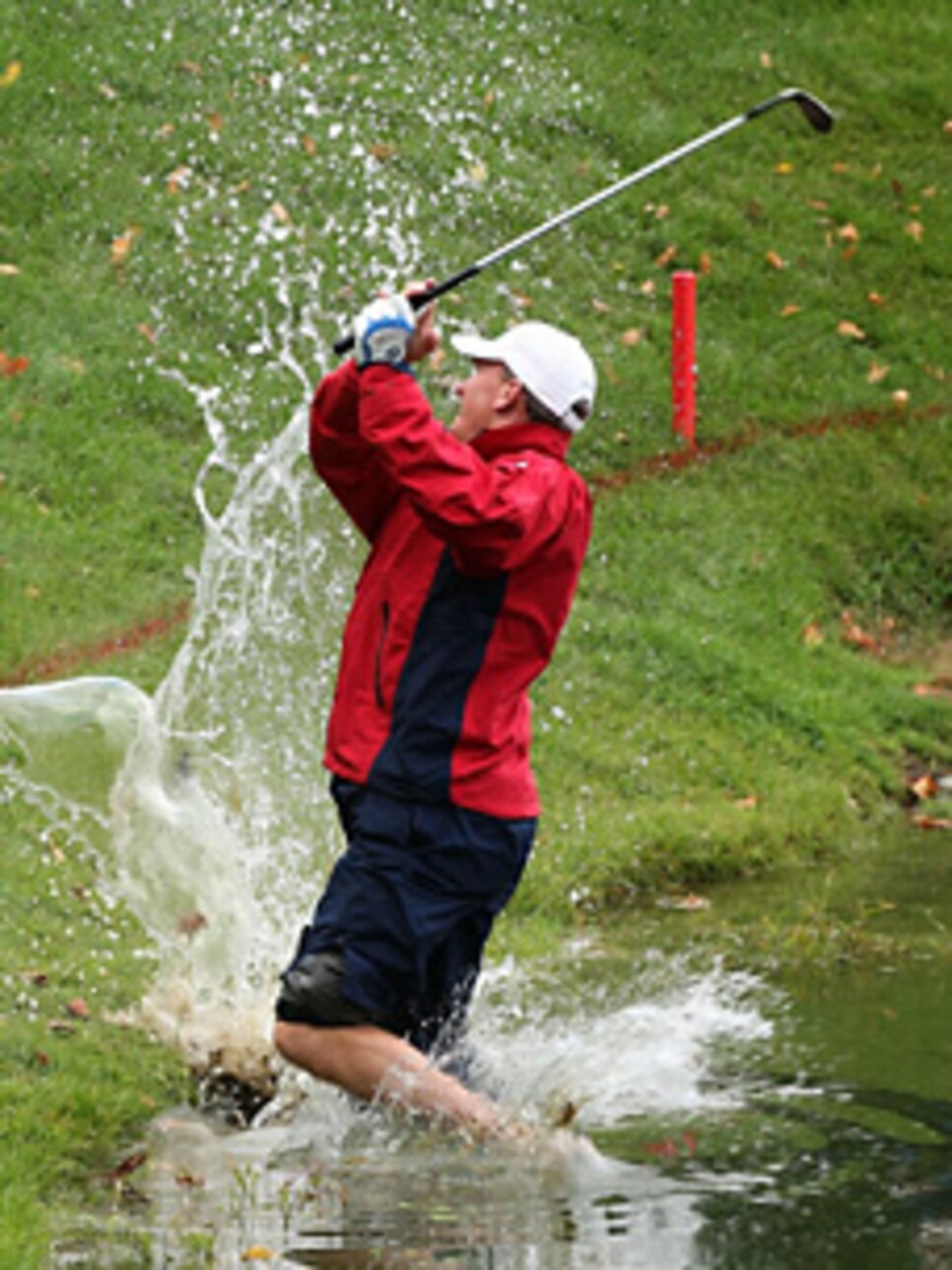 Woody Austin has a new clip for his highlight reel.
At Royal Montreal the lengthy evening bus ride back to the hotel in downtown Montreal has been added to the team room as a bonding venue, albeit with the aid of a cold biere or deux. On the commute Friday morning out to the course, assistant captain Ian Baker-Finch treated the International team to an Aussie rules motivational speech, while Stuart Appleby and Vijay Singh played the rowdy boys in the back of the bus. "Tonight we'll get Retief to do it," said Appleby. "It'll be shorter."
As it turned out, Appleby and Singh needed very little motivation. In delivering a four-ball clinic, they crushed arguably the strongest of all possible American pairs, Tiger Woods and Jim Furyk, 5 and 4, playing their 14 holes 11 under par. The composition of the teams was, in itself, an instructional on how to deal with the presence of the world's greatest player. You can't find two golfers anywhere less intimidated by Woods than Singh and Furyk, a pair of characters who are rougher than guts. One is the perfect partner and the other the perfect foe. And, of course, Appleby and Woods are good friends. All of a sudden, the intimidator was a little less intimidating.
With a huge lead after the opening round, the American plan was simple, play each session even up and keep the five-point lead going into the singles on Sunday. It made perfect sense for Captain Jack Nicklaus to put out Phil Mickelson first with Hunter Mahan, followed by Woods and Furyk. That ought to staunch any potential rally, right? Ouch. Woods and Furyk get body slammed and, floating to the green on a chorus of "Gooooose!" cheers, Angel Cabrera made a birdie putt on the 18th to win that match. So much for a captain's best-laid plans.
And, of course, what can you say about Woody Austin, having set the world butterfly record in the lake on the 14th hole and then birdieing three of the last four holes to gain a halve? Maybe they should add the dunking stool to the team room. The Christmas list is no doubt already being compiled on the U.S. team bus for their Rookie of the Year. Flippers and mask. Wet suit. Spear gun. Styrofoam noodles. Life vest. A professional will often try a risky play from a hazard but rarely do they wind up fully submerged. Captain Jack is already calling him Jacques.
At least Woody will never again have to look at the video clip of him beating himself over the head with his putter at Hilton Head. They've got something much, much better now.
"Put the two together," said his playing partner David Toms, "and you'd be, 'What's this guy all about?' But, I'll tell you what, he's a heckuva golfer."