News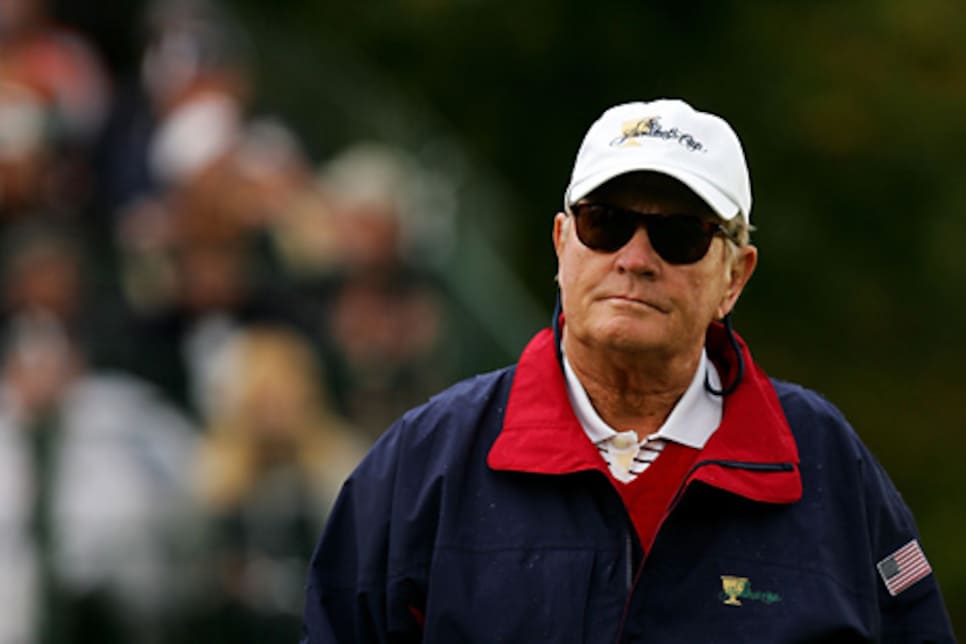 Woody Austin's deep sea diving was the only thing that could have gotten Jack to smile on Friday.
MONTREAL, Canada (AP) -- Woody Austin produced quite a ripple effect.
The Americans were drowning in their fourball matches Friday in the Presidents Cup when Austin became a symbol of their futility by losing his balance and taking a face-first plunge into the lake next to the 14th green at Royal Montreal.
Jim Furyk tugged his cap over his eyes. His partner, David Toms, couldn't stop laughing.
"I'm dying to laugh, but I'm scared the cameras will be on me that I'm laughing the guy is drowning," International captain Gary Player said. "I thought, 'Damn, that water must be cold.' But I was pleased to see his head come up."
But when his clothes dried and the laughter subsided, Austin might have given the Americans the spark they needed.
From perhaps the most embarrassing moment of his career, Austin redeemed himself by closing with three tough birdies to earn an important halve on a day that the International team otherwise dominated.
"I hope I proved today that I'm never going to give up until it's over," Austin said.
The International team won four matches to cut the Americans' lead to 7-5 after two days, and it was truly a team effort.
Vijay Singh and Stuart Appleby led the way by handing Tiger Woods his worst loss in team competition, 5 and 4, although there wasn't much Woods and Jim Furyk could do. Singh holed out from a bunker and chipped in for eagle, Appleby made a long eagle putt at No. 12 and they combined to go 11 under through 14 holes.
Retief Goosen chipped in for par and Angel Cabrera made a 10-foot birdie on the 18th for a 1-up victory over Phil Mickelson and Hunter Mahan, the first match since 2003 in South Africa that the International team won on the 18th hole.
Geoff Ogilvy picked up another point with a 5-foot birdie on the 18th, topping the 15-foot birdie moments earlier from Lucas Glover.
The loudest cheers again belonged to Canadian star Mike Weir, who delivered seven birdies and a clutch tee shot on the 17th hole that allowed he and Ernie Els to close out their match.
The jeers belonged to Austin.
The lowlight was shown on large video screens across Royal Montreal, along with images of his own teammates doing everything they could to keep a straight face. Fat chance.
"You couldn't see who it was because his head was underwater," Steve Stricker said after teaming with Scott Verplank to deliver the only U.S. victory. "But you figured it had to be Woody."
The good news for Austin?
That video from 10 years ago of Austin banging his putter against his head until it snapped is now headed for storage. The replacement highlight instantly became part of Presidents Cup lore.
"I have a feeling that he will be hearing about that for the rest of his life," U.S. captain Jack Nicklaus said.
Don't get the idea Nicklaus was going to let this one slide without piling on. When the captains huddled to announce their foursome pairings for Saturday morning, Nicklaus announced that Mickelson and Austin would be paired in the second match.
"I'm going with Phil Mickelson and Jacques Cousteau," he said.
Equally relentless were the Canadian fans. They hounded him the rest of the match, alternating chants of "Marco" and "Polo" down the 15th fairway, and screaming out "Get in the water!" when Austin hit a putt.
"It's funny," Goosen said as he watched the replay from behind the 16th. "For years he was known as the guy who banged his head against his putter. And now he's the guy who banged his head against the water."
Austin got the last laugh.
Rory Sabbatini and Trevor Immelman were 2 up with three holes to play when Austin hit 6-iron into 6 feet on the tough 16th for a birdie, then holed a 15-foot birdie on the next hole to square the match. With the pressure on, Austin's 5-iron from 193 yards on the 18th just cleared a ridge and settled 5 feet for the hole.
After Sabbatini made his birdie from 8 feet, Austin closed out the match with his third straight birdie.
That kept the score tight going into a pivotal round Saturday, with five matches in the morning and five in the afternoon.
It was embarrassing for Austin, sure, but it brightened an otherwise dreary day of clouds and International blue numbers on the board. The Americans went home with broad smiles, and Austin was laughing with them.
Even the International team joined in.
"Hey, Woody," Singh said to him as they passed each other in the interview room. "The Russian judge gave you an 8."
All but forgotten by the plunge was another day of superb play from Austin, a 43-year-old former bank teller who has never played in a team event and is relishing every minute. He delivered the key putts in a halve on Thursday, and he was spectacular even soaking wet on a chilly afternoon, making eight birdies when his team needed them all.
It was the birdie he was trying to make that brought Austin so much attention.
The tees were moved up on the 14th hole so that it played 293 yards, and Austin pulled his tee shot just into the hazard. Sabbatini was on the green, David Toms already was in the water, and Austin figured he had no choice but to try to get somewhere near the green for a shot at birdie.
"I knew deep down I probably couldn't pull the shot off," Austin said. "I was doing OK until I stepped on the rock. And once I stepped on the rock, I lost my balance."
He was falling backward, then turned his body and went for the belly flop.
"I don't think I look any worse than I always do," Austin said.
But on a more serious note, Austin was never more proud of himself for the way he responded. Theirs was the final match. Toms and Austin had talked about the importance of salvaging something, and Austin delivered.
"I've never putted that good under those circumstances. But let's face it," he said. "I've never been in those circumstances before."