News
Joining A Very Exclusive Club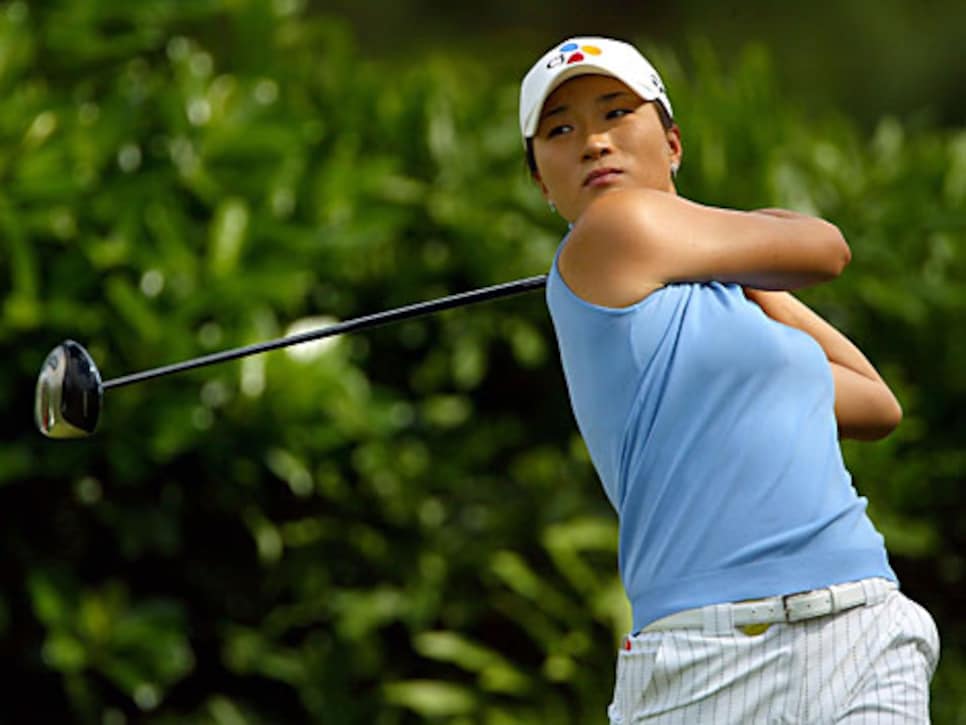 Pak is joining some rarified company in the LPGA Hall of Fame.
ORLANDO, Fla. -- The square is complete. The four women who defined the LPGA as it transitioned into the 21st century are all now in the tour's Hall of Fame. Juli Inkster entered in 1999. Annika Sorenstam followed in 2003. Karrie Webb was inducted in 2005. And this year the final side was added when Se Ri Pak completed her tenth year on tour when she teed off at the McDonald's LPGA Championship June 7. On Friday the LPGA welcomed Pak to the most exclusive club in sports.
Easily the most difficult Hall of Fame in any sport to gain entry to -- Pak is only the 19th player to earn the required number of points -- the select club welcomed Pak with a party attended by about 20 players, including more than a dozen tour members from Korea who came out to honor the women who single-handedly made her homeland a hotbed of women's golf. Pak, who will be inducted into the World Golf Hall of Fame on Nov. 12, used the occasion to thank her family, friends and tour -- and to set the record straight on a few things.
Yes, her name is a typo. The family name is Park but in filling out a passport application Se Ri left out the R and she became Pak. Given the number of Parks in Korea it turned out to be a pretty good marketing move. And no, the story about her father making her sleep in a cemetery as a child to make her mentally tough is not true, she says. What is true is that her father threw her into big-money golf matches with his male friends. That got her focused on winning.
"They were all scratch players and they played for big money," Pak said at the gala in the Ritz Carlton where chefs were brought in from Korea to cook -- quite spectacularly -- traditional food from her homeland. "I couldn't stand it," she said about her motivation. "I hated to lose my own money. He put me in these pressure games with his friends and I started to like it because I started winning money."
That's not all she won. She finished first in LPGA Q school in 1997 and then in 1998 won four LPGA events, including the McDonald's LPGA Championship and the U.S. Women's Open. Now her total stands at 24 victories, including five major championships. Sorenstam has 69 wins and 10 majors, Webb 35 and seven, and Inkster 31 and seven. In the five seasons from 1998 through 2002 that quartet combined to win 16 of the 20 major championships played.
"I hope not to cry," Pak said in an unsuccessful attempt to hold back the tears. "This is really a dream come true." Pak was dressed in a floor-length, white traditional Korean ceremonial gown, prompting Jamie Farr, who runs the Owens Corning Classic but is best known as cross-dressing Corporal Max Klinger, to say: "when I was on MASH I got married in that outfit." Pak has won the Owens Corning Classic five times making Farr a perfect dinner speaker.
"She's won my tournament so many times every time she sees me she expects me to hand her a check," Farr said. "You win my tournament one more time and you will be known as six-pack Pak."
There was an odd irony is all this since the TV show that made Farr famous -- the final episode of MASH is the highest rated TV show in history -- was set in Korea. Farr carried the connection one step farther, pointing out that a recreational facility in his hometown of Toledo, Ohio has been named after him. "I am now Korean," Farr said. "I am now Jamie Farr Park."
One of the measuring sticks for how well a player has connected with her peers is the turnout she gets at a party like this. How many players are willing to give up a day off to attend? Pak's was impressive. Webb, Beth Daniel, Lorie Kane, Meg Mallon, Amy Alcott and Betty Jameson were on hand, as were Birdie Kim and Sarah Lee among the 15 Korean players who led a standing ovation for Se Ri when she was introduced.
The road has not always been smooth for Pak. She finished that rookie season of 1998 in a hospital bed in Korea, exhausted both physically and emotionally. In 2004 and 2005 she had the yips off the tee so bad she was changing drivers nearly every week. Between the 2004 and 2005 season her caddie, the highly respected Colin Cann, jumped ship to work for an unproven rookie by the name of Paula Creamer. But Pak turned the corner and reemerged as a competitive force last year when she won the McDonald's LPGA Championship in a playoff with Webb.
And perhaps as important as anything Se Ri has emerged as her own woman, something not always easy for a daughter to do in Korean culture. In what could serve as her most important contribution to the game of golf in her homeland she has shown that you can be independent and be a devoted daughter. She has shown that being an adult is not a sign of disrespect, but rather the highest form of respect that can be paid to a parent -- proof that the child has grown up.
"This is all because of my Dad," Pak said in her speech. "I thought golf was a really boring sport, but he showed me that is not the case." Because of that, Pak has had a great life, and because of that women's golf has been blessed with a great player. It was not always easy, but this was a father-daughter story with a happy ending. And, at the age of 30, this is a story far from over. Or is that Farr from over? Next year at the Owens Corning Classic, Se Ri will have a chance to become the only women to win the same LPGA event a half-dozen times, finishing off her six pak.