News
Steve Flesch Takes A One-Stroke Lead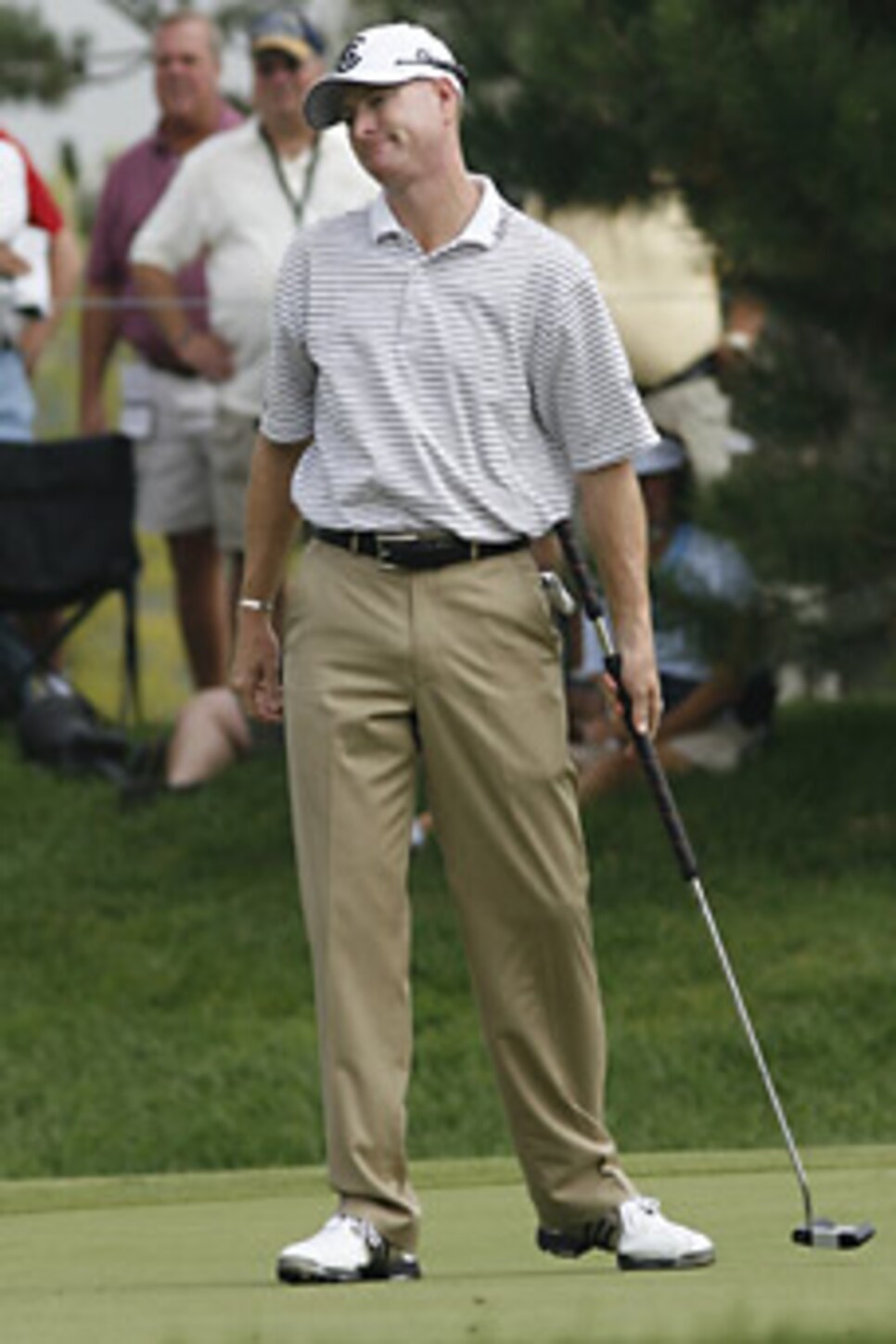 With 34 of 36 greens made in regulation, Flesch goes one-up on the field.
VERONA, N.Y. (AP) -- Steve Flesch didn't glance much at the leaderboard. He was too busy watching his irons perform their magic again.
Flesch shot a 7-under 65 Friday to take sole possession of the lead after two rounds of the inaugural Turning Stone Resort Championship. He was at 13-under 131 and one stroke ahead of first-round co-leader Jeff Gove (67) and Brendon de Jonge, who had a second straight 66. Charles Warren (65) was alone in fourth, another shot back.
Conditions again were ideal on a hazy, humid day with temperatures in the 80s and a slight breeze, and the lefty-swinging Flesch quickly built on his opening 66. He started by making four birdies and an eagle for a record 30 on the back side of the forgiving 7,482-yard Atunyote Gold Club course, with its wide fairways and soft, smooth-rolling greens.
"I've always said my iron game is the strength of my game, and when you give us generous fairways like this, if I get the ball on the fairway, I usually can find the pins with my irons," said Flesch, who has hit 34 of 36 greens in regulation. "I just keep giving myself birdie putt after birdie putt. And if I get that putter going, I'll make some birdies."
Flesch, who began play one shot off the lead, hit a 3-wood to 14 feet at the 562-yard, par-5 12th hole and made eagle to reach 9 under, birdied the next two holes and sank a 15-foot birdie putt at No. 18 to tie De Jonge for the lead at 12 under.
Flesch, who held the 36-hole lead at Reno in late July and went on to win, took the lead with a 17-foot birdie putt at the par-4 second hole. The lone blemish on the day was a three-putt bogey from 35 feet on his final hole, which nullified a birdie putt at No. 8.
If not for No. 9, Flesch would have a bigger lead. He made double bogey there on Thursday.
"I've just played it poorly," he said. "My putter let me down. It's all right. I made so many putts today."
De Jonge, a 27-year-old native of Zimbabwe and a former star at Virginia Tech, began to move up the leaderboard with an eagle at the 548-yard, par-5 fifth hole, hitting 3-wood to the right fringe and sinking a 26-foot putt. That made up for a bogey at No. 4, and he made four birdies on the back side to take the lead until Flesch came through a couple of hours later.
"The position that I've put myself in coming into these last seven events, I have to play well," said de Jonge, who has made only seven cuts in 20 events and is far down the money list. "You know, I've pretty much got nothing to lose. It's almost, in essence, a seven-week tour school for me, so I have to play well."
Gove, who started at No. 10, finished with five birdies on a bogey-free round, tying De Jonge with a 3-foot birdie putt at the par-4 eighth hole.
"Most of my play today I was staying in the moment, playing well, staying positive and trying to stay aggressive because the scores are low," said Gove, who birdied two of his first three holes and then reeled off eight straight pars. "You've got to stay patient. You have to just wait for your next little run."
Turning Stone, with a purse of $6 million, kicks off a new seven-tournament run called the PGA Fall Series that will decide the final money leaders list. The top 125 players retain fully exempt status to play on Tour in 2008, and the Fall Series determines Nos. 31 through 125.
After two rounds, a shakeup near the bubble was at hand.
Steve Allan (69), who began the tournament at No. 125 in earnings, improved on his first round by seven shots but failed to make the cut, as did Joe Durant (No. 121) Bob Heintz (No. 122), Doug LaBelle II (No. 124), John Merrick (No. 127), Frank Lickliter II (No. 130), Jason Dufner (No. 132), Ryan Palmer (No. 136), and Tripp Isenhour (No. 137).
Four players near the cutoff -- Ryan Armour (No. 123), Bill Haas (No. 126), Alex Cejka (No. 128), and Johnson Wagner (No. 131) -- will play on the weekend. And Wagner, Haas, and Cejka were in position for a decent payday come Sunday.
Eric Manning, in his first season as assistant pro at Yahnundasis Golf Club in nearby New Hartford, had an opening 69 in just his third PGA event, but missed the cut after a second-round 73. ... The cut was at 4-under 140, the second-lowest on the PGA Tour this year. The Wyndham Championship was 5 under.