News
Palmer: Tiger's Best is Still to Come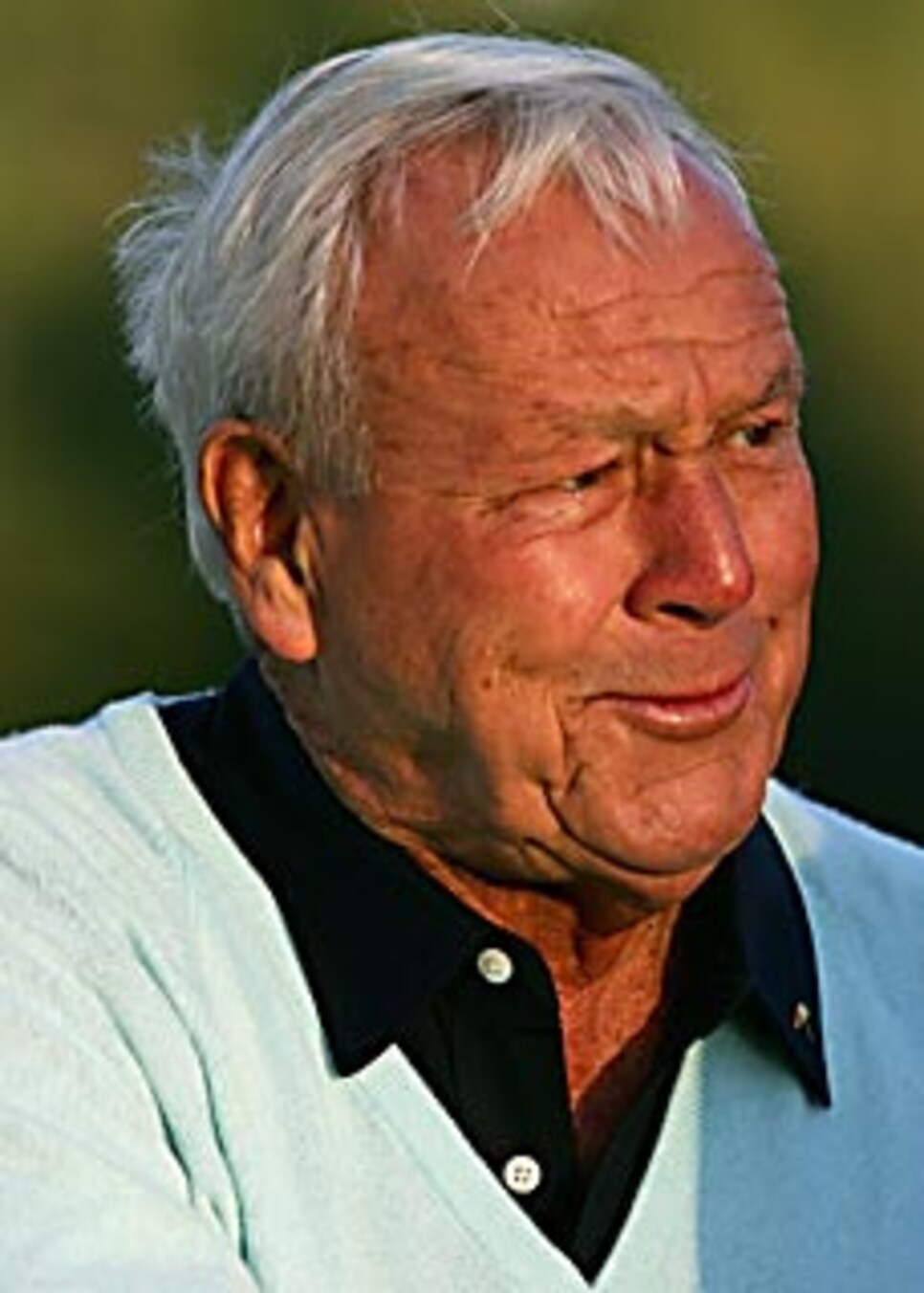 Palmer has no doubts who will eventually hold the title for the most PGA Tour wins.
How big has Tiger Woods become? Not so big that he's forgotten to respect the man he's about to surpass on the way to the top of golf's pantheon. When NBC's Jimmy Roberts asked Tiger what he thought about coming one stop short of Arnold Palmer on golf's all-time wins list, the first words out of Woods' mouth said it all.
"He's the King," Woods said. "To even be mentioned in the same breath as Arnold Palmer you know you've done something special. To have him at 62 wins, and I'm one away . . . I would never have dreamt this in my wildest dreams. To have this much success this soon in my career . . . hopefully, it never ends."
It took Palmer 430 events to win his 61st golf tournament, and another 43 before he raised a trophy again--and for the last time on the regular tour. When Palmer won the Bob Hope Chrysler Classic in 1973, he was 43 years old, had been in the game for 18 years and was on the downside of his career.
Tiger Woods took 230 tournaments to get to 61, tearing through history faster than we turn the pages of a calendar. It's something we've never seen before and will never see again. The field he beat in Atlanta by eight strokes included the best 30 players of the year, but when Woods gets on a roll, like he did at the end of 2006 and 2007, it's not even close. His tournament finishes to conclude this season were 1-1-2-1-1, and he was 75 under par in those events, with three 63s, three 64s and two 65s. The only player standing in Tiger's way of a 5-for-5 sweep was Phil Mickelson at the Deutsche Bank Championship.
The money is secondary, but Tiger earned $10,867,052 on tour in 2007, and that doesn't include the $10 million annuity for winning the FedEx Cup that Baby Sam will be cashing someday -- like she'll need it.
The Arnold Palmer Award goes to the PGA Tour's leading money-winner, and Tiger has won it in nine of his 11 years as a pro (Mark O'Meara in '98, Vijay Singh in '05). Palmer was the first golfer to transcend the sport as an iconic personality. But Palmer, like Jack Nicklaus, never did the things this young man is doing.
We also have to wonder if we haven't yet seen the best of Tiger. Woods keeps saying he can get better, and who can doubt him?
Not Palmer. I reached him at his office in Latrobe, Pa., on Tuesday, eight days past his 78th birthday, and like the rest of us, Palmer's realizing that what we're seeing is once-in-a-lifetime stuff.
Surprised? Palmer isn't. "I think it's great," Palmer said of Woods getting closer to his 62 wins. "I didn't have any question that he would do that." Nor does he question that Woods will blow past Sam Snead in due time, passing the all-time victory total of 82. As Palmer said, "He could pass him in no time if he wanted to go for it."
The good news is the chase should last for a while. Woods won't play another official PGA Tour event until January, whether it's at Kapalua or San Diego. He won't be on TV much in the next three months, either, except for commercials. After the Presidents Cup next week, Woods will disappear for three months until his Target World Challenge on Dec. 13-16. He's skipping the PGA Grand Slam in Bermuda and his annual trip to Asia. He's shutting it down right when he's playing the greatest golf of his career.
Butch Harmon says it's the best Tiger has ever swung the club. Steve Williams says he's never seen Tiger more in control of his game. Other than maybe Roger Federer, there isn't an athlete on the planet who is comparable.
"He's in a class of not very many people," says Palmer. "He's head and shoulders above everyone in the sport and in all sports."
Palmer thinks Woods is capable of the single-season Grand Slam. Next year's majors are at Augusta National, Torrey Pines, Royal Birkdale and Oakland Hills. The way he's playing, it doesn't seem to matter where they play the majors.
As for whether the best of Woods, 31, is yet to come, Palmer thinks the next 10 years will be Tiger's best.
"Again, I think it depends on his desire and ambition to continue to do all the things that he does," Palmer said. "Keep in shape, exercise, keep the confidence that he has. I think in the next 10 years his accomplishments could be unlimited."
We're all just along for the ride.