News
Solheim Cup - Going, Going...Not Gone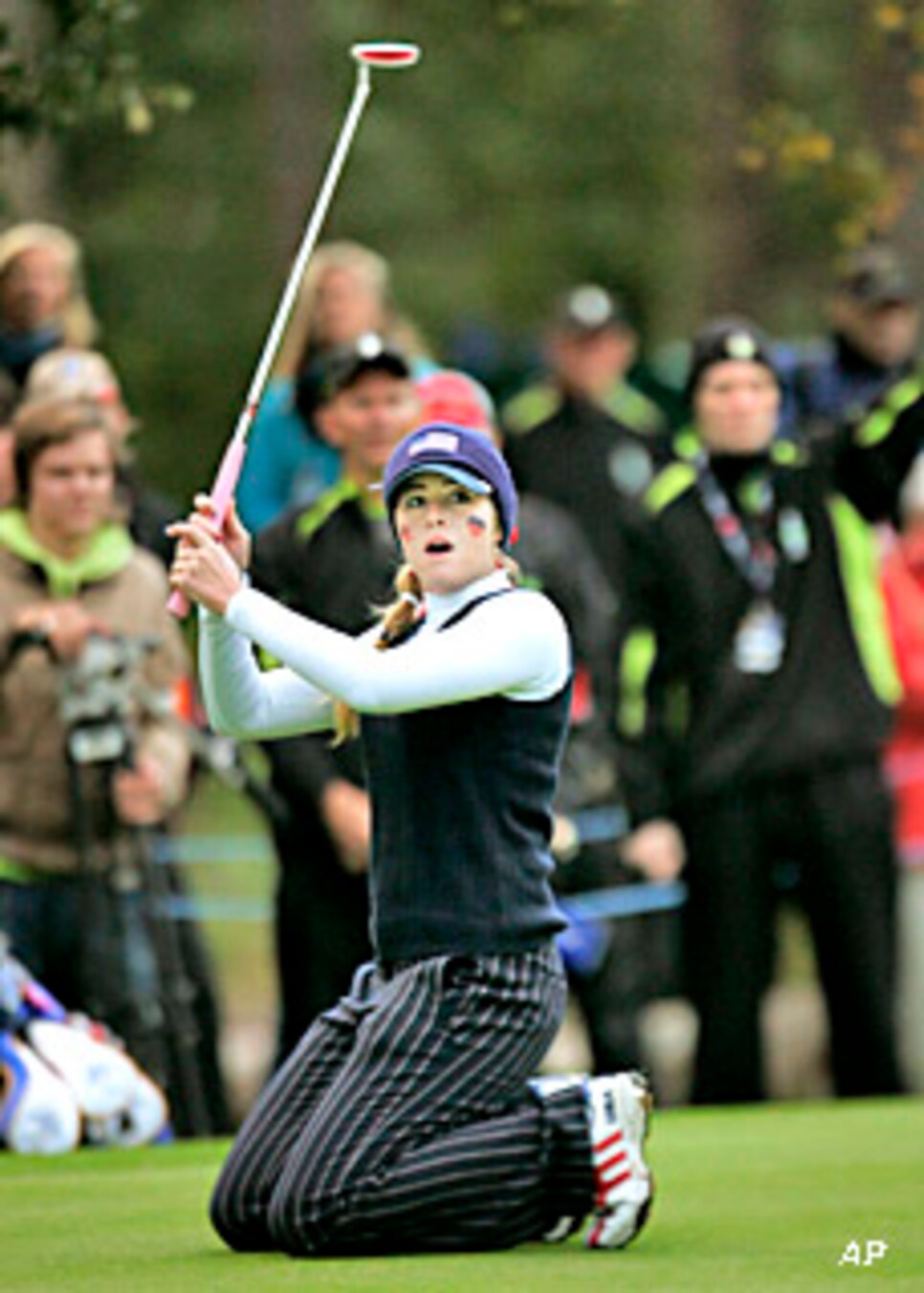 Paula Creamer nails her birdie putt on the 17th hole Friday.
HALMSTAD, Sweden -- And that, my friend, is the beauty of match play. Just when it seemed as if Europe's chances in the Solheim Cup were going to get swept away in the wind and rain that hammered Halmstad Golfklubb on Friday a couple of putts here and a miracle shot there turned a rout into a contest late in the day, no doubt saving Helen Alfredsson from some serious second-guessing about some of her pairings in the first day of play. Actually, she'll probably be second-guessed anyway.
A scoreboard that for almost all of the day was awash in the red numbers that accompany winning efforts by the U.S. team ended the first two sessions with the Americans ahead 4½ to 3½. And the truth of the matter is that it didn't feel anywhere near that close. The Americans outplayed Europe -- Cristie Kerr, Paula Creamer and Nicole Castrale putting on specially spirited performances -- but the two leading point winners in Solheim Cup history, Annika Sorenstam and Laura Davies, led a late rally that squeezed out a much needed point that seemed all but lost. If anything will lead Europe to victory this weekend it will be exactly that kind of experience and determination.
After losing the morning alternate-shot session 2½ to 1½ -- the first time the Americans have won the opening foursomes session since 1998 -- Alfredsson benched perhaps her best player, Suzann Pettersen, in afternoon better-ball play and opted to play Davies a second session after a lackluster effort in her foursomes match with Becky Brewerton against Juli Inkster and Creamer, a 2 and 1 loss in which the Europeans finished double bogey, double bogey. All Davies did in the afternoon was make a miracle par to the win 16th hole of her better-ball match with Trish Johnson against Creamer and Morgan Pressel, chipping in from 45 feet after whacking her second shot out from out of an almost impossible position in a bush and over a creek.
The late moves by Sorenstam and Maria Hjorth, who came from 2 down to halve with Angela Stanford and Stacy Prammanasudh, and the rally by Davies and Johnson turned what look like it was going to be a 5½ to 2½ margin into a one-point contest. While Friday's play was disturbing for Europe in that it did not run out to the early lead it needs to build up going into single, it is still positioned nicely for a comeback on Saturday when the foursomes and four-ball sessions are repeated.
Clearly trying to get some points early, Alfie sent out her four best players in the first two groups of alternate shot. Those of us who like to second guess would suggest she had the teams reversed. The European captain went with Pettersen and Sophie Gustafson in the first group -- two long hitters who can be erratic off the tee -- and followed up with Sorenstam and Catriona Matthew, two precision players. What would have been wrong with pairing Sorenstam and Pettersen, who are 3-0 as a duo in Solheim Cup play, and Matthew and Gustafson? At least there would be someone in each twosomes who can find the fairway.
In any case, Europe getting only a combined half-point from those four players in the first two matches set the tone for what turned out to be a day that was mostly as miserable for the European fans as the weather was for everyone at Halmstad. It rained buckets, the wind blew gales and then, in an odd tease, the sun graced the final few holes as day rushed toward evening, only to give way to one more downpour as the final group played the last hole in fading light.
At one point midway through better-ball play Friday afternoon, when the weather was at its worst, it looked as if the Americans would have a 6½ to 1½ lead after the first day. But the comeback was started by Matthew and Iben Tinning who were 2 down after six holes in better-ball to Pat Hurst and Brittany Lincicome but won five of the next eight holes to win 4 and 2. That Europe trails by one point going into the weekend is a moral victory, and that appeared for much of the day to be the only kind their squad was capable of this week.
The Americans simply outplayed their opponents. Kerr made every putt she looked at in winning a point-and-a-half, including a crucial par-saver on No. 18 of her foursomes match with Hurst that salvaged a halve with Gustafson and Pettersen after nearly blowing a 2-up lead. Creamer also picked up a point and a half, and Castrale, a Solheim Cup rookie, made four birdies as she and Kerr defeated Gustafson and Gwladys Nocera 3 and 2 in better-ball play.
The first day maneuvering followed pretty much the pattern of past Solheim Cups. Betsy King, captain of the U.S. team, got all 12 of her players into action while the Europeans hid two of their weak links on the bench, opting not to use Bettina Hauert and Linda Wessberg. The rules of the competition require only that each player compete in at least one of the four sessions before Sunday's singles matches, so we will have to see each of them at least once on Saturday.
Hurst, Creamer, Pressel and Kerr played both Friday sessions for King, while Alfredsson used Sorenstam, Gustafson, Matthew, Davies, Hjorth, who led Europe with a point and a half, and Nocera twice.
The pairings for Saturday morning's alternate-shot play have Sherri Steinhauer and Laura Diaz playing Nocera and Hjorth; Inkster and Creamer taking on Pettersen and Gustafson; Hurst and Stanford going against Tinning and Hauert; and Castrale and Kerr playing Sorenstam and Matthew. That means Creamer, Hurst and Kerr will have played all three matches for the U.S. team while Sorenstam, Matthew, Nocera, Hjorth and Gustafson will have played all the matches for Europe.
The second-guessing will start here tomorrow afternoon. But the way, the weather is supposed to be worse on Saturday. Should be fun.