News
Stricker and Baddeley One-Up Tiger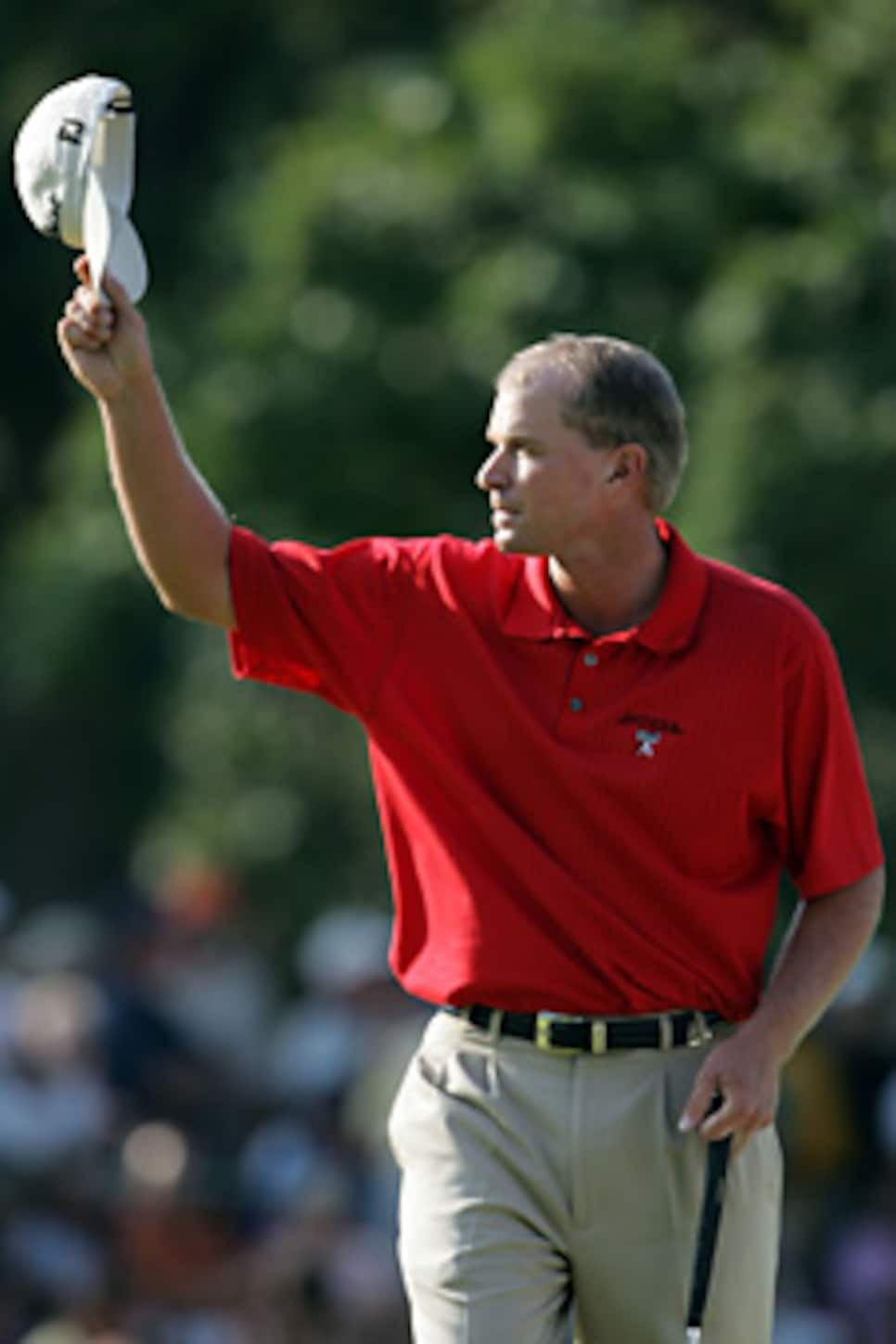 A win tomorrow puts Stricker in the driver's seat heading to Atlanta.
LEMONT, Ill. (AP) -- The roar that shook Cog Hill on Saturday could only mean one thing -- an eagle from the fairway -- and it was loud enough that it could only belong to one player.
Even Tiger Woods turned around.
Steve Stricker holed out with a wedge for eagle on the eighth hole to keep pace with Woods, then he surged ahead with birdie chances on every hole in a tidy round of 7-under 64 that left him tied with Aaron Baddeley in the BMW Championship.
Baddeley birdied his final two holes for a 65 that allowed him to join Stricker at 15-under 198 and play in the final group.
The third round of these PGA Tour Playoffs looks much like the first two events -- terrific golf by the top players, setting the stage for what could be more great theater in the final round.
Stricker, who won the first playoff event at The Barclays for his first victory in 6 1/2 years, might be the hottest player in golf and is wildly popular in these parts, having played golf at Illinois and grown up nearby in Wisconsin. Another victory would give him a commanding lead in the chase for the FedEx Cup, with Woods or the absent Phil Mickelson having to win the Tour Championship to catch him.
Baddeley, who won in Phoenix earlier this year, was a forgotten figure on the back nine even though he was always in range. Then came a 30-foot birdie putt on the 17th hole, followed by an approach into 5 feet at the last to get into the final group.
Woods never looked more subdued after a 65, but he missed only one fairway and two greens, and figured his putter kept him from one of his best scores of the year. Not that he was complaining after finishing the round a stroke back.
"I felt like 6 under was the highest score I could have shot," Woods said. "But I'm in a good spot going into tomorrow."
Barring an amazing charge from behind, it appears to be a three-man race at the BMW Championship.
Woods will be playing with Justin Rose, who birdied his last two holes to salvage an otherwise ho-hum round of 69, leaving him five shots behind the leaders.
Jonathan Byrd, who was tied with Baddeley at the start of the third round, shot an even-par 71 and fell six shots behind.
"You make par out here you get run over," Woods said.
Stricker usually had to settle for par. He hit all 18 greens in regulation and has not missed a green since the 13th hole of the second round. Despite making five birdies and his eagle, he missed five birdie putts from inside 12 feet.
"I had real good opportunities," he said. "But at this point, you can't be greedy. Nobody makes them all. And when you do, you have one of those '60' rounds."
Woods felt like he was going to have one, also missing a number of good chances from short range. A three-time winner at Cog Hill, Woods spent most of the back nine atop the leaderboard, with impressive shots on the par 5s.
He wanted to go for the par-5 11th green with a 2-iron, hitting a draw that would bend left with the breeze. But he felt it shift to the right, so chose to hit a slice with his 3-wood that disappeared over the trees and settled onto the green.
The birdie on No. 15 was peculiar only until he reached the green.
Woods safely found the fairway with a 3-wood, then Camilo Villegas drive landed on Woods' ball and knocked it back. Under the rules, he had to drop it in the vicinity where it had been, and his drop bounced back about a foot into the front of a divot.
Needing to carry the bunker at 232 yards, Woods played a 3-iron back in his stance to about 35 feet for a two-putt birdie.
Stricker was in the group behind him, and matched him birdie-for-birdie, picking up a shot on the par-4 13th, from a bunker on the 15th and with his approach into 5 feet on the final hole that gave him the lead.
The applause was deafening as Stricker walked off the green, something he only hears in Chicago and Milwaukee.
"Any other part of the country, they don't even know who I am," said Stricker, who had to scrounge up 50 tickets for Cog Hill.
The guy who lost his PGA Tour card two years ago now is hard to miss. This has been an amazing rebirth for Stricker, who squandered three good chances to win from May through July, then cashed it at Westchester.
And he's not willing to stop until his season is over. He birdied the last three holes at The Barclays by hitting clutch shots and making big putts, "and it seems to carry on to each and every event."
Baddeley is 11th in the playoff standings, and a victory would give him a chance at the $10 million prize for the FedEx Cup. It will be his first time in the final pairing since the U.S. Open, where he shot 80 while playing with Woods, but the Australian only wants to keep giving himself chances.
That's one thing the top three guys on the leaderboard have in common.