News
The Tiger Roars On Day Two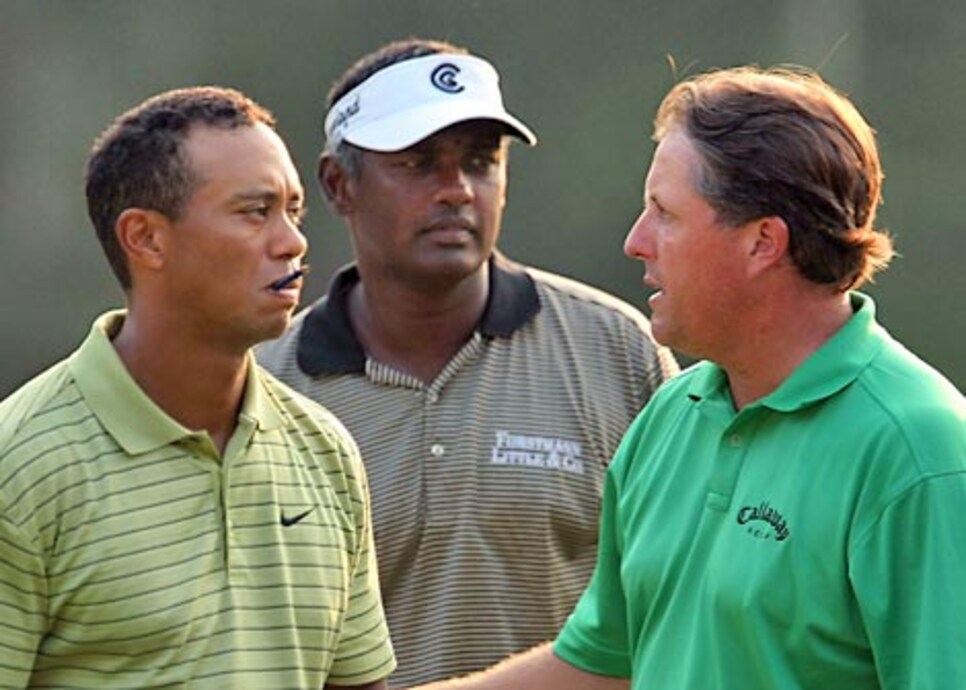 SAturday was a very different story than Friday for golf's big three.
NORTON, Mass. (AP) -- Tiger Woods, Phil Mickelson and Vijay Singh delivered the kind of golf everyone expected.
Mike Weir and Rich Beem played the golf they badly needed.
Woods and Mickelson traded torrid stretches of birdies and eagles Saturday morning on the TPC Boston, each posting a 7-under 64 that thrust them into contention in the Deutsche Bank Championship.
They were the best two scores on a tricky day of swirling wind, but not the most significant.
Those belonged to Weir (68) and Beem (66), and not just because they moved into a share of the 36-hole lead with Aaron Baddeley in the second week of the PGA Tour Playoffs.
Beem is the longest of long shots in this FedEx Cup finale, who narrowly avoided elimination last week at Westchester with a tie for seventh. It isn't getting any easier outside Boston, where anything lower than second place will send him home.
He waited until these playoffs to play his best golf of the year, and he waited until the end of the second round Saturday to change his fortunes. Beem birdied his last four holes and shared the lead at 9-under 133.
The former PGA champion is slowly becoming the symbol that everyone can dream of the $10 million prize for the FedEx Cup.
"Of all the things I could be the poster child for, this is not the one that I would have picked," said Beem, who went from 134th to 113th in the standings last week, crucial because only the top 120 player qualified for Boston.
"It's kind of crazy how it's all coming together, but I sure am having fun. This is certainly interesting. I've just got to keep trying to make some putts, and who knows?"
Weir needs to finish in the top five to have any chance of moving into the top 70 in the playoff standings and advance to the BMW Championship outside Chicago. This is the first time since a year ago at Pebble Beach that Weir has been atop the leaderboard through 36 holes, and the Canadian has gone three years without winning.
That weighs more on him than the FedEx Cup.
"I just want to play well for myself," Weir said. "It's been a while since I've hoisted a trophy, and more than anything, that's what I'm concerned about. That would get me into next week."
Weir built a two-shot lead, but gave back two shots on his last two holes. His tee shot on the par-3 eighth missed to the green to the right and led to bogey, and his approach on the ninth went just over the green, leaving him a downhill look at the hole that took him three shots to get down. He still shot a 68 and had few complaints.
Baddeley birdied his final hole for a 66, in contention for the second straight year at the Deutsche Bank.
They were at 9-under 133, one shot clear of Mickelson, Sean O'Hair (66), Brett Wetterich (68) and Ryan Moore (69).
Meanwhile, the Big Three put on quite a show in round two.
Another large crowd chased them around the course in morning sunshine and rarely had a muted moment. There were only six holes on which no one in this glamor group made a birdie, and they were a combined 19 under par. They were a combined 3 over on Friday.
"This is what we were hoping for and kind of expecting yesterday," Mickelson said.
Lefty was the first to get going, chipping in for birdie on the 15th, for eagle on the 18th and finishing a torrid eight-hole stretch with a flop shot that skipped hard past the flag, stopped, then spun back to 3 feet for birdie on the par-5 second.
That seemed to wake up Woods, who was six shots behind Mickelson at that point.
On the 298-yard fourth hole where he took three shots out of a bunker and made double bogey in the opening round, he got his revenge. Woods hit a driver that the wind held up and deposited on the green some 35 feet right of the flag, and he holed it for eagle. That turned out to be a four-shot swing from Friday, and it came in the middle of a six-hole stretch in which Woods was 6 under.
He wound up at 6-under 136, along with playoff points leader Steve Stricker (69)
"I knew that 3 or 4 under would put me right back in the tournament," Woods said. "Now I'm back in the tournament."
Singh was in jeopardy of missing three straight cuts for the first time in his career until he ran off four straight birdies around the turn, stopped making mistakes and wound up with a 66 -- the highest score by two shots in his group. He was at 2-under 140.
The cut was at 1-over 143, which spared Steve Flesch for the moment. He shot 72 to make it on the number, and at No. 70 in the standings, has two days to make sure he gets to Chicago.
The FedEx Cup season ended for a few dozen players who were below 70th in the standings and missed the cut, such as former U.S. Open champion Retief Goosen and former PGA champion Davis Love III.
Beem figured to be gone by now. He had not posted a top 10 since January, and needed one at Westchester simply to keep his season going. Now, he has a share of the 36-hole lead for the first time since his '02 PGA Championship victory at Hazeltine.
Best of all, he feels as though he is playing his best golf.
"You can play your way in," Beem said of the new FedEx Cup format. "I'm living proof of that."