News
The Big Three Weren't So Big Today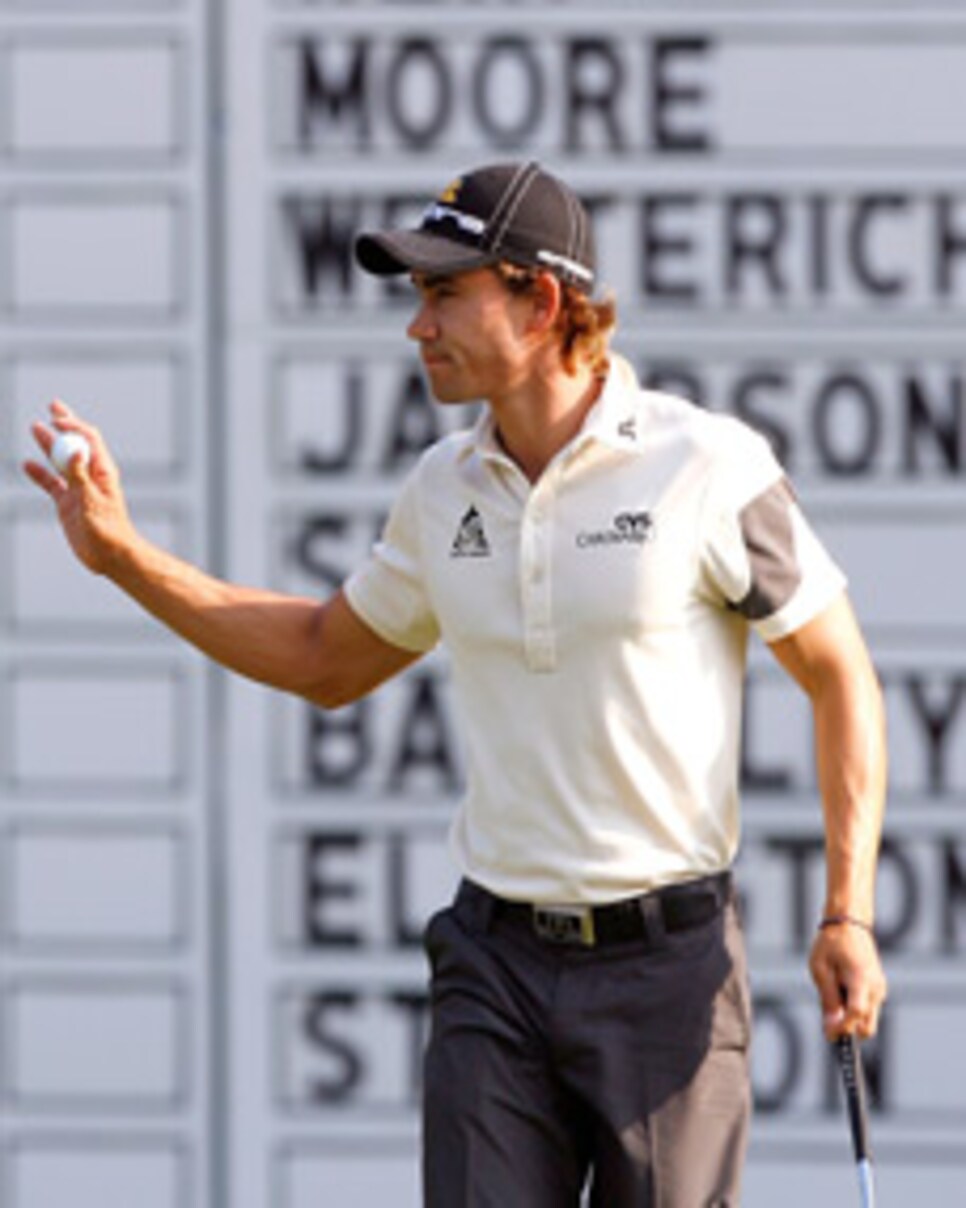 A career best round puts Villegas in the driver's seat after day 1.
NORTON, Mass. (AP) -- They have combined for 121 victories and 19 majors. But when Tiger Woods, Phil Mickelson and Vijay Singh played together Friday for the first time on the PGA Tour, the only number that mattered was on their scorecards.
The "Big Three" was a combined 3-over par.
On a day when Camilo Villegas shot a career-low 63 at the Deutsche Bank Championship, the biggest buzz outside Beantown was on the three biggest names in golf, who delivered some memorable moments they would rather forget.
Mickelson twice went on a search-and-rescue mission in the forest along the ninth hole, trying to find his golf ball and figure out how to hit it. He wound up with a triple bogey that spoiled an otherwise solid round of 70.
Woods took three shots to get out of the bunker on the 298-yard fourth hole and made double bogey. He spent the rest of the sunny afternoon on the TPC Boston trying to get back to even par, missing four birdie putts inside 10 feet and settling for a 1-over 72.
Singh set the tone for this mighty threesome by four-putting from 15 feet on the opening hole. He shot 74. It was the second straight week in the PGA Tour Playoffs that Singh had a four-putt double bogey.
"I don't normally four-putt from that close," he said.
Woods was asked how he would describe the festivities and summed it beautifully.
Good thing for them the tournament isn't over.
Woods hit his second shot into the water on the par-5 second hole, and combined with his double bogey on No. 4, was at 3 over through four holes and already 10 shots out of the lead.
"It's not like I haven't been in this position before," Woods said. "I kept saying, 'I basically have 68 holes to make it up.'"
Villegas was three groups ahead and playing the kind of golf expected out of the glamour boys.
"Kept the ball in play and rolled in some beautiful putts," Villegas said. "I was happy with my round. It's very early in the week, and it's time to keep it going."
He had a two-shot lead over former Masters champion Mike Weir and Ryan Moore, while Barclays winner Steve Stricker continued his solid play with a 67 that helped his chances of staying atop the playoff standings.
The Deutsche Bank is most critical for Weir, who needs to finish at least fifth to have any chance of getting to the BMW Championship next week. Otherwise, it's three weeks off before playing the Presidents Cup at Royal Montreal.
Weir started his round by holing a bunker shot for birdie, and he finished it by hitting into the swamp short of the par-5 18th green and getting up-and-down for par and his lowest round of the year.
"Today was nice to get a lot out of my round," Weir said. "A lot of the rounds I've played this year, I look back and I think, 'I should have been three or four better.' Today, I can't look at really anything that I could have done much better."
The same couldn't be said for Woods, Mickelson and Singh.
The only other time they played together was two years ago at the PGA Grand Slam of Golf, an exhibition for the four major champions of the year (Singh got in as an alternate). This was the first time on the PGA Tour, courtesy of a new playoff system that groups players the first two rounds based on their position in the standings.
Some 8,000 fans covered every inch of grass, except when they scattered as an errant shot bounced their way.
"It was a fun day," Mickelson said. "We just didn't get out of it what we wanted."
Mickelson only had a couple of dodgy holes. He hooked his tee shot into the gallery on the par-5 seventh, hit another hook into the face of a cross bunker, then hit that one into a greenside bunker and escaped with par.
His caddie, Jim "Bones" Mackay, looked ultra serious when he asked at the back of the green, "Do you know the PGA Tour record for most square footage of sand raked in a single round?"
One rake job was worth the trouble.
Mickelson hit 3-wood into the front bunker on the newly designed fourth hole, which tempts players to drive the green on the par 4. With the ball near the back lip, Lefty holed the shot for eagle to go to 3 under for his round.
Woods was in the middle of that bunker, but all anyone saw was a blast of sand -- no ball. It came out soft and plugged under the top lip of the bunker, so Woods lashed at it again to jar it loose and send it back to where he started. His third sand shot got to the green, and he missed the putt to take double bogey.
"I wasn't even trying to get cute with it," Woods said. "It just came out soft and buried under the lip."
Four holes, and Mickelson was already six shots clear of the world's No. 1 player. When they made the turn, Woods had a 3-foot birdie putt to draw even and get back to level par. He missed, of course.
Singh, meanwhile, had issues beyond his four-putt at No. 1 and a three-putt at No. 8. He went from bunker to rough to hazard on the sixth hole and did well to escape with double bogey, and he shanked a 4-iron on the 11th hole that caromed out of the trees and into the rough in front of a bunker.
"Phil got off to a great start, just had one bad hole," Woods said. "I did not get off to a good start, and Vijay basically struggled all day. It was a bit of a grind out there."
There were a few chilly vibes inside the ropes.
For the second straight week playing with Mickelson, Singh at times wore dark sunglasses that had ear plugs attached to them. At least the sun was shining outside Boston, unlike last week at The Barclays when he wore them under cloudy skies and a drizzle.