News
Tour Insider: Warrior, Athlete & Father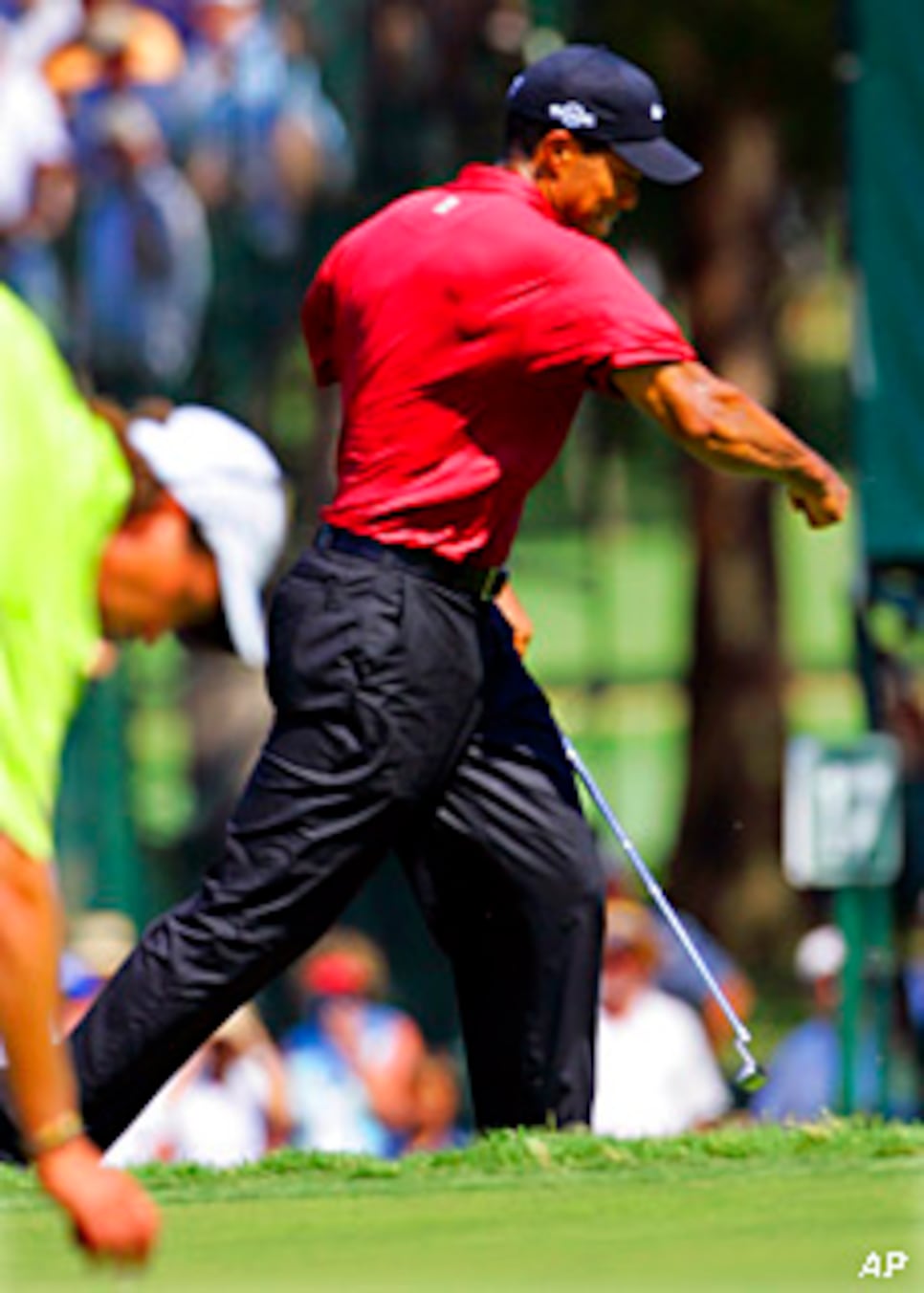 The world of sports has never met a man like this before.
The scary thing is, this is just the opening act.
If you listened to Tiger Woods closely on Sunday, this was the message that came through when he was asked about tying Bobby Jones' record, with his 13th major championship.
"Any time you're in conversations with Bobby Jones and Jack Nicklaus, Walter Hagen…it makes you understand you've had a nice run," Woods said in humble tones. "And I could not ask for a better start to my career."
In other words, between now and the 2008 Masters is considered intermission.
If this is the start, I want to be around when the curtain comes down and Woods goes off to coach the Little League team in Hobe Sound. If this was the start, what are those final numbers going to be, what are we about to see?
Well, besides more of Tiger in that skin-tight shirt on Sunday raising trophies, we'll witness history being made. And that is always good. History without the asterisk, as there was to Barry Bonds scaling past the home run record of Henry Aaron. We're watching not only America's hero but also the world's hero in the final countdown to one of the greatest records in sports. It's T-minus 5 for Tiger to the Jack Nicklaus record of 18 major championships.
This latest was hardly the picture of Tiger in the shade. How can one man sweat that much and still look so cool under pressure as Tiger did at Southern Hills? Then you go back and look at the pictures of Tiger's first 12: They weren't all 15 at Pebble, 12 at Augusta and 8 at the Old Course. There were some bloodbaths in there, were only the son of a Green Beret and a Thai mother would survive the jungle. We talk all about Butch Harmon vs. Hank Haney, and yet, when it comes right down to it, Tiger wins on the greens, and by out-toughing everybody with a Zen like special-forces mentality. He wins, because as Scott Verplank said after their Saturday pairing, "I have never seen a better putter." He's a better putter because it requires more will.
The level that Woods is on is so far beyond that of a Woody Austin, it's not close: But even compared to Ernie Els, the difference was never more glaring than that two-hole stretch at 9 and 10 when Ernie stuck brilliant iron shots inside 6 feet and failed to convert both. It came at a time when Tiger was vulnerable, going through a patch where he was fighting his game just a little, when things got interesting inside that ring of fire.
When it's time to man-up, it's hard to find a testosterone level that Tiger doesn't have. Bathed in sweat, with all the heat you'd ever want in your life, he kept making putts. And they weren't just leaking in the hole. They were going in at perfect speed every time. Starting right from the first, Woods had his A-stroke working. So as the field moved closer, and the cushion he built up with 63 on Saturday started to shrink, Woods had to douse his head with the contents of a water bottle, towel off, and win the wet golf shirt competition.
"Not only does his ball striking sounds different, his putter sounds different," a putter rep told me Monday when we were talking about it. "I bet you there's a spot on his putter size of pinhead, and he hits it every time." Mike Eggeling of Never Compromise went to tell me about a scene on the practice green at Congressional a couple of weeks ago during Tiger's tournament, the AT&T Classic.
"Tiger was putting this 8-footer with a 6-inch break," Eggeling said. "He had two tees set up and he was putting between the tees. Tiger missed his first putt. Then he made 58 in a row. How do you have the concentration to do that?"
Plug that into the back nine at Southern Hills. Or the way Woods was thinking on Saturday, when he was giving the field his Heisman, playing his form of thinking man's golf, in a tree-lined version of what he did to Royal Liverpool last summer.
Asked on Saturday about his ability to protect a lead, Woods explained simply, "Maybe I have had the winning. I know what to do when I'm in that situation. I know what it takes."
And then he let us in, just a little, into that competitive head of his, to let us know what he sees and feels, sort of the way Nicklaus saw the battlefield, from a broader perspective, than just the one-shot-at-a-time perspective that most, even a great one like an Els, tend to have.
"There's a certain feel that you get out there that you can understand what the guys could do and capable of doing on the back nine, the round, how the wind's blowing," Woods explained. "You just get a certain feel for what the number's going to be that day. And a lot of times, a lot of times I've called the number and I've been pretty good on it."
The winning number was -8. It came on a par-70 course. Most of Tiger's majors have come on par-72 layouts, where he plays the power game. Now he's learning how to dissect, let the other guys beat themselves, let his conditioning and his experience beat them. It's more clinical, more effective. And yes, he considers himself a better golfer now than 2000, better than when he came to Southern Hills in 2001 looking for his fifth straight major. Woods said then the course didn't fit his eye. He said this time he just didn't have the game to play the shots around Perry Maxwell's doglegs. Now that he's entered his prime and is back on track in the chase of Nicklaus, it's brought about a wave of forward thinking. I was on the press bus Sunday morning with Mark Whicker of the Orange County Register and Patrick Reusse of the Minneapolis Star-Tribune, two of the country's sports columnists, and that was the subject even before the final round at Southern Hills was in the book.
The only thing I could offer was a graphic that flashed up on a screen at The Golf Channel after Tiger won the Bridgestone Invitational the week before, showing the staggering comparison between where Woods was with his 58th career victory, and the career victories of Johnny Miller, Greg Norman and alike. It wasn't even close. Tiger was already beyond double of all the greats who played through the Nicklaus Era. About the only salient I could muster upon seeing all those numbers was: "And he's not even in his prime yet."
As the discussion with Whicker and Reusse progressed, Jay Townsend of the BBC sat down. Jay's a former European Tour player who grew up listening to Gardner Dickinson, and like many purists, believes the swing Tiger has used to win his last four majors is inferior to the swing he used to win his first nine majors. But this PGA, more than any of the 12 previous majors, was proof that it's not the technique of Harmon or Haney; it's Woods hitting the shots or in this case, making the putts. As Whicker said, somewhat bemused when we got to the press building and grabbed a cup of coffee, "I never heard anybody critiquing Albert Pujlos' swing."
Later that day, Haney sent me an email to say that seeing Tiger win these last two weeks, with him being home, has created the perfect opportunity to take a less prominent role as Tiger's instructor. This is not like when Tiger brought Hank to the driving range at Hazeltine during the 2002 PGA, although some will read it that way. It's just time now for Tiger to become more independent in that regard, to use Hank as a set of eyes.
So the eras change. Earl passes. Sam is born. Hank moves into the background. Tiger still wins, and wins, and wins again. The numbers are sick. He never seems to get tired of doing it. There are impasses, more distractions, more commercials to shoot, more golf courses to design (he was at a course opening Tuesday in North Carolina), but always, more mountains to climb.
Seeing Elin and Baby Sam there all dressed in her Tiger red made us realize that time has indeed moved on. And ask the question: how many majors did Jack win when he was a father?
The rest of the golf world, the Ernies and the Woodys and the guys like Stephen Ames and Rory Sabbatini who get chewed up and spit out probably know the answer: Nearly all of them.
"If you would ask me that 12 years into my career would I have had this many wins and this many majors, there's no way" said Woods after locking down the PGA. "I've exceeded my own expectations and I'm certainly not against that."
That brought the trademark smile to his face and all was well not only in the Woods universe, but the game of golf in general. As Tiger said, a good year just became a great year. Not only for him.